Health and Wellness Center evolves through student criticism
Content Warning: Matias Sosa-Wheelock's death affected all members of the campus community differently, depending on individual experiences that night, in the days following or with mental health and mental healthcare at other points in their lives. This special report includes in-depth reporting on the response to Sosa-Wheelock's death as well as the state of mental health and healthcare on campus more broadly. While we have refrained from including graphic details, it may nonetheless be difficult to read. Before beginning, please be aware.
For a list of support resources on and off campus, visit this page.
---
On Sunday, April 8, as part of their annual "Macalester Sunday" program, President Brian Rosenberg spoke to the congregation at Westminster Presbyterian Church in Minneapolis.
Rosenberg focused his remarks on his perception of the societal pressures and related mental health challenges facing young people.
Colleges, he said, "were never designed to be mental health providers."
But, increasingly, they have needed to be. As students' mental health concerns and mental illnesses have grown exponentially over the last ten to twenty years, demand for the support services provided by the Laurie Hamre Health and Wellness Center (HWC) has become a focus of many on campus.
Students have long questioned the efficacy of the center's programming and service offerings, while staffers and administrators seek to strike a balance between satisfying these needs while attending to the college's finances.
Health and Wellness
When National Alliance on Mental Illness Minnesota director Sue Abderholden '76 was a student at Macalester, she remembers a school with minimal infrastructure to help students with basic medical needs – let alone mental health concerns.
"I think there was a small clinic," Abderholden said. "It was right on the corner of Snelling and Grand, and you could go see if you had mono or something like that. I was never aware that they were doing any mental health services there, and I think that was true of most colleges back then. They just threw you to the wolves."
Today, the HWC strives to create community and promote health, by combining medical services and educational programming with mental health support and counseling services. The goal is to care for the student as a whole.
"It's a wellness center by intention," Vice President for Student Affairs Donna Lee said, "I think there's something powerful in having the Wellness Center [and] not a separate counseling center like a lot of campuses have."
Perception of HWC
Leah Wilcox '18, chair of Macalester's Disability, Chronic Pain and Chronic Illness Collective, sought out therapy at the HWC. She was later directed off-campus to a specialist, but retained a positive impression of the center.
"I'd say the Health and Wellness Center counseling is counseling, and the off-campus therapy is therapy," Wilcox explained. "I found [the HWC] extremely useful, and also different than my experience with therapy off-campus."
"I think Health and Wellness does the best that they can," Voices on Mental Health co-chair Kendall Dickinson '18 said. "They market self care and mental healthcare to students in a broad sense."
Despite its best intentions, the center doesn't have an entirely positive reputation among the student body. Some students question the surface-level quality of some of the HWC's programs, which have in the past included sponsoring massage chairs in the library and nap locations around campus, alongside more extensive medical offerings.
"They do practice a different kind of therapy there. It's more short term, less about digging into things sometimes," Wilcox said.
Dickinson recognizes that some of this outreach can be effective in reaching pockets of the campus community that might not otherwise choose to engage with the HWC themselves. "Things like mindfulness, meditation, those sorts of buzzwords that aren't stigmatized, is a good way to reach out to people," Dickinson said. "But I [also] think that isn't specific enough." Liz Roten '18 agreed with Wilcox's assessment of the HWC's counseling practices.
"I think it's kind of hard to tell where Health and Wellness' priorities are," she said. "It seems kind of like they're trying to reach more people in a more superficial way than having really hard conversations with individual students."
A significant issue that students face is an unclear understanding of who they should contact at the administrative level if they are dealing with mental health challenges.
"A lot of times when [I've been concerned about a friend], I will call my own therapist back home," Anni Clark '21, a survivor of domestic abuse and sexual violence said. "But in terms of on-campus resources, I really don't know who I would go to." Oftentimes that means that students don't turn to the administration at all – instead looking to different, non-medical communities for support. One of the places where students frequently seek help for their mental health issues is the Center for Religious and Spiritual Life (CRSL), or their own existing support networks.
"Everyone in the athletic department has been really great and supportive, but the rest of the administration will be like 'oh, yeah, look, we'll look into it,' and then nothing happens," said Will DeBruin '20, a football player and first responder at the scene of Sosa-Wheelock's death in February.
Liz Roten '18 gained an advocate in Disability Services.
"[Former Disability Services Director Robin Hart Ruthenbeck] was aware that I was not doing well, I was self-harming again and was isolating – that I really was on a downhill slope," Roten said of her sophomore year. "I had her personal cell phone number. So when shit really hit the fan I called her, and Robin also connected with my therapist off campus. So there was also that kind of external accountability. It prevented anything from going too far."
But while advocates like Ruthenbeck can be helpful to students in need, they are often not medical professionals – limiting the kind of care they can provide.
Student frustrations regarding the HWC also stem from the limits on appointments and other barriers to receiving the care that they need. Every student gets 10 free counseling sessions per academic year, but many feel that this number is insufficient. Wait times for counseling sessions also represent a considerable problem for students trying to get support.
When HWC Director Denise Ward last conducted a study on the center's wait times, students waited an average of 10 days before getting an initial consultation. While some students were seen quickly, others had to wait for up to three weeks before they could get in.
"I had a friend last semester who went [to the HWC] and was thinking about dying," Clark said. "She went and was like, 'Hey, I need to see a therapist,' and they were like, 'Okay, we'll see you in three weeks for a consultation.'
"That's not acceptable. It's a hard thing to do, anyways, to say, 'Hey, I need a therapist.' It's even harder to do that and be told you have to wait."
Both Ward and Director of Counseling Ted Rueff have stated that students who are in desperate need of seeing someone will be attended to immediately and special drop-in sessions are available daily on a first-come, first-serve basis.
Nevertheless, the wait list remains a deterrent for students who are deciding whether to seek mental health support.
Much of the criticism surrounding the HWC and its ability to best serve students takes into account the larger issue of funding and resource allocation.
"I'm confused by [the HWC], because it seems like they have good intentions," Margaret Moran '21 said. "But…they lack the resources they need in order to be an actual source of support."
Onur Unal '18 was diagnosed with depression after a professor at Macalester directed him to the HWC. He had one or two of his 10 free sessions left during the semester he was diagnosed, but voluntarily put an end to the consultations because he had started to feel better. "I didn't want to take someone else's place, because I know how tight it is," Unal said.
Because he had to take time off to care for his mental health, Unal will have taken two and a half extra years to graduate from Macalester, when he does so next December. "The Health and Wellness Center has too few counselors. "So it's hard to get a spot. I mean, it's a funding issue," Unal said.
Students aren't the only ones taking stock of the impact of funding and resource limitations.
"We have students in crisis," religious studies professor Erik Davis '96 said. "We attempt to create supports for students in crisis. There are not enough supports for students in crisis. Therefore, students remain in crisis."
"Some people might say, 'well, [mental healthcare is] not Macalester's job, we're educators.' Okay. I get that," he continued. "But then how are we going to deal with the sense of crisis and the fact that there are students in crisis? We have choices to make."
Unaddressed needs
Besides the need for additional counselors and increased access to counseling, some students feel other additions could bolster the center's goal of supporting students who have mental health concerns.
Roten argued that there is a need for Macalester to employ a full-time psychiatrist who would be able to write prescriptions for students.
While Dr. Rich Levine is currently available for student contact hours in the HWC, he is hired as a consultant psychiatrist and is rarely at the school.
"Most people don't know that we have [a psychiatrist] because we basically don't," Roten said. "[Levine] is on campus once a month for half a day. And you can't make an appointment with him unless you've already had a counseling appointment." Sessions with Levine, who also consults for Hamline and practices as an emergency medicine physician at the University of Minnesota, are also capped at three per year before students are directed off campus.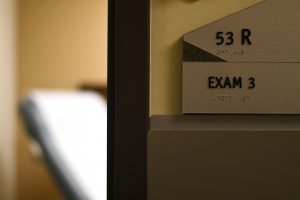 Roten and others noted the importance of easing the transition for students who need to be connected with off-campus resources.
"We could have a more solid system for giving a warm transfer as opposed to 'here's a list,'" she said.
"Their [referral] list was not super useful for me," Wilcox said. "A lot of the therapists were full up when I called them. It was very discouraging to just have a string of people who were already full."
The energy required to seek professional and other help for mental health issues represents an obstacle for many students who could use it. For international students, there is the added barrier of having to work within a culturally unfamiliar environment surrounding mental health and health care.
Malvika Shankar '19, who is currently taking a semester off, felt that the HWC's intake process lacked the humanity that is present in her care in India.
"As an international student, the whole bureaucratisation of all forms of healthcare, physical or mental, creates a daunting and formal atmosphere," Shankar said. "When I considered speaking to a counselor, the form-filling process put me off and I left it halfway."
Francis Ma '21, did not seek out the HWC when he struggled through his first semester at Mac.
"I mean there are some resources," Ma acknowledges, "But none of them actually really understand what it means to be in a totally different country. You know, the best thing Macalester can do is try to be a home to everyone."
Biology professor Devavani Chatterjea has seen her students struggle with mental healthcare because of cultural differences first-hand.
"[Let's think about] whether there are structures that could be set up to help international students overcome these barriers and access health," Chatterjea said.
The budget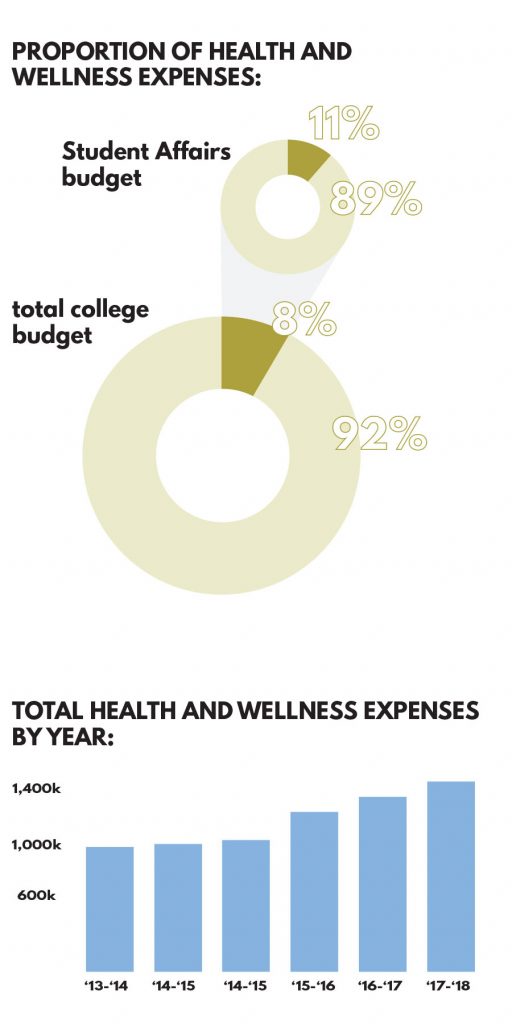 Over the last five fiscal years, the HWC has received incremental increases in funding.
In the 2012-13 year, the HWC's total expenses amounted to $951,232. The estimates for 2017-18, place the HWC's total expenses at $1,451,889 – an increase of 53 percent when compared to the 2012-13 year, with much of the increased spending going towards compensation and benefits for new staff.
This budget allocation amounts to 11 percent of the Student Affairs department budget, which itself represents just eight percent of the college's expenses per year.
"I think we could always use more [resources]," Ward said. "That being said, the college has really listened to some of the needs we have around staffing."
In 2006, the HWC as a whole had 11 staff members. Currently, the center has 23 staff members, increasing by 40 percent its capacity for student contact hours.
In counseling specifically, two full-time counselors were added since 2006 – bringing the current number of full-time counselors to six.
To Ward, the HWC's biggest current staffing need is now on the promotional side.
"I think in terms of counseling we are getting there, [but health promotions] is about, how do we work with faculty to change expectations around deadlines or absences? How do we create living environments that provide spaces for people and opportunities to help reduce stress and anxiety? To me, that's one of the next big pieces. You can put your fingers in the dike, but at some point you need to deal with water level."
Programming and development
Several HWC services and programs rolled out in the last several years have begun to make a positive impact. The HWC's intake process has been sharpened to identify from the first point of contact, the best resources to direct students towards.
Last summer, the HWC hired Julia Hutchinson – a new care coordinator who does initial consults with all students who are, in Rueff's words, "newly presenting" at counseling services. After a roughly 20 minute-long assessment, Hutchinson funnels students to the right care modality.
"In the past, people would simply come in and be assigned a counselor when that wasn't necessarily the best fit for them," Rueff said. "Maybe a group is the best fit. Maybe a drop-in situation would be better. Maybe they need to be seen by Disability Services and really [don't] need the services of an individual counselor."
"That's freed us up to then see other people who might have been on a waitlist before," he continued, "and get people the kind of attention that they need and deserve in the moment."
While Rueff said he would like to eventually see the waitlist for counseling appointments disappear entirely, he said that wait times are "trending well."
Around 20 students remain on the waitlist for counseling services, but Ward said that most of these students are waiting on a specific counselor or time slot that may not be immediately available. Based on a student interest in peer-centered spaces, the HWC has increased its group counseling offerings significantly in the last year. The HWC currently offers seven groups, each of which addresses different health issues from: anxiety management to depression.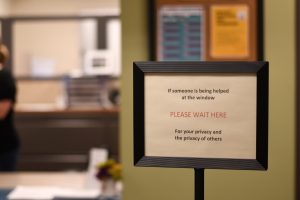 MCSG Community Engagement Officer Meera Singh '19, who is organizing a panel on mental health for next fall, believes that groups can support students in ways one-on-one counseling cannot.
"Personally what's really helpful is recognition – so having groups is really helpful to just get your troubles validated," Singh said.
Assistant Vice President and Dean of Students DeMethra LaSha Bradley said that she is committed to creating and enhancing collective spaces on campus to promote conversations around mental health.
"In working with students, we realized many of them want and benefit from group interaction," Bradley said. "Be that in addition to an individualized counseling appointment, or they may just want to be in community with others who have had experiences [similar to theirs] and also have that group guided by a clinician."
Other new resources have been helpful in providing students access to clinicians and other mental health resources.
Last year the HWC hired a sports psychologist to cater specifically to the mental health needs of student-athletes. A dialectical behavioral therapist was also added to help students cope with anxiety, stress and other mental health struggles, a resource Dickinson has found very useful.
Press 2, an all-hours program which connects students with a mental health counselor over the phone, has also been effective. In the last twelve months, it has connected 186 callers with medical or psychological professionals.
"It has been very successful," Ward said. "Two of the calls generated involved suicide gestures. The students were talking with the protocol folks and they called security and the [Residence] Hall Director on duty and were able to get to a safe space and place."
Students can now also take Uber rides to and from their off-campus appointments, free of charge, in an effort by the HWC to help students get the care they need beyond campus.
"In the past, the college had offered taxi rides for students," Ward in an email to The Mac Weekly. "Four years ago Health and Wellness picked up the cost for those rides [that used to be billed to a student's account]. But the taxis took forever to come and the billing structure was problematic."
Voices on Mental Health co-chair Tess Huber '18, who has had to make several trips to urgent care during her time at the college, knows that this initiative can make a difference for students under financial pressure.
"There [are] times when I have the money for an Uber, and times when I have no money," Huber said. "Like, right now, I could not afford an Uber if I needed one. This kind of thing, to make things truly accessible, is what we need to see happen."
Rueff, on the whole, is both encouraged by and proud of the progress that the HWC is making.
"I do think, in a lot of ways, [that] Macalester is on the cutting edge of service provision for students with mental health [concerns]," he said. "I really do. I attend all the national conferences, I do all the reading, I'm well-versed in what's going on at other places… I'm really excited about what we've been doing."
Looking forward
As the HWC takes stock of its service offerings and students' suggestions and frustrations, Ward and Rueff are planning ahead. "People need to be working upstream, so to speak, getting ahead of situations before they develop and promoting an ethos of wellbeing on the campus," Rueff said.
Ward and Rueff have been thinking of partnering with online cognitive therapy based platforms such as SilverCloud or Learn to Live, to provide students with tools that they could use to work remotely on their therapy or more general care.
"These aren't designed for major depressive disorders or more higher-level, more challenging mental health concerns," Ward said. "These become resources that students can use that aren't dependent upon an individual therapist."
"I do think that the way people are interfacing with technology is that some people will prefer to use it, and I do think that it does augment the relationship piece that happens in a counseling session," Rueff said.
"If I have to spend less time teaching skills in a counseling session, because I have the option to assign that as homework in an online version," he continued, "I think [that] is to the benefit of the counseling relationship."
If they are included in the HWC's offerings, the online platforms would be accessible year-round and to students abroad. According to Ward, they would also be included in Macalester's student health insurance plan.
Rueff said that he might also consider pursuing more programming targeting sophomores and students who identify as male – two demographics at greater risk of carrying out suicidal ideation.
"Sophomore year seems to be a year that students struggle more than any others," Rueff said. "There's less attention given to sophomores relative to their first year experience, they have not yet necessarily affiliated strongly with a major course of study and been brought into a sense of community with fellow scholars in their discipline. It's a bit of a strange place to occupy, I think."
Rueff said sensibilizing men on depression and suicide is equally important.While trends show that females attempt suicide at higher rates, males do so with more lethal methods, resulting in higher death rates.
Another priority is increasing the diversity of the HWC staff.
"There are healthcare disparity outcomes among persons of color," Rueff said. "I think that is deserving of our attention, for sure, and in fact we have partnered with the Department of Multicultural Life in starting to tackle some of that."
Both Rueff and Ward emphasized the importance of racial, religious and national diversity in its counseling staff.
"It's definitely a high-priority [in our hiring practices]," Ward said. "Number one is ensuring quality and professionalism. Number two is we really want students to see themselves in the staff."
The HWC's physical space will also be upgraded over the summer. In March, Macalester's Board of Trustees approved the college's budget for the 2018-19 year that includes an additional allocation for the HWC to re-work its office floor plan in the Leonard Center.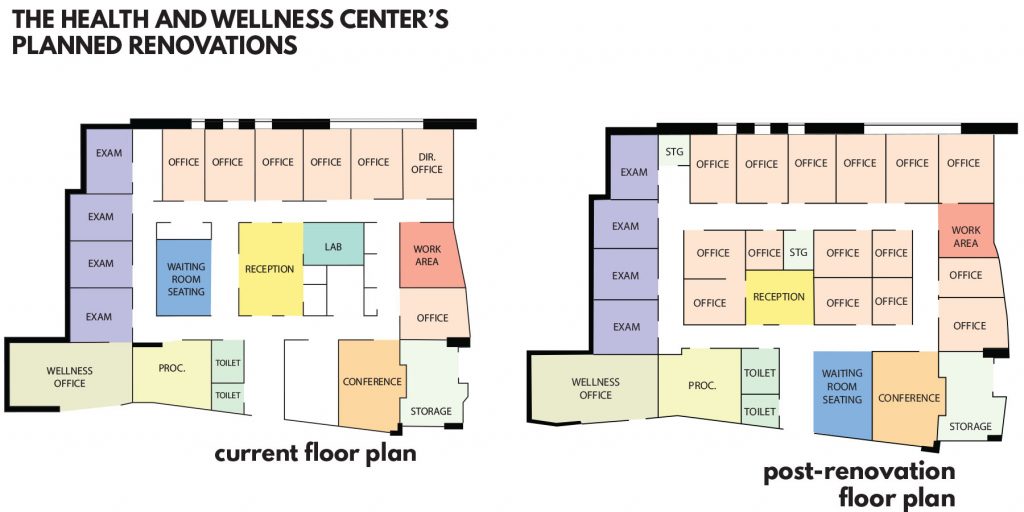 The waiting room, currently located in the middle of the center, will move to the entryway in front of the reception desk as the space currently serving as the waiting room is converted into several new offices and exam rooms.
"Really what it does is give us a space for everyone that's here right now," Ward said.