Administrative mental health policies frame responses
Content Warning: Matias Sosa-Wheelock's death affected all members of the campus community differently, depending on individual experiences that night, in the days following or with mental health and mental healthcare at other points in their lives. This special report includes in-depth reporting on the response to Sosa-Wheelock's death as well as the state of mental health and healthcare on campus more broadly. While we have refrained from including graphic details, it may nonetheless be difficult to read. Before beginning, please be aware.
For a list of support resources on and off campus, visit this page.
---
by Will Milch and Meg Britton-Mehlisch
Students rarely see Macalester's responses to their individual struggles beyond each unique, isolated moment. But as an institution, Macalester has set policies and procedures for dealing with the aftermath of campus suicides as well as the larger issues of mental healthcare and mental illness.
Macalester's Crisis Response Team
The college administration's response to student crises are initially handled by its Crisis Response Team (CRT). The team is led by Assistant Vice President and Dean of Students DeMethra LaSha Bradley and includes staff members from Campus Activities and Operations, International Student Programs, Residential Life, the Department of Multicultural Life, Student Affairs and Health and Wellness.
The team works quickly to determine the type of response each situation merits.
"Determinations are made on the spot," Donna Lee, Vice President for Student Affairs, said. "What additional support may be needed? Do they need to go to the hospital? Is follow up needed with the family?"
Deciding what student information flows through the college and campus community is also one of the CRT's responsibilities.
Describing the considerations made following a student death, Bradley said, "As part of the protocol, [we] work very closely with the parent, guardian, [the] next of kin, so to speak, of that student. We want to balance the desire for being a [tight]-knit campus, and also the privacy of the family."
Lee reiterated that similar reflections are made for situations with students in crisis, be it mental health crises or otherwise.
"For some students, they may feel like there are too many eyes on them and that it's a little invasive, but it's just a very high touch system and process," Lee said.
"People who need to know are alerted," she continued. "It's not that the student's personal information is put out on blast, but the people who need to know are all alerted so that there's a network of support put around the student.
And that will continue until there's a sense that the student is out of crisis."
Student crises are some of the few times that such information sharing is possible.
Generally, employees of the college are unable to share student information without a student's consent because of the Family Educational Rights and Privacy Act (FERPA). According to a document produced by the JED Foundation on student mental health and the law, FERPA requires that institutions protect student privacy by limiting unnecessary access to their educational records, including emails, discipline complaints and disability accommodation records.
In a 2008 guide to colleges, the Department of Education wrote that college officials are allowed to share student records to "appropriate parties" in an emergency situation in which "knowledge of the information is necessary to protect the health or safety of the student or other individuals."
Lee said that the CRT tries to meet the need for safety and student privacy, especially in the messaging between the CRT and professors.
"For professors, it might just be 'so and so experienced a stressful situation, might not be present in class, or might need additional time on work, ' it just depends on what it is," Lee said. "But they're given just kind of a vague [description] — if a student wants to share with the professor exactly what it is they can— but not the [details] you know because we also try to respect someone's privacy too."
After addressing the immediate crisis, the student is directed to seek out the care of people positioned to support them in the long term.
"Once we move past the immediate pieces…we move into assistance mode," Bradley said." And lastly, what I would say is, we don't forget. We don't forget."
Aside from the CRT, however, Macalester students argue that they have not gotten the support they've needed from the school, including in the aftermath of Matias Sosa-Wheelock '20's death.
Morgan Doherty '21* was one of the students present on the night that Sosa-Wheelock died. In the immediate aftermath, Macalester staff gathered her email and the email of her friends.
"Staff did not reach out to myself or the five other people I was with that night to offer resources or opportunities for counseling," she said. In fact, Doherty had to reach out to Health and Wellness herself to get a group counseling session for herself and her friends.
Should I stay or should I go?
According to the student handbook, students may request a leave of absence for medical reasons – including mental health crises. The initial process for leaving campus is relatively straightforward. Students fill out a "Leave of Absence" form, turn it into the Office of Student Affairs and then meet with the Bradley to discuss the details of the leave.
"My spidey senses, so to speak, get heightened when a student discloses 'seeking treatment for medical matter,'" Bradley said. "I don't automatically assume it's mental health. But what I do want the student to know is, here are ways in which, when you do decide to come back to us, we can be supportive of you, if you feel comfortable in that way."
Students may leave campus feeling supported in their attempt to seek mental healthcare elsewhere, but the return process has left some feeling quite the opposite.
"I do know people who had to fight to get back in," Voices on Mental Health co-chair Tess Huber '18 said. "We know a couple people who were required to allow the administration to speak to their therapists, which is a huge breach of confidentiality and absolutely wrong on the school's part," she elaborated. "Simply being in therapy should be enough to be, like, 'Okay, you know clearly this person is working on [their mental health] if they're maintaining the therapeutic relationship.'"
According to the 2008 guide "Student Mental Health and the Law" produced by the JED foundation, colleges do not have a right to ask students for a general medical release in order to return or participate in college life. However, institutions can request access to specific medical information if the student discloses a disability and the information is required to "evaluate the student's condition and…to help shape accommodations or mitigating measures."
Bradley emphasized that when students do return to campus, the goal is to create a sense of inclusion.
"Part of mental health is a feeling of belonging," Bradley said. "And so when you have stepped out of a community for a while and you're coming back to that community, you want to belong again."
Huber, who took a medical leave of absence, said the feeling of belonging is seriously diminished when college practices keep returned students separate from campus life. When Huber returned from her leave, she said her email was not placed back on a class email list, preventing her from receiving the same email updates as the majority of students in her expected graduation year. She said it's an experience many returning students in Voices on Mental Health experience.
"People thought that they were covering everyone by doing the class lists, and they were missing us," Huber said. "At one point, there was a sexual assault training and we got emails late into the semester being, like, you need to do this or you're going to be on probation or something like that. It was a threat.
"We also really missed out on class community stuff," Huber continued. "I would have loved to start to get to know the Class of 2018 because I don't feel like I know them at all because I was sick during their time at Mac. I haven't been able to do that, partly because I wasn't invited to class nights and things like that. I wouldn't know when it was unless I went way out of my way to hunt people down and ask them. With the administration, being a non-traditional student feels stressful."
When it's not up to students
Not every student who leaves Macalester does so voluntarily.
While the student handbook lays out the conditions in which a student may voluntarily take a leave of absence, section 5.3 on "bodily harm (to self and others)" and section 3.10 on involuntary leave, describe the situations in which the college can require a student to take a leave of absence.
The college's bodily harm policy states that students are prohibited from committing harm to themselves or others. It identifies "behaviors associated with eating disorders, suicide gestures or attempts, medical transports and mental health emergencies" as examples of prohibited acts.
The policy briefly outlines the steps that will be taken if a student is found to be in violation of the policy. Those steps start with students meeting with the Dean of Students or "a designee" to decide "the appropriate response that promotes the best interest of the student and members of the college community." If appropriate measures aren't taken, the student may be subject to an involuntary leave.
Macalester's policy indicates that a student will be put on involuntary leave when they "demonstrate developing and/or continuing behavior which threatens the life and/or health of themselves or another member of the Macalester community. An involuntary leave will also be considered if there are clear indicators a student will be unable to make academic progress."
Denise Ward, the Associate Dean for Student Services and Director of the Health and Wellness Center, said that Macalester tries to care for students before implementing this policy.
"Generally, if the student is in the position where [suicidal thought] is something they are actively expressing, the college will try and work with them to encourage them and say, 'let's get you healthy so you can fully engage in this experience,'" Ward said. "It's not fair to them to have to take on the emotional concerns and the weight of that plus the school work, plus everything else. I would say the majority of time students begin to understand that. It often depends on how heavily you're hurting and how clearly you are able to think.
"That said, there also times when the students' friends are constantly concerned or hunting [self-harming students] down because they're afraid their friend is at risk," Ward continued. "That becomes a disruption in the environment. It's not just about that student who is engaging in the self-harm, it's starting to have an impact on others. That's where generally the involuntary leave comes in."
While not every student with serious mental health challenges is forced to take an involuntary leave, some students feel like the administration is punishing those who have disabilities, and therefore are reluctant to be open about their symptoms and struggle.
Voices on Mental Health co-chair Kendall Dickinson '18 said when she became aware of the policy, she initially felt she couldn't be open about the symptoms of her mental illness.
"I'm sure that other students have felt the same way if they know about this," Dickinson said. "That if they show any symptoms that are misconstrued or can be shown in a certain light, they will be punished for it."
"If you have a history of finding it difficult to navigate Macalester, whether it's in academics or seeking counseling and stuff of that sort, then you might know about [this policy]. I've had friends who are worried about it happening to them."
"I've had friends who are worried about [an involuntary leave] happening to them," she continued. "I think if you know that you might be forced to take a leave of absence, and you want to continue at Macalester and do the best that you can, then you'll probably put your mental health by the wayside."
Macalester doesn't see this policy as a threat to students' heath, but as a necessary tool. "There have been instances where it has been in the student's interests to take time away from the college to heal," Lee said. "I don't consider that disciplinary. I still consider that more in terms of providing support."
But the punitive aspect of this policy can make it difficult for students to come forward with their problems for fear of being asked to leave Macalester.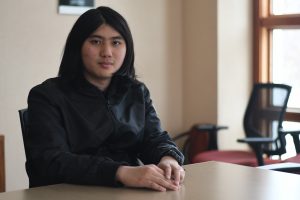 "There are just things students cannot talk about with teachers and staff – anyone other than their friends," Francis Ma '21 said. "If, say, a student wanted to commit suicide, or if they want to hurt themselves, or are feeling [so] bad that they think [it] may make people think they want to commit suicide – maybe they don't – but if they are afraid of making people think they are, they won't talk about it."
There is a strong student sentiment that this policy could be changed.
"Changing the policy is a very important part [of helping people with mental health concerns]," Chuan Ping '21 said. "If there is no pressure from above, there is less resistance from below."
*
Morgan Doherty is part of The Mac Weekly staff.