Disability Services leaves students at crossroads
Content Warning: Matias Sosa-Wheelock's death affected all members of the campus community differently, depending on individual experiences that night, in the days following or with mental health and mental healthcare at other points in their lives. This special report includes in-depth reporting on the response to Sosa-Wheelock's death as well as the state of mental health and healthcare on campus more broadly. While we have refrained from including graphic details, it may nonetheless be difficult to read. Before beginning, please be aware.
For a list of support resources on and off campus, visit this page.
---
Kagin Commons is probably best known for the Alexander G. Hill Ballroom, which hosts notable speakers and the eponymous Kagin dances. Below the ballroom, the main floor of the building is an open, modern room full of promotional materials, whiteboards and flags. Enter the room and on the left are the cubicles of the Career Development Center. To the right is International Student Programs, which provides assistance and programming for students' adjustment to life in the United States and at Macalester.
Then on the right, in contrast to the loud decor of the rest of the room, sits the Disability Services office. You'd be forgiven for not knowing that it's there. It's on the opposite end of campus from its most obvious partner, the Health and Wellness Center (HWC). The interactive map of Macalester's campus makes no mention of it in its description of Kagin Commons.
But despite its geographic isolation, Disability Services has been busy. As of Jan. 2018, 247 students were receiving accommodations, 157 of them for psychological needs.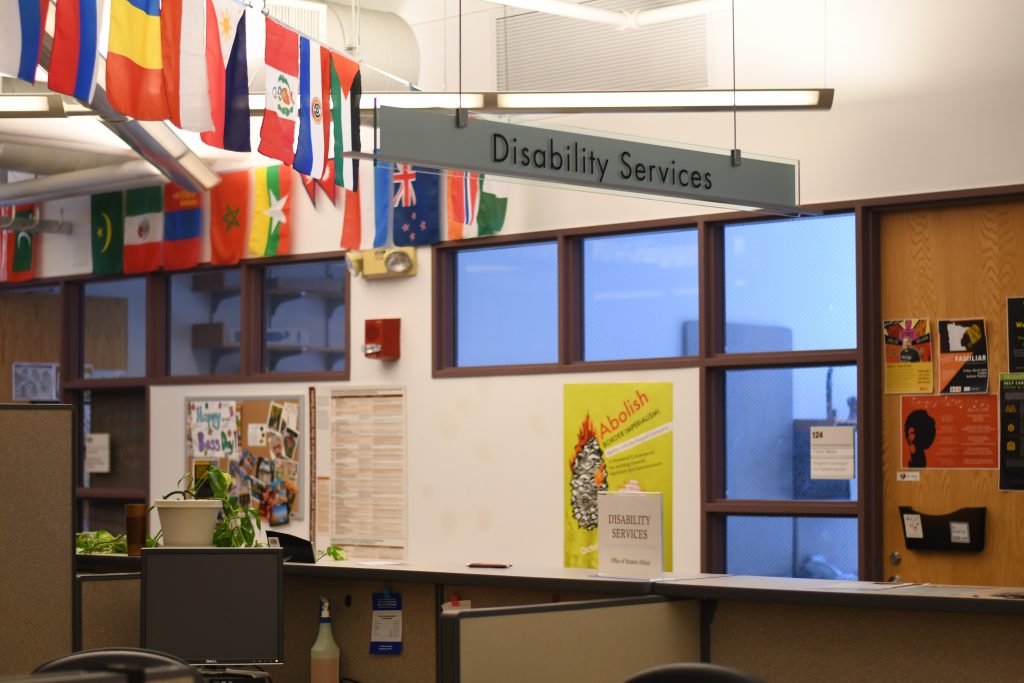 In the last several years, the department's workload has increased dramatically. According to Dean of Students DeMethra LaSha Bradley, the department served 138 people for the entire 2014-15 academic year.
The college has responded to the increased need for accommodations with the hiring of its first full-time Director of Disability Services, Melissa Fletcher, whose employment Bradley announced on April 17. Fletcher, who served as director of Student Accessibility Services at Concordia University St. Paul for 13 years, will step into the role on May 29. She will replace Allison Quinn, who served as interim director of the office after former Assistant Dean of Students Robin Hart Ruthenbeck left.
While all colleges and universities receiving federal funding are required to designate someone on staff to serve as an Americans with Disabilities Act (ADA) coordinator, the coordinator role does not necessarily have to be full-time and there is no requirement to establish a disability services office. Macalester has related legal obligations under Section 504 of the Rehabilitation Act of 1973, which states that "no otherwise qualified individual with a disability in the United States… shall, solely by reason of his or her disability, be excluded from the participation in, be denied the benefits of, or be subjected to discrimination under any program or activity receiving Federal financial assistance or under any program or activity conducted by any Executive agency." The United States includes "emotional and mental illness" under the umbrella of conditions and diagnoses protected from discriminatory practices.
The 1990 Americans with Disabilities Act (ADA) and 2008 Americans with Disabilities Act Amendment Act (ADAAA) took the work of Section 504 one step further.
While Section 504 laid a foundation for disability civil rights, its reach was only as far as the federal dollar, and private entities were exempt. ADA expanded the reach and standards of protections creating two categories in the process: Title II for public entities with state and federal funding and Title III for private entities with federal funding.
In many ways, Macalester has already, in Bradley's words, "move[d] way past [ADA] compliance."
Chair of the Disability, Chronic Pain and Chronic Illness Identity Collective Leah Wilcox '18 agreed, but took issue with how accommodations work in practice.
"We have a lot of good accessibility options on campus, but they're inaccessible accessibility options," she said. "In order to use them you need to have energy. You need to be able to advocate for yourself. You need to have reached a point where you're O.K. with talking about some of your stuff.
"The people who need it the most, who need accommodations the most, they aren't there," she continued. "That has been really, really difficult for me to see and experience."
In order to use these accessibility options, you have to be aware of them in the first place. A number of students with mental health concerns told The Mac Weekly that they were unaware that they could use Disability Services to get accomodations.
"I didn't really realize that that was accessible to me until [Residence Hall Director] Wayne [Glass] told me," Anni Clark '21 said.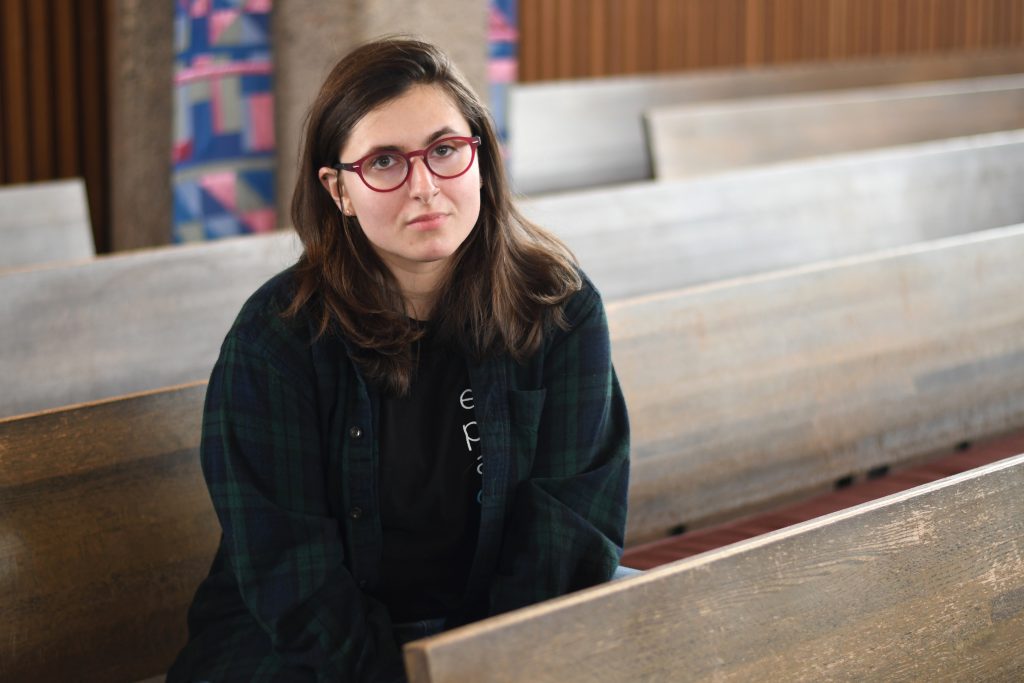 Andrew Smith '19 first heard about these options during an interview with The Mac Weekly. "I was not ever made aware of that. This is the first time I've heard that," he said.
The lack of information suggests a disconnect between the HWC and Disability Services. Many students who have received counseling on campus were not told about the possibility of receiving accommodations – so while Disability Services can be an important part of Macalester's mental health apparatus, it's rarely an entry point to care.
Even students who know about these accommodations may be disinclined from seeking out accommodations.
"For me," Wilcox said, "the main barrier to getting accommodations was that I felt internally very guilty about using them." Smith agreed, saying that he most likely wouldn't have used accommodations even if he was aware of them.
Part of the work of the Disability Identity Collective is fighting this stigma.
"Someone with mental illness, where it's impacting their life and their ability to do stuff, they only have, like, five hours of useful energy," Wilcox said. "That's, in a way, the same experience as someone who only has five hours of energy 'cause they're very distracted and sort of foggy and in pain."
Once they've secured these accommodations, students still run into difficulties in using them.
Wilcox described her feelings of guilt when asking for extensions. Professors "would pick up on that. And they questioned me, basically." She described an example situation.
"They'd say 'Oh, sounds like you think you could've done more,' and I'd say 'Yeah, I think I could've done more,' and they'd say 'Well, I don't think I should give you an extension then.' And then I'd say, 'No! I need an extension,' and they'd say 'Did you have any free time this week?'"
She also recounted a specific scenario that closely fit this script. "I said, 'Yeah, there was one hour this week that I hung out with a friend instead of resting or studying,' which is, like, one hour, really? And he was like 'Well, see, I'm only going to give you until the end of the day then.' I didn't say 'Are you kidding me?' because I was already in deep distress."
Using accommodations can, ironically, be stressful.
"I felt like my stress wasn't [validated] unless I had the stamp of a visit to the HWC, and that my stress dealing with my essays wasn't stressful enough until I visited the MAX Center, which I tried unsuccessfully to [do]," Malvika Shankar '19 said. "I wanted to be taken for my word when I requested for an extension and not to have felt punished for it."
To combat these challenges, some students have taken matters into their own hands.
"I've gotten into the habit of [using]… this email that I send out to all my professors at the beginning of the semester. I'm like, 'Oh, you're going to get an email. If you haven't already gotten that email, these are the accommodations, this is my plan for using these accommodations,'" Liz Roten said. "So if I'm going to miss a class I say, 'I will let you know before class. It may be five minutes before class, but I will let you know before.' And with deadline extensions, I ask for it 24 to 48 hours in advance and it won't be for more than, like, 24 or 48 hours."
Faculty believe that the demand for disability services help has outgrown the office.
"If we reach out to student services saying, 'We are not sure about this student, we think they need help,' how soon can we expect to hear from them?" Biology professor and chair of the Strategic Planning and Analysis committee Devavani Chatterjea said. "It used to be pretty instantaneous, but now the volume and the need is larger."
Russian and international studies professor James von Geldern agreed. "[The mental health issue has] grown so quickly that the college, for as good reasons as not, has not been able to keep up," he said. "Sometimes the office that sends [out] accommodations notices is keeping up and sometimes it's not at all."
Students hope that Fletcher's hiring is part of a shift to meet this new need. "We don't have the abilities of students who don't live with mental illness or disabilities," Tess Huber '18 said. "We need administrative support badly. I'm really, really hopeful that we're going to get some."