Content Warning: Matias Sosa-Wheelock's death affected all members of the campus community differently, depending on individual experiences that night, in the days following or with mental health and mental healthcare at other points in their lives. This special report includes in-depth reporting on the response to Sosa-Wheelock's death as well as the state of mental health and healthcare on campus more broadly. While we have refrained from including graphic details, it may nonetheless be difficult to read. Before beginning, please be aware.
For a list of support resources on and off campus, visit this page.
---
On Sunday, Feb. 18 at 11:18 p.m., Macalester President Brian Rosenberg sent an email to students, faculty and staff announcing that Matias "Tea" Sosa-Wheelock, a sophomore, had died from suicide. For most of the college community, that message was the first they knew of Sosa-Wheelock's passing. However, a small number of friends, residents of Wallace Hall and bystanders had been aware of the situation for hours. They're still dealing with it today.
***
In the aftermath of Sosa-Wheelock's death, the college administration tried to strike a balance between being transparent with students while taking care with its messaging.
The National Alliance on Mental Illness (NAMI) Minnesota's Executive Director Sue Abderholden '76 warned that carelessness in the days after a prominent suicide can lead to suicide contagion, a phenomenon sometimes referred to as "copycat suicide."
"We've had to take to task the Star Tribune, MPR, everybody," Abderholden said, recalling the coverage of actor Robin Williams' death in 2014 that included graphic detail of Williams' suicide method. "I had to practically contact every single media outlet in Minnesota because they were doing totally unsafe messaging, and suicide attempts actually did go up after that."
President Rosenberg's initial email to students made no reference to Sosa-Wheelock's cause of death. Instead, with the simple subject line "Sad news," the email told students that professional staff were available that night in the Center for Religious and Spiritual Life (CRSL) until 1 a.m. and provided them with the number to the Press 2 phone counseling service.
Further complicating matters was Macalester's reticence to communicate with students before they successfully contacted Sosa-Wheelock's parents. That contact happened on the evening of the 18th, and all of the college's next moves were made with them in mind.
"We didn't hide that Tea's death was a suicide, but we weren't clear that we could publicly message that until his parents visited," college Chaplain Kelly Stone said.
Provost and Dean of the Faculty Karine Moe sent out a second email to professors the following morning, giving faculty members advice on how to deal with the grief that students could be dealing with. In addition, Stone and Director of Counseling Ted Rueff met with Sosa-Wheelock's professors and advisor, geography professor Daniel Trudeau, in person. They also visited his classes.
For many, those meetings were the first indication that Sosa-Wheelock's death had been from suicide. Some also happened just minutes before classes began, giving professors little time to craft a message, and students little time to process.
"We talked about what happens when there's a suicide and what that pulls out for us, how we feel about that," Stone said. "And it also gave those students a space, maybe it didn't feel like the safest place, but a place where they could let that information sink in in a supportive way because they knew there were caring professionals present. Which is a little different from receiving that information over an email while you're in isolation."
While the administration may have engaged in safe messaging, it may not have been as effective in preparing faculty to continue that messaging. Margaret Moran '21*, one of the first students at the site of Sosa-Wheelock's death, told The Mac Weekly that only one of her four professors approached her outside of class in the week following the incident, although they had all been informed by the administration that Moran had been impacted. Multiple students told The Mac Weekly that they had professors who were not informed of Matias' passing at all.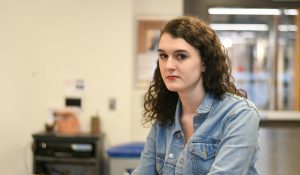 The same day, Monday, at 2:32 p.m., parents received an email from Rosenberg reiterating that a student had died unexpectedly and that support for students was being made available through the CRSL, the Office of Student Affairs and the Health and Wellness Center.
On Tuesday at noon, a community gathering was held in the Weyerhaeuser Memorial Chapel to commemorate Sosa-Wheelock's life and loss. The students, staff and faculty in attendance took small rocks from a bowl at the chapel's entrance as they filed into benches. Over 100 people sat in the pews and listened to words from Stone, Rosenberg, Rueff, Trudeau and Sosa-Wheelock's father Horacio Sosa. The gathering lasted about an hour. As they left, those assembled deposited their stones into a small bowl on the table in the space.
***
Students in the immediate circle of impact surrounding Sosa-Wheelock's death said they felt that they were given options for care, but no way to make sense of them throughout the postvention process – which began the night of Sosa-Wheelock's death.
"Brian Rosenberg came up to me and my friends and stated, 'What can I do for you?'' We didn't say anything because we were all crying," Moran said. "Then we spoke with [Assistant Director of Residential Life] Marian Aden, who asked us what's going through our heads right now. We didn't know what to say. We didn't say anything."
Moran wasn't ready to talk, and, at the time, she didn't know what she wanted.
"It should not be the responsibility of the student to always reach out for help and state when they need help," she said. "I felt like there was a lot of pressure being put on me to say what I needed in that moment. And to talk immediately. What I needed is someone to listen."
What could have helped was a concrete action plan for those immediately impacted by Sosa-Wheelock's death. Abderholden emphasized that institutions like Macalester must be "more assertive than passive" in connecting students with mental healthcare professionals in the aftermath of a traumatic event.
Students feel the same way. "There really can be no perfect protocol response to a situation like this, but I do feel as though support needs to be more active rather than passive," Lindsay Weber '21* said.
The class of 2018 has lived through three sudden student deaths during their tenure at Macalester, including two suicides. In 2014, Justin Willard, a sophomore, died by suicide. In 2016, Jess Mendes, a sophomore, died suddenly. The tragedies no longer feel isolated, and the college can't treat them that way.
The college identified and reached out to roughly 50 students who were part of the circle of impact around Sosa-Wheelock's death.
"They reached out right after, and I think they did like a good job with that," Will DeBruin '20 said. "But it's kind of tapered off. And this really isn't something that goes away. They kind of treat [it] like an issue where it's a problem right now, but you're going to fix it and get back to normal. That doesn't really happen."
Other students told us that they had to prompt the school to get them to act at all. That week, Morgan Doherty '21*, who was part of the group of students who called 911, took the initiative to get in touch with Health and Wellness.
"I had to send an email to the Health and Wellness office explaining my situation and the support I was looking for," she said. "This was frustrating, because similar to that night, I was not clearly able to articulate what I needed from the staff and would have felt more supported if resources had been provided to me, rather than making a request."
On Feb. 21, an hour-and-a-half group counseling session was held by Mental Health Care Coordinator Julia Hutchinson and Stone for the newly-dubbed "witness survivors." For those who were there, it was a way to heal and confront their feelings about what had happened. The group believed that this would be the first in a series of meetings, which they were looking forward to.
But because not all of the students expressed interest in another session, the students soon learned by email that the group meetings had been discontinued.
"That email felt like a slap in the face," Moran said.
"This was also the final communication we received from any member of Health and Wellness or administrative staff," Doherty said. "In my personal experience, it felt like we had been checked off the list of 'impacted' students, who no longer needed follow up."
From that point on, the "witness survivors" had to figure things out for themselves.
"I found the entire experience to be extremely lonely," Moran said.
***
The students who were there the night Sosa-Wheelock died weren't the only people grieving on campus.
The next day, a memorial of flowers and candles was set up in the east entrance to Wallace Hall.
On March 9, Hannah Gray '18 wrote an editorial in The Mac Weekly titled "Macalester Is Not OK," which, in part, responded to the tragedy with a discussion on the toll of student burnout.
And at an MCSG meeting the Tuesday after Sosa-Wheelock died, Community Engagement Officer Meera Singh '19 proposed a student mental health forum similar to one that Macalester held in 2015.
"Our idea was to have the same type of panel discussion to help spark more change and address some of the issues that are still left after that [panel]," Singh said. While some members of MCSG expressed concern that the panel could be coming too soon, it received a mostly positive response – including from MCSG Vice President Ariana Hones '18.
"This could be a platform for students to voice their concerns about the gaps that they see in mental health[care] at Macalester," she said. President Suveer Daswani '18 suggested early April as an ideal time.
The panel has now been postponed to at least next semester. It has been reimagined as a conversation between students and administration.
But the postponement has frustrated some students. Singh sympathizes.
"I think what this brings to light is that there aren't a lot of channels for something like this to happen," she said.
Singh hoped that the panel would start a conversation that would spill over into less formal spaces on campus. As it stands, she can only influence the people in her direct circle. "I think talking about it as much as possible is helpful,' she said. "But I am kind of frustrated."
***
At around 8:20 p.m. on the day of Sosa-Wheelock's death, security was called to Sosa-Wheelock's room. The first people on the scene were a mix of students, Residential Life (ResLife) staff and Macalester security.
DeBruin was one of the first responders. He's CPR and automated external defibrillator (AED) certified, meaning that he is able to perform rescue breaths and chest compressions.
A major component of CPR, however, is the use of a defibrillator. That night, when the call went out for an automated external defibrillator (AED), neither Wallace residents, nor RAs, nor campus security were aware of any AED locations in the dorms or the surrounding area. The only AED-equipped building anyone could think of was the Leonard Center, on the opposite end of campus. Someone was sent to retrieve one of the seven AEDs located within the athletic building, but paramedics arrived before an AED ever could. No one knew that the closest AED, the only defibrillator in the 30BigWall complex, was tucked behind the platform lift in 30 Mac's western entrance.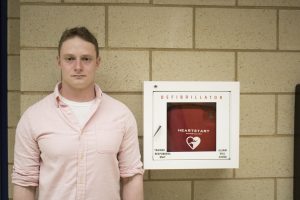 That lost time might have been critical. AEDs work by delivering electric shocks to a stopped heart, which restores the heart's normal rhythm in the case of cardiac arrest, and is an effective tool if administered quickly. According to the Journal of the American Heart Association, survival rates increase sevenfold if defibrillation occurs in the first two minutes. But as time passes, the chance of survival decreases rapidly. Even at a full sprint, the Leonard Center is still at least two minutes away from Wallace Hall.
"What you need is an AED there quickly, because if that doesn't happen, you're not going to be able to restart the heart," DeBruin said. "You can only do CPR for so long."
DeBruin has urged Macalester to add more AEDs to campus, speaking with both ResLife and campus security in the weeks after the incident. After his prompting, and following inquiries from Mac Weekly reporters, the emergency procedures section of Macalester's website was updated in March to include a list of the locations of the 28 AEDs on campus. This updated list was advertised in the Mac Daily by Denise Ward, the Health and Wellness Center's Associate Dean for Student Services, three times in late March and early April. Additionally, on March 28, as part of the Wellness & Health At Macalester (WHAM) lunch series, safety manager Jill Wirth and wellness coach Kelly Fang gave a live AED demonstration, along with information about where to find one on campus.
But the WHAM lunch was still optional, even for RAs and campus security. Director of Residential Life Coco Du plans to make information regarding AED locations a priority in the training of future RAs.
Despite this, DeBruin feels like neither he nor his concerns have been taken seriously by the college.
"No one from administration has met with me at all," he said, describing being passed from ResLife to the Health and Wellness Center to Disability Services to the campus' Security office without getting as little as an in-person meeting.
"I don't get why people wouldn't take [this issue] seriously," DeBruin said. "At least take people to be, like, this is where the AED is.
"Hopefully you will never have to use it."
***
When he spoke at his son's memorial, Horacio Sosa made a request of the crowd: he wanted to hear from students. He wanted to know why his son was gone. He wanted to make sense of a situation that made no sense at all. He wanted students to know that other people cared, that the school cared, that he cared.
"I sort of see Tea's face in each of you, because he looked like a lot of you," he said. "We love you. And please don't feel alone if you feel depressed."
DeBruin didn't attend the memorial service, but he did have a message for Sosa. "I'd tell him that [Matias]… didn't die alone. He was surrounded by people who cared, and even strangers who cared enough to try to help him. I think that is important."
The truth is this: not everyone who was there that night knew Matias Sosa-Wheelock. They didn't know that he was studying Japanese, or that he sometimes streamed himself playing video games on the website Twitch. Some of them didn't even know that his nickname was "Tea." But they did something anyway. They called the police. They ran into his room and performed CPR until EMTs and firefighters arrived. They waited in lounges until after midnight, hoping for good news that wasn't going to come.
"There's no fixing this," Sosa said. "We just need to prevent another tragedy. "Depression, anxiety, whatever it's called. You can reach out to your classmates and to your friends if they see something on social media. Please reach out to the school. Please take action."
Margaret Moran, Morgan Doherty and Lindsay Weber work for The Mac Weekly.