"How many of y'all can cook?" That was the question Seitu Jones, co-founder of Frogtown Farm, posed to his food studies class. A few years ago, two hands were raised. Now more are joining. Maybe your hand is already up, maybe not. By the end of this article, I hope you learn the importance of food and cooking, and the reason behind Seitu's question.
Kimchi, chrysanthemum flowers, Thai basil and fifteen varieties of weeds are some of the many free things I brought back from Frogtown Farm. A-line, then Green Line or by car – head over to Frogtown Farm to plant, weed and harvest…and bring back the fruits (or vegetables) of your labor. Located northeast of Macalester, the once marsh-filled Frogtown is now filled with the sounds of shovels hitting soil, the clunk of knives hitting boards and the chatter of people sharing stories – all in the process of getting food from soil to mouth. In recent years, the rise of urban farms has brought food production to our doorsteps. Frogtown Farm is a prime example, as it's one of the biggest and most well-funded urban farms in the nation. Just like most urban farms, Frogtown's food production is a tiny portion of its influence; community-building and food education are where its true purpose lies.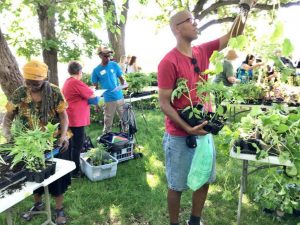 Frogtown Farm was born out of anger five years ago. Jones, Minneapolis' first Artist-in-Residence and Frogtown native, found himself getting "more and more angry" when a 300+ unit apartment building was to be built in the community open space. It took Jones, his wife, and another couple years before founding what is now a 13-acre public park with 5 acres devoted to a certified organic farm, collectively known as Frogtown Park and Farm. And it could not have been done without the support of the entire neighborhood. With the additional knowledge, expertise and funding from Trust of Public Lands and City of St. Paul, Frogtown Farm became a green asset in 2013, providing not only delicious, affordable food, but supporting local economy and promoting often-neglected food education. While starting a farm is a journey in itself, running a farm is a whole other journey. The founders – all of whom are artists – lacked the farming knowledge needed to convert contaminant-heavy urban soils to rich, diverse, plant-friendly soils. And so new people were brought into the Frogtown family, including Macalester alumni and students like former Executive Director, Eartha Bell '10. In five years, the Farm became certified organic, demonstrated benefits of permaculture and shared land with community members. It continues to feed people, with its "Pay-What-You-Can" markets and donations to food shelves. It continues to give back to the soil with cover crops, the animals with hospitable habitats and the air with the carbon sequestration. And it continues to innovate through collaborative research with the University of Minnesota. Where there is a farm, there is food, nature and ideas. But all of it would be nowhere without the Farm's driving force and energy – the people.
It is "the most fulfilling work I have done." Those are the words of Ellyse Retana '19, Frogtown's current Education Intern and one of many people the Farm has touched. She spent the busy summer months pulling weeds. But it does not end at the farm. Retana also helps out in the Outdoor Kitchen – taking the plum tomatoes from the vine to be canned so the summer produce can last through the winter months as pasta sauce to be whipped into a last-minute dinner. An entire year of planning, planting, growing and harvesting over 10,000 pounds of fruits and vegetables accumulates to the annual Harvest Fest, a free and open festival celebrating the successful growing season with hayrides, warm stew and people from Frogtown and beyond. Thankfully, this year's festival was accompanied by sunshine, drawing the biggest crowd since its beginning and closing the year out with a satisfying end.
First understand, then take control of your local food system – the advice given by Jones to college students entering his program and re-shaping the world. Understand what organic means (it is more complicated than a simple definition), understand that the fresh tomatoes you find in January are from miles away (tomatoes are a summer produce) and understand that 2% of the country's population grow food for the remaining 98%. And then take control by visiting the farmer's market (it is cheaper than you think), by volunteering at farms and by cooking with respect for the people who made it possible to enjoy that irresistible slice (or two) of Thanksgiving pumpkin pie. Let's raise that hand and learn to cook – it's fun, it's cheaper than takeout and most importantly, it tastes better.
Feeling particularly eager to dive into this world of food? Then check out Frogtown Farm's website (www.frogtownfarm.org) for events such as yoga in the park and live music. Keep your eyes peeled for a Green Cook-Off taking place in December! Remember, there is FREE FOOD to be earned. Ellyse has yet to buy vegetables – the Farm is feeding her well enough.