If trends continue, roughly one-fifth of Macalester's class of 2018 will be student-athletes. The majority will have been recruited by a coach, and those who are recruited receive priority in admissions. Prospective student-athletes labeled as recruits are those individuals that Macalester coaches believe would benefit their program, information that is passed on to the Admissions Office.
Football Coach Tony Jennison said he used to devote most of his recruitment time to attending local high school games. Now, with the assistance of recruiting tools like Scoutware, NCSA Athletic Recruiting, and BeRecruited, he receives dozens of emails each week from high school football players interested in Mac, and he has the ability to reach out to those he considers a good fit. Jennison also frequents high school showcase events including the Minnesota Football Coaches Association Recruiting Fair and the New England Elite Football Camp.
As Jennison described it, Macalester coaches operate almost as an extension of the Admissions Department, taking recruits on campus tours and organizing overnight stays for them with team members. "If you think the majority of my job is a head football coach, you're wrong," he said. "I do most of my work as an admissions counselor. I'm getting people to apply non-stop."
Athletic Director Kim Chandler considered the shift to web-based recruiting pivotal. "Now our coaches, when they are out on the road, they're at events where they already know the academic information or will know after they pick up a packet at these events," she said. "That's been a really critical piece for us in terms of our staff."
Just like every other applicant to the college, prospective student-athletes receive academic ratings from two or three admissions staff members on a point scale ranging from 1 as the highest academic rating to 7 as the lowest. In between are 1-, 2+, 2, 2-, 3+, 3, 3-, 4+, 4, 4-, 5+, 5, 5-, 6+, 6, 6-, and 7+. The average academic rating among applicants is a 3-. The Macalester Office of Institutional Research declined to provide data comparing the average academic ratings of admitted recruits against other admitted students.
Notes from an Oct. 2013 Resources and Planning Committee (RPC) meeting describe the process in detail. Admissions assigns academic ratings to applicants. Academic ratings are calculated by factoring in a student's high school academic performance and teacher recommendations with "test scores and curriculum most important. Leadership potential and extracurricular involvements also important, with special attention given to service to others," according to the college's page on the College Board website.
Among students who receive an academic rating between 1 and 3-, 96 percent are admitted. According to the RPC minutes, Admissions assumes that only 10 percent of the 1,418 admitted students in that academic rating band will matriculate, which is predicted to include 15 recruited athletes.
One of Three Groups of Students Prioritized in Admissions
"Part of what we were trying in the RPC meeting is, to a certain extent, simplify the admissions process," said Jeff Allen, Director of Admissions. "In doing so, you can create these categories that are mutually exclusive."
The RPC minutes show that students receiving ratings between 4+ and 5- comprise roughly 68 percent of Macalester's matriculating class. Last year, 117 recruited athletes in the 4+ to 5- academic rating category were offered admission to the college. Thirty-eight percent of recruited athletes who garnered a 5- rating received admission to the college while zero percent of all other students identified as low-need, moderate-need, or high-need with 5- ratings got Macalester acceptance letters. The meeting minutes note that none of the students receiving academic ratings between 6+ and 7 were granted admission.
According to President Brian Rosenberg, the Macalester Office of Admissions pays specific attention to three groups of students when determining admissions decisions. Those groups are students of color, males, and recruited athletes.
"You look at the priorities of the institution, and three of them are having a diverse student body, having as balanced a student body as we reasonably can in terms of gender, and being able to maintain our athletics programs," Rosenberg said. "Without paying specific attention to all of those things, it's likely that some of those priorities might not get met. Those aren't the only priorities we have, but those are three big ones that involve lots of applications and lots of students, so they pay special attention to them."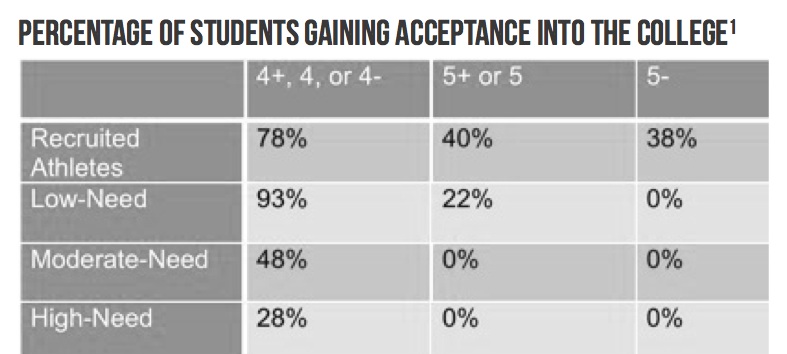 Transitioning from Applicant to Mac Student: How do the students perform?
While the Macalester Office of Institutional Research declined to provide data on the relationship between a student's academic rating and college GPA, Rosenberg and Allen agreed that academic ratings are a fairly strong indicator of a student's college academic performance. "Our academic rating system is pretty reliable in terms of predicting the likelihood and level of success," Rosenberg said.
The average GPA during Macalester's fall semester has been between 3.41 and 3.45 for the past five years. Macalester does not publicize its teams' GPAs; however, in soccer, cross-country, track and field, and swimming and diving, coaches associations award men's and women's teams with academic awards, which list the team's GPA. Grades vary between sports, gender and year without pattern. During the 2008-09 school year, Men's Swimming and Diving (3.65), Women's Soccer (3.62) and Men's Cross Country (3.53) posted the top GPAs in Division III for their sports. In the 2012-13 school year, Women's Swimming and Diving, Men's Soccer, and Women's Cross Country compiled GPAs of 3.32, 3.37, and 3.54 respectively.
The most important statistic to Rosenberg is that student-athletes graduate at approximately the same rate as the rest of the student body. "Once you graduate your GPA doesn't mean all that much," he said.
Academic support
Macalester does not offer athlete-specific academic help programs. Instead, coaches receive grade updates on each of their athletes, and are told to hold them accountable. A student with a cumulative GPA below 2.0, therefore landing on academic probation, is not eligible to compete in intercollegiate athletics. In the football locker room, a chart lists the GPAs of all team members who attain a 3.0 or above. According to Jennison, it has been four or five years since one of his athletes received academic probation. "To me, I have never seen it as a way to hold people accountable but more of a way to emphasize our expectation of doing your very best in the classroom," he wrote in an e-mail.
Apart from his time recruiting and coaching, Jennison stays busy with one-on-one meetings with his athletes. He requires all first-years on the team to meet with him every few weeks to discuss their academic performance and other non-football issues. Jennison quizzes his athletes on every class they're taking—the highs, the lows, their professor's name, what they're studying, any teammates in the class—and writes the details down on a chart, which he keeps in his office. "We meet with everybody their entire first year here, and we'll continue to meet with them if their GPA is not above a 3.0," he said.
While it's unknown whether athletics will continue to be prioritized in admissions, it's certain that Mac's coaches will continue to recruit.
"My guess is that there's not a college in the country—it doesn't matter if you're in Division I or Division III—that doesn't do specific athletic recruiting," Rosenberg said. "You can't just let it happen and expect to be able to recruit athletes to your school in part because everybody else is recruiting."