Baseball, Softball, Water Polo, and Tennis teams travel for Spring Break
By now many Macalester students are used to the sight of snow in March, making it easy to forget that parts of the country are actually warm enough to celebrate Spring Break properly. Although the average high in St. Paul for the month of March is a balmy 41 degrees (the low is 24), almost every other state in the country is currently experiencing weather that's significantly warmer and less snow-covered. Five Macalester sports teams were lucky enough to spend their Spring Breaks competing in the warmer climates of states like Arizona, California, Florida and South Carolina.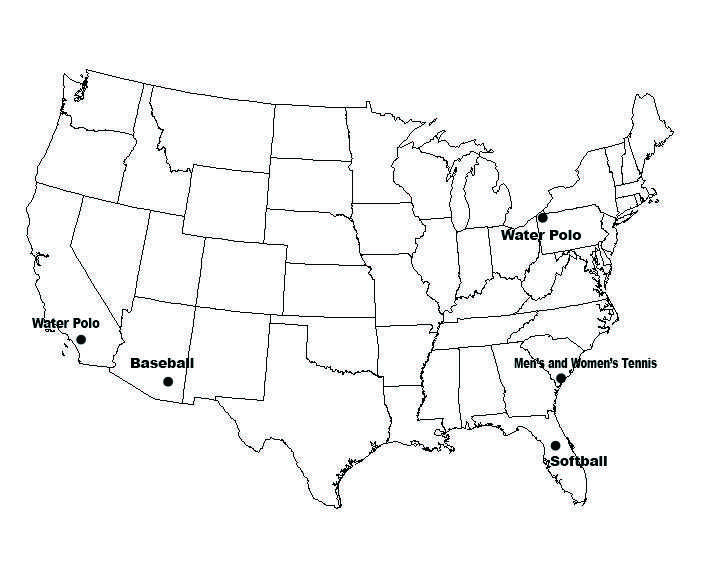 Like many Major League Baseball teams that travel to Scottsdale, AZ for Spring Training, the Macalester baseball team also traveled to Arizona for the spring. The Scots spent the week playing in the Tuscon Invitational, compiling a 2-8 record over seven days of competition. Macalester's bats were plenty powerful during the week, averaging 7.8 runs per game. In their two wins against Wisconsin-Superior and Calvin (MI), the Scots exploded for 36 runs on 30 hits. However, their pitching struggled all week to the tune of 12.4 runs allowed per game. Nick Sia '16 (Gambrills, MD) led the way by hitting .444 with 8 RBIs in the tournament, while Jimmy Belfont '13 (Olney, MD) hit .323 with 8 walks.
Meanwhile, the Ultra Music Festival wasn't the only event happening in Florida over Spring Break. The softball team traveled to Clermont, FL to compete in the NTC Games, finishing with a 4-6 record. The Scots started the tournament hot, decisively winning three of their first four games. On Mar. 17, the team beat SUNY-Oswego and New England College by scores of 9-1 and 11-3. The next day, the team followed those wins with an 8-4 victory over Framingham State. By hitting .500 in the ten-game tournament, Hali Englert '15 (Castle Rock, CO) raised her season average from .083 to .344.
The men's and women's tennis teams took their annual trip to Hilton Head, SC, recently named by the Condé Nast Traveler as one of the ten best islands in the country. The men's team experienced a lot of success over Spring Break, going 3-1 in four matches. The Scots registered wins against Bloomsberg (PA), Wooster (OH) and Nebraska Wesleyan before dropping their last match against Allegheny (PA). The team only dropped one individual match combined against Bloomsberg and Nebraska Wesleyan, beating the Huskies and Prairie Wolves by scores of 9-0 and 8-1. For the week, Brian Utz '16 (Rochester, MN) went 3-1 at #1 singles and teamed up with Max Edwards '13 (Rochester, MN) to go 2-2 at #1 doubles.
The women's team started off well, beating Bloomsberg 5-4 in its first match on Mar. 17. Paige Schaefer '13 (Madison, WI), Carmen Whitehead '14 (Greeley, CO) and Katelyn Glenna '15 (Winona, MN) were all victorious in their singles and doubles matches, enabling the Scots to narrowly squeak out the win. However, the team struggled in their next three matches against Wooster, Nebraska Wesleyan, and Allegheny dropping all three to go 1-3 on the week.
Finally, the water polo team was extremely active over break, playing in 14 matches and tournaments in California and Pennsylvania. In the Cal Baptist Tournament, the women dropped all eight matches against seven different schools in five different Southern California cities, including a 16-3 setback against Division I Virginia Military Institute. However, the team fared much better in the CWPA tournament in Erie, PA, finishing with a 3-3 record and recording wins against Utica, Penn State-Behrend, and Carthage. Sarah Shoemaker '15 (Saratoga, CA) led the way with 30 goals in the two tournaments (a 2.14 goal per game average).