"I can't believe I'm here."
Those were my first thoughts as I walked out onto the playing field for the first draw of the 2018 Pacific-Asia Curling Championships just a few weeks ago. I felt butterflies in my stomach. The decorations of the PyeongChang Olympics still adorned the Gangneung Curling Center. Athletes that I had only seen on TV stood all around me. On my back I carried a jacket with my name and the city I was representing: Hong Kong.
This wasn't always the dream. I came to Macalester for a liberal arts education, not curling. However, not being able to curl competitively left me feeling empty. This prompted me to transfer to Western University in Canada after my first semester. While on the Western varsity curling team, the dream was to compete at the Canadian University Nationals for the chance to represent Canada at the World University Games. Canada is the largest market for curling in the world, amd many consider winning the Canadian Olympic trials harder than winning the Olympics themselves. But while the curling program at Western was exceptional, I was never at peace with my decision to leave Macalester, which prompted my return after three semesters in Canada. At that point, I thought curling was no longer going to be a priority in my life.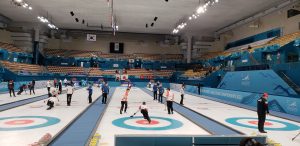 But two summers ago, I was given the chance to represent Hong Kong on their junior team. After that experience, I was uncertain about my curling future. Then this past summer, an email from the Hong Kong Curling Association offered me the opportunity to compete on their Men's team, this time to compete for a spot at the World Men's Curling Championships. It was an opportunity I had to take even though I knew it would be quite the challenge. I was joining a team that had been together for two years, and I would not get the chance to meet most of my teammates until just three months before competition. As a result, virtually all training in the gym and on the curling rink was handled independently. Months of preparation all led up to a week of competition in South Korea.
The week of competition was tough. Every day there was a game to play, rocks to throw, rocks to sweep, paths on the ice to track and new teammates to get acquainted with. Every game one hundred and sixty rocks are thrown and you try to learn something from every shot. Each 10 end game lasts around three hours. On unlucky days there were two games. By the end of the week, I was mentally and physically exhausted. All my muscles from my arms to my hips were sore. There was not much rest after I got back to St. Paul either. Unfortunately, my time away from Macalester did not stop deadlines from reaching me. Luckily, my professors were accommodating despite my athletics not being Macalester-related. Competing for a week in South Korea the same week you have a French exam and the same semester as your capstone is far from ideal. Many thanks to my professors for their flexibility, without which I would not have been able to compete without my academics taking a huge hit.
I had been through weeks like this before in my curling career but never on such a big stage. The competition was tougher with many athletes having prior World or Olympic experience. The crowds were bigger with the stadium drawing crowds larger than the seating capacity of your local curling club. And the stakes were higher than any event I had ever curled in with a berth at the World Men's Curling Championships on the line. This wasn't the only thing on the line. There are no dedicated curling ice facilities in Hong Kong making it difficult to promote the sport. Qualifying for the World Men's would go a long way promoting interest for curling in Hong Kong.
Ultimately, the Hong Kong Men's team fell just short of making the playoffs. A disappointing result, but the thrill of competing on a world stage is something that I will never forget. Having gotten a taste of curling at a world level, it is definitely something I aim to pursue further. The future of my curling career is uncertain because what I do after graduation will largely determine if I will have the ability to continue. There are also financial considerations, since the Hong Kong program is largely unfunded, but I believe that the Hong Kong team has the potential to make some waves in the curling world. I may or may not continue next season, but I know there's curling in my future. It may take some time but don't sleep on the Hong Kong Men's Curling team.