In the 1930s, Macalester campus fire drills were signified by five short bells according to a Nov. 1, 1934 edition of The Mac Weekly. With guidelines such as "there shall be no talking while leaving the building" and "women wearing high heels should use caution on the fire escapes," it is safe to say that the nine point fire drill protocol set differs from the modern-day Macalester fire drill protocol. Still, the basic fire alarm and drill structure has been conserved overtime: alarm, evacuation, outcome. However, this process can start to break down, particularly when alarms are triggered for no good reason, which is exactly what happened in the late 70s and early 80s.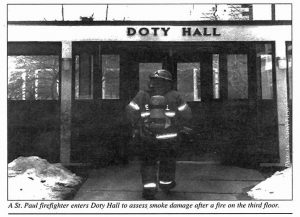 Usually, the fire alarm goes off predictably: the routine alarm in September followed by the occasional dorm microwave fiasco a few times a year. But every once in a while, an alarm goes off when you'd otherwise prefer to remain in bed. On March 19, 1977, Dupre residents woke to a clamoring alarm at 5 a.m. Rushing from their Dupringles and higher-order Dupalaces, a confused and half-asleep crowd dressed in pajamas and hastily donned jackets gathered outside. Luckily, the call of a false alarm sent students back to their warm beds, probably assuming they'd never have to rise at the ungodly hour of 5 a.m. again. That is, until the alarm went off again. And again. And again. Each alarm was extremely early in the morning, and each seemed to be the work of some villainous prankster that delighted in plaguing fellow students with monstrous wake-up times. A March 25, 1977 edition of The Mac Weekly dubbed the culprit "the puckish, puerile, pyromaniacal punk who prankishly pulled the plug on the Dupre Hall fire alarm at 2 a.m. Saturday morning." In a Dec. 16, 1977 edition, director of safety Mark Dickinson noted, "Emergencies seem to come in rashes. We have had four false fire alarms and these have all been in the early morning hours."
Unfortunately, this problem continued intermittently into the 1980s. The March 7, 1980 edition reported on yet another early morning Dupre false alarm. This time, students were not so forgiving. In the same edition, Lavinia Colman referred to the alarm-puller as FAP (fire alarm prankster) and lamented that because of this student safety officers may begin to lock key doors in Dupre, preventing students from leaving the dorm whenever they pleased. Another student warned against the danger of setting off alarms so often because students could begin to not take them seriously.
Fast forward to January 1981. Months of sporadic false fire alarms started to take their toll on the student body. On Jan. 17, 1981 an electrical fire began in the basement of the dining hall due to a faulty transformer in the elevator. As reported in the Feb. 13, 1981 version of The Mac Weekly, smoke started to gather and a staff member pulled the alarm. Meanwhile, about 20 students who'd been duped by a few too many alarms were calmly eating lunch upstairs, deciding whether or not it was worth it to leave the building. Fortunately, all the students eventually made their way outside (though not before returning their dining trays) and no one was hurt. This same The Mac Weekly issue interviewed one student who said "I didn't know if it was a false alarm or a real one."
Luckily, the fire alarm puller appeared to have either realized the harm of their shenanigans, lost steam or simply graduated as the rates of false alarms fizzled out in the 1980s. And subsequently, students' faith in the validity of an alarm increased, until of course, someone left a lit candle in an unoccupied Dupre room (why is it always Dupre?), but that's a different story.