"Be the cowboy you wish to see in the world." This is the motto that indie-pop artist Mitski has adopted for her newest album, aptly titled Be the Cowboy, released this August through Dead Oceans. The twist on the popular saying came to Mitski as she watched another singer perform with remarkable flair that she wished she saw more often. Instead of waiting to see his stage presence elsewhere, Mitski decided that she could embody that confident energy. Fans, some wearing glittery pink cowboy hats, came to see her cowboy-like spirit on display at her Oct. 26 performance at First Avenue's mainroom.
She began her set with "Remember my Name," staring intently into the crowd as she sang, "I gave too much of my heart tonight/Can you come to where I'm staying/And make some extra love?/That I can save 'til tomorrow's show." Her intense stare, coupled with her feet planted in a power stance befitting a cowboy, gave the impression that she was confronting each member of the audience individually, demanding their love to get through the night.
Her intensity didn't flag over the course of her 24-song set. Her powerful, yet vulnerable voice captivated the audience, as did her frenetic dancing. At times she seemed to mime to her songs, lowering and raising an invisible cigarette to her lips during "I Don't Smoke" and skittering around the stage in circles, as if it was the tree-lined street she sang about in "Francis Forever."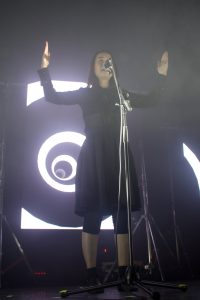 Mitski's take on cowboy brashness is different from what she described in an NPR Music interview as "the Marlboro myth of a cowboy – the very strong, white male identity." In appropriating that swagger as an Asian woman, she employs it for her own ends. She gives herself permission to write, compose and perform with a confidence that she had previously been forbidden but continues to write about the isolation of being a young woman, especially a young Asian woman.
Her lyrics, which explore that profound isolation, play no small part in making Mitski adored by her audience of mostly young, female fans. Mitski's lyrics make her brutally relatable: "And I don't want your pity/I just want somebody near me/Guess I'm a coward/I just want to feel alright," she sings, in her shockingly upbeat new single "Nobody." A typical listicle about Mitski from one blog is titled, "Seven Mitski Lyrics That Will Make You Yearn Desperately For The Touch of Another Human Being, Literally Anyone, Oh My God I'm So Lonely."
Producing music like this serves a purpose, though some critics have dismissed it as melodrama. Mitski gives voice to experiences that young women may have thought were too shameful to be fully acknowledged from the depths of self-destructive infatuation to paralyzing anxiety about not living up to your potential.
For whatever reason, though, oftentimes reviews of Mitski's music fail to distinguish between her persona as an artist and her private self. In his article accompanying Mitski's Tiny Desk Concert, Bob Boilen writes, "Watching Mitski perform at my desk, there were moments when I was worried about her." Mitski's performance was emotional; at one point she lifted her guitar to her face to yell into its pickups for amplification. But Boilen's implication that she was not in control of her performance and that her anger was a matter of concern is patronizing. Would he have been personally concerned for Matt Berninger after a raw performance by The National? Or is it only young women whose emotions are deemed to be erratic and worrisome while performing?
More than on any of her previous records, Mitski embraces performativity on Be the Cowboy. She sketches vivid scenes with her lyrics and tries on different personas like masks. On "Two Slow Dancers," she is an older woman mourning the unfulfilled potential of young love. On "Me and My Husband," she is a neurotic wife who blinks out of existence whenever she's outside of her husband's view. Mitski still insists on foregrounding the highly personal struggles of young women, but also insists on being recognized as a serious artist while doing so. It's hard to walk the line of displaying raw emotion while projecting a strong artistic identity, but Mitski managed it in front of a rapt crowd at First Avenue. She disappeared so fully into the narratives of her songs that when she finally addressed the audience after her first five songs, it was disorienting to see her break character. Her over-the-top, highly theatrical dances seemed curated to constantly remind the audience that they were witnessing a performance; that for these few hours, Mitski the person was playing the role of Mitski the artist, a new and formidable kind of cowboy.