With the introduction of food-delivery apps such as DoorDash and Uber Eats, I have seen my roommates increasingly binging on cheap, American-style Chinese food. I don't blame them; it's inexpensive, delicious, filling and most importantly, not Cafe Mac. However, this school year I've been trying to make my own American-Chinese "takeout" dishes at home to rival those of nearby stores. Here's my recipe for a savory beef and broccoli dish that can be made in less than an hour.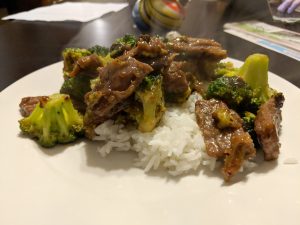 Ingredients: ½ cup oyster sauce ¼ cup cornstarch ¼ cup cooking sherry (I prefer white wine if you have it) 1 tablespoon soy sauce 1 tablespoon sugar (I prefer honey if you have it) 1 pound flank steak 2 tablespoons of vegetable oil 2 cloves garlic 2 teaspoons of ginger minced 1 pound of broccoli ¼ cup beef broth 3 chilis
Instructions: Begin this dish by cutting the flank steak. It is suggested to cut against the grain for the juiciest texture. After you cut the steak, you have arrived at the most important step. After trial and error, I found this recipe to be best when the beef is marinated in the oyster sauce mixture for at least half an hour. In a bowl, mix the oyster sauce, cornstarch, cooking sherry, soy sauce and sugar in a bowl. Add in the beef.
While the beef is marinating, I recommend prepping some of your other ingredients. This would be an ideal time to start making your rice. It'll be ready and warm right when your main dish is completed. After the rice, start chopping up your garlic, ginger and broccoli. Personally, I like my dishes spicy. If you are a college student who likes to cook, I'd invest in a bag of dried chilis at a local market. I usually like buying mine at El Burrito Mercado. If you choose to use dried chilis, be sure to boil some water and soak as many chilis as you want (I usually use around 5) for 20 minutes. They'll then be ready to be cut and used. If you have fresh chilis, even better!
Heat up a pan and throw in the oil. Once hot, put in the chopped garlic and ginger and cook for around 30 seconds, or until you start smelling the fragrances. The moment you can smell something, it's time to put in your beef and sauce. Feel free to just dump the whole bowl of sauce and beef into the pan and cook until the sauce thickens – around 5 minutes. If you have some extra beef broth in the cabinet, it really elevates a lot of the flavors in this dish. When cooking meat, I like substituting salt for stock or bouillon cubes. If not available, salt and pepper has never disappointed!
If you end up using this recipe, I'd love to know what you thought of it. Email me any recipes you are curious to cook, and I'd love to try and help!