On Sept. 29, MacSlams—Macalester's slam poetry organization—hosted its first preliminary poetry competition. It was the first time this year that poets have been able to perform their work for an audience and the featured guest was poet Kyle "Guante" Tran Myhre.
Typically hosted in the Loch, there are three qualifying poetry slams during the semester prior to the Grand Slam in December, as you have to earn a spot to compete at the Grand Slam. Around ten poets perform at the 'prelims' with six advancing to the second of two rounds and three poets with the highest scores getting a spot in the Grand Slam.
The top poets from the Grand Slam then qualify for Macalester's CUPSI team. CUPSI, or College Unions Poetry Slam Invitational, is the national poetry organization that hosts a convention in April for college teams across the country to compete in slam poetry.
With about 30 to 40 audience members at Macalester's slams, each poet prepares two poems that are three minutes long with a ten second grace period. Five members of the audience who previously volunteer to be judges then raise whiteboards immediately after the poet performs with a score between one and ten. The host—Mac alum Ollie Schminkey '16—reads out each score as the administrative team calculates.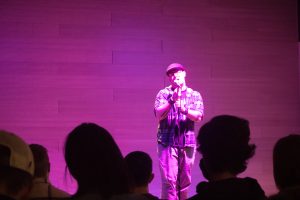 Once this procedure finishes, the three poets with the lowest scores are cut as the slam moves into the next round. It's a fast paced, emotional event as the content matter is heavy, and slam poetry audiences are encouraged to give audible feedback. The role that the audience plays in a poetry slam is unique as snaps, claps, hums and cheers could be heard throughout the course of the night. Most of the time the feedback is positive, unless a judge delivers an unpopular score, in which case the crowd verbally illustrates disagreement. Along with the competing poets, a poetry slam typically includes a featured guest whose performance serves as an interlude. At the September slam, Kyle "Guante" Tran Myhre performed. If you're a poetry nerd like me, you know that Guante is a big name in the slam community. With a published book from Button Poetry, a TEDx talk, an album of recorded poems available on Spotify and iTunes and a two time National Slam Poet Champion, Guante regularly reaches over a million views on his YouTube videos.
Guante's work typically centers around social issues and the need for youth activists. A native from the Twin Cities, Guante travels around the country as a poet and facilitator speaking about issues such as rape culture, toxic masculinity and activism. He also participates in projects within the Twin Cities to help local aspiring poets and activists.
It's a big deal that he made an appearance at Macalester, and while he was here, he also hosted a workshop about political poetry and movement building. Before he began his set, Guante acknowledged his decision to leave out some pieces that he considers more important for a high school or less educated audience. But because of the nature of MacSlam's audience, he chose to focus on motivational themes. One well known piece from the slam is entitled "Quicksand." It served as the foundation of Guante's TEDx talk, which explores the dynamics of hypocrisy and action around injustice. If you want to check him out, his personal website is www.guante.info or Twitter @elguante.
The next poetry slam is on Oct. 19, where poets will be able to compete again for a chance to make it on the CUPSI team at the Grand Slam. The featured guest at this slam will be Tyler Vile, a poet known for speaking about her experience as a trans woman with cerebral palsy. Until the next slam, MacSlams hosts a writing workshop (open to all, not just those interested in competition) every Tuesday night from 4:30-6:00pm in the Sounds of Blackness Lounge in Turck.