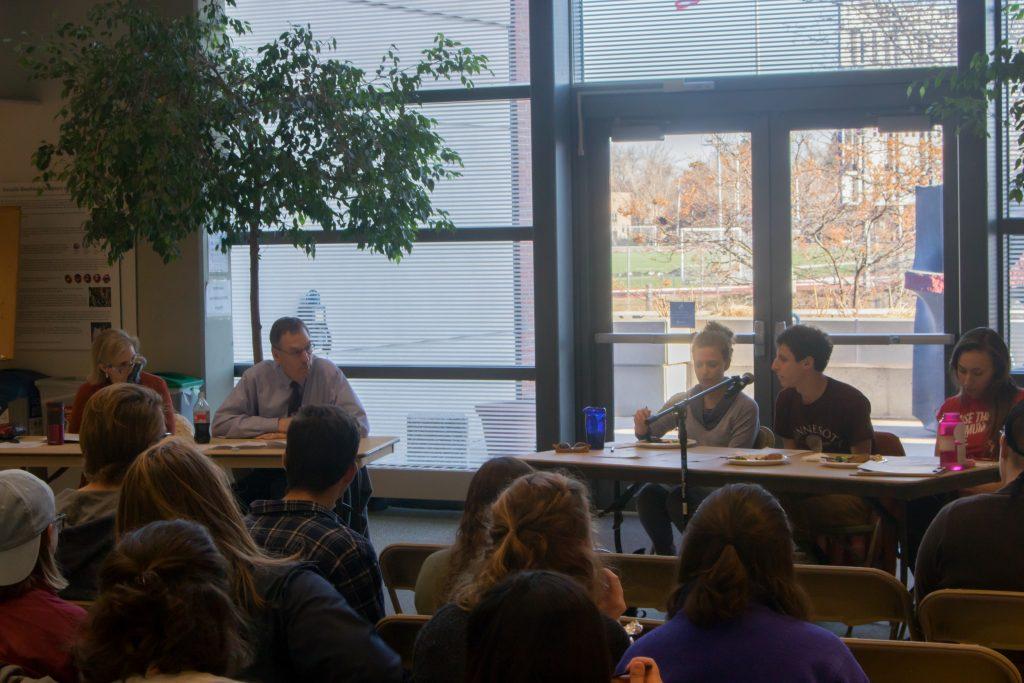 On the evening of April 25, the Macalester chapter of the Minnesota Public Interest Research Group (MPIRG) held a town hall on wages and labor as part of its push to implement a $15 minimum wage for all subcontracted employees.
The event, which took place in the Smail Gallery on the first floor of the Olin-Rice Science Hall, featured two members of the Macalester administration: Vice President of Administration and Finance David Wheaton and Associate Vice President for Finance Patricia Langer.
Political science professor Lesley Lavery, Noah Stieglitz '18 and 15 Now Minnesota organizer Celeste Robinson '16 moderated a discussion with Wheaton and Langer, before students had the opportunity to ask questions of their own in the final half hour of the conversation.
MPIRG has held several leadership training events throughout the year, and launched its push for a $15 minimum wage for all workers at Macalester with letter to the college administration and a Change.org petition in February.
That petition, which garnered just short of 200 signatures, promised that the group would "continue this work until we have created a culture where fair treatment, adequate job security and livable wages are not only universally encouraged on campus, but expected."
In both the letter and the petition, MPIRG laid out four demands for the college. The first was the administrators' presence at the public forum on Wednesday night.
The second was that, by the start of the 2019-2020 school year, all subcontracted workers at Macalester are paid at least $15 per hour.
Why the 2019-2020 school year? The only people currently working at the college who make less than than $15 per hour work for Bon Appétit – and Macalester's contract with the food services provider expires at the end of the 2018-19 year.
MPIRG is targeting next year's contract renewal negotiation to raise the minimum hourly pay for Bon Appetit employees at the college to $15 per hour.
Bon Appétit Director of Labor and Productivity Kent Buell said in an interview with The Mac Weekly that roughly 50 percent of Bon Appétit's employees based at Macalester making less than $15 per hour, with unskilled, entry-level workers starting at $11 per hour. The current average wage is $13.86 per hour.
Raising the hourly pay of every Bon Appétit worker at Macalester to $15 per hour, and then raising the pay of other workers commensurately, would require Bon Appétit to increase the amount of money it spends on labor at the college by some 30 percent.
Right now, that is a tall order.
"The money has to come from somewhere," Buell said. "It isn't just in someone's pocket. It isn't just in corporate profits or college decisions. It has to come from efficiency and productivity, it has to come from leveraging technologies, it has to come from waste reduction and portion controls."
Unless Bon Appétit can save a substantial amount of money in its new contract with Macalester, the burden of paying for any wage increases would fall on the college.
"One option would be, the bill goes up from Bon Appétit, the bill goes up for students," Wheaton said. "We don't like that, but that would be one version of it."
Raising the price of meals at Café Mac is not a preferred option. One place where Buell says Bon Appétit could save money is in reducing the amount of food waste on campus which, according to Wheaton, exceeds the level of waste at a number of the company's other locations.
"We throw out hundreds of pounds of finished food daily, and that's fully-loaded retail – labor and cost of goods – being grown, shipped, processed, purchased, cooked, served, taken, the dishes are washed, and then we throw that food out," Buell said.
Apart from the upcoming negotiation, there are other routes potentially available to Bon Appétit employees to improve their pay and benefits.
Last spring, the more than 300 Bon Appétit employees working at Washington University in St. Louis voted to join a local chapter of the United Food and Commercial Workers union.
Six months later, those employees approved a new union-negotiated contract that includes pay raises of up to 14 percent over the contract's life, additional vacation days and access to the union's healthcare and retirement plans.
Another area to watch, as Robinson's presence and comments highlighted, is the ongoing push to raise St. Paul's minimum wage to $15 per hour. The city's mayor Melvin Carter supports the measure, which was passed in Minneapolis last year.
"We actually have been involved in that conversation with the mayor's office with other colleges, as a group, to learn about what the plans are and offer feedback," Wheaton said. "It seems pretty clear to us that St. Paul is going to get there."
If St. Paul does move to a $15 per hour minimum wage, the increases will likely be rolled out over a number of years. Minneapolis, for instance, won't raise the minimum wage to $15 until 2022 for large businesses and 2024 for small businesses.
Buell isn't eager to wait for potential legislative action.
"I've been washing dishes since the '80s, so I would have liked to have seen [livable wages] a long time ago," he said. "As with any equity and justice issue, I think the time is now… It's what we strive for every day."
Another possibility for ensuring livable wages on campus on a shorter timeline would be redistributing money from the top of Macalester's wage distribution to the bottom.
During the question-and-answer portion of the event, discussion turned to the annual salary of Macalester President Brian Rosenberg. As of 2016, Rosenberg's base salary was $500,067, and his total compensation was $770,925, making him one of the best-paid liberal arts college presidents in the country.
Rosenberg donates a portion of that pay back to the school each year, but a number of the students asked whether his salary could be reduced to help finance raises for those workers making less than $15 per hour.
Wheaton called the line of the questioning "fair," but said that he's "not sure that we'd see a cut out of any individual's salary in the short-run."
MPIRG's efforts, have, however, had an impact. While the college has not before had conversations with its subcontractors around the wages they pay their employees, Wheaton said that livable wages will likely be on the table when Langer and her team negotiate with Bon Appétit next year.
"It feels like this subject has been raised, and I don't know why there would be any reason why we couldn't make it a part of the conversation with Bon App," he said.
Wheaton also made a point, late in the town hall, to highlight the shared interest between the administration and students in seeing all workers at the college make a livable wage.
"Almost everybody I've worked with here has a very similar value set as you," Wheaton said. "Most of us were attracted to work here because of the kind of place that it is… The question is what do we do, and how?"
"I don't know how to get [to livable wages for all employees] in a single swoop," Buell said. "There is no single silver bullet solution on this one. It's going to take a community – a tribe – to get there."