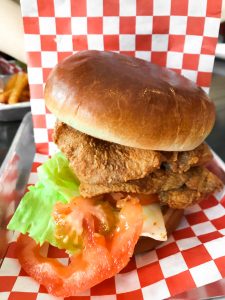 Grand Catch is the newest restaurant on Grand Avenue, between Macalester Street and Wheeler Street. This casual seafood eatery presents a purposefully simple menu of seafood classics. The main attraction is the seafood boils, a dish in which shellfish is boiled in an aromatic broth and served with potatoes and corn. Reader be warned, eating a seafood boil does involve pulling apart shellfish, and will almost certainly necessitate a bib, so I would save ordering this dish for only the most adventurous of dates or meals with friends.
At Grand Catch, for each boil you chose from a list of shellfish, different sauces, and varying levels of heat. During my meal I decided to share two seafood boils with my three friends, one with snow crab, awesome sauce, and the hot level of spice. The other boil with head-on shrimp, awesome sauce and medium spice. Everyone else decided to get either the fried white fish sandwich or crispy fried chicken sandwich. Since we were a large group, we also decided to try some appetizers and chose the cornmeal fried shrimp and fried green tomatoes.
My first impression of the appetizers was full of familiar sights and flavors. The lightly battered shrimp and tomatoes were given a liberal dusting of spices and were even served on the metal trays with checkered paper that seem to be a staple in classic American seafood restaurants. Both the shrimp and green tomatoes were battered just enough, such that each bite had a satisfying crunch without gratuitous breading or ever becoming soggy. Furthermore, every bite of the shrimp was tender and flavorful and was supplemented by a strong seasoning of Grand Catch's spice blend #9. Even the green tomatoes were cut to just the right width so that they were still flavorful and juicy but never mushy or greasy. Both of the appetizers set the tone for an excellent meal.
When the seafood boil arrived on the table, it was hard to not be excited. The aroma of the awesome sauce, Grand Catch's combination of garlic butter and Louisiana sauce, was nearly overwhelming as it wafted across the table. The hot spice level on the snow crab paired fantastically with the garlic in the broth creating a rich warm flavor. For those of you who are hesitant of spicy food I would implore you to try the hot level of heat. It falls short of sweat inducing spiciness and adds a distinguishable depth of flavor over the medium spice. But for those of you who pride yourselves on your love for heat do not fret, there are two more heat levels above hot.
As we cracked and picked our way through each crab leg and piece of shrimp, I couldn't help but appreciate the attention to detail across all the dishes of the meal. All of the seafood in the boil was cooked perfectly and the individual flavors stood out even amidst the bounty of garlic and old bay rich broth.
Each dish checked all the boxes and met all expectations of flavor and consistency. The corn and potatoes were tender and absorbed the flavor of the broth perfectly. Everywhere I looked for shortcomings the meal presented me with another consistently delicious bite. Even the fried chicken sandwich was juicy, flavorful and crisp despite being one of the few non seafood dishes in a seafood restaurant. I believe that this success in each dish can largely be attributed to the emphasis on simplicity and quality instead of offering an over complicated and exhaustive menu. There are only four other main dishes offered besides the seafood boil and its variations in flavor, shellfish, and spice. I believe that this distinct choice speaks volumes to the individual importance and effort behind every dish. Furthermore, Grand Catch is the newest contribution to the Saint Paul food scene by Sameh and Saed Wadi, the brothers behind Twin Cities' favorites Saffron and World Street Market. Clearly the brother's success in the kitchen and restaurant business has not missed a step with Grand Catch.
Even though I left thoroughly satisfied with my meal, there were some shortcomings that are largely attributed to the main focus of the restaurant, seafood. With various types of shrimp and crab as the centerpiece of Grand Catch's seafood boil offerings, it is not surprising that the least expensive seafood boil will come to $14. In addition, because each seafood boil is ordered and priced by the pound of shellfish, it walks a middle ground between being a dish for two with smaller appetites and a dish for one very hungry eater. Even the less expensive options, such as the fried chicken sandwich and fried white fish sandwich, fetch restaurant prices of $9.50 and $11 respectively. Because of these prices, I would not suggest Grand Catch as your new just-off-campus meal, especially on a student's budget. But otherwise, Grand Catch is a welcomed and appetizing addition to the Mac-Groveland neighborhood.
Grand Catch is located at 1672 Grand Ave, St Paul, MN 55105