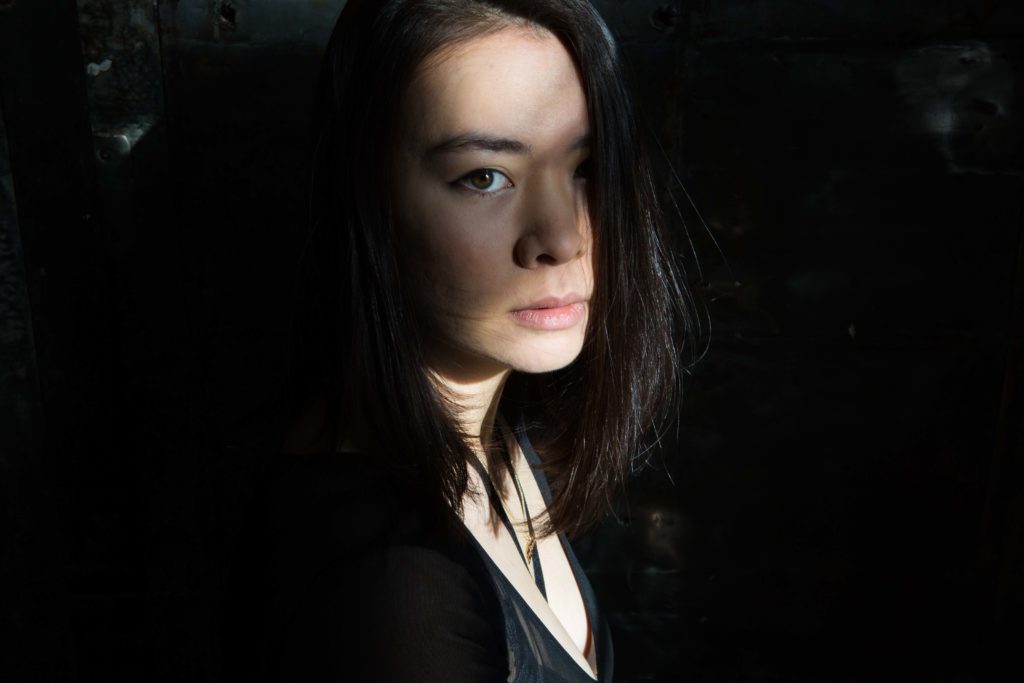 The recently reopened Palace Theatre in downtown St. Paul doesn't try to impress by looking flashy. Neither does Mitski, the indie-rocker who opened there for the Pixies last week.
On October 10, Mitski took center stage, wearing black, with her hair pulled into a low ponytail.
Accompanied by a percussionist and a guitarist, she stood in place as she sang and played the bass, proving that musicians don't need to jump around as long as they know how to yell.
If you only know one Mitski song, it's probably "Your Best American Girl." It's short, like most of her songs, but not sweet. In a 2016 interview for Song Exploder, a podcast created by Hrishikesh Hirway, Mitski discussed writing the song, which was inspired by a failed relationship. "I just felt like our backgrounds, or the places we came from, or how we were raised, were just so completely different, and it felt like something that couldn't be overcome by love," she said.
Mitski's mother is Japanese and her father is American. Mitski (last name Miyawaki) was born in Japan, but her family often moved internationally. In her interview with Song Exploder, she mentioned the difficulties of growing up in many places, especially as a Japanese-American. "You always want what you can't have," she said. "That 'all-American' thing — from the day I was born, I could not enter that. How hard I tried, I could never enter that dream, that all-American, white culture that is inherited instead of attained." "Your Best American Girl," from the 2016 album Puberty 2, offers a complicated perspective on identity, relationships and heartbreak, as Mitski sings: "Your mother wouldn't approve of how my mother raised me/But I do, I think I do/And you're an all-American boy/I guess I couldn't help trying to be your best American girl."
Mitski's lyrics tend towards emotional complications, as in "Townie," another song in her set last week. "I want a love that falls as fast as a body from the balcony," she sang, "I want to kiss like my heart is chasing me down/I'm holding my breath with a baseball bat." The song, from the 2014 album Bury Me at Makeout Creek, deals with themes of sex, consent and growing up. The lyrics offer dark metaphors, but the loud, gritty power of the song suggests that even in a mixed-up world, Mitski will find her way. And she'll do what she wants, as she sang: "I'm not gonna be what my daddy wants me to be/I want to be what my body wants me to be."
Part of the power of Mitski's songs comes from her refusal to offer simplicity. These songs don't pretend that everything is great. Instead, they insist on resistance, as in "Drunk Walk Home," one of the closing songs in Mitski's set. "I'm starting to learn I may never be free," she sang, "But though I may never be free/Fuck you and your money." Musically, Mitski's vocals swing from ethereal wailing to shouting it out. Mitski shines in either mode.
For the last song of her set, Mitski had to roll up her sleeves. Her supporting musicians walked off the stage, leaving her alone in the spotlight on the darkened stage for "My Body's Made of Crushed Little Stars." She slashed her guitar strings and roared: "I wanna see the whole world/I don't know how I'm gonna pay rent / I wanna see the whole world."
At the end, Mitski thanked the audience, and then disappeared offstage. Her set didn't last more than half an hour.
To a fan like me, Mitski's appearance felt woefully short. As an opener, she gave a complimentary introduction for the Pixies, commenting that she cried the first time she saw the band perform. "It's very strange to be opening for them," she said.
Give it a year or two, and it will be very strange to see Mitski open for anyone, period.
Songs for New Listeners:
Mitski: "Your Best American Girl," "Townie," "Fireworks," "First Love/Late Spring,"
Pixies: "Here Comes Your Man," "Monkey Gone To Heaven," "Where Is My Mind?"