Singledom, hookups and long-term love at Macalester
By Olivia Wolf
As single seniors about to graduate, my housemate and I were curious about the dating experiences of our peers at Mac. We posted a "Dating Culture at Mac" survey to Facebook, and received 150 responses, mostly from class pages. We found that most students have been asked out zero times since coming here, and average satisfaction with the dating culture at Mac is a 4.9 (out of 10). In addition to our survey, we also sat down with two couples and one single woman to ask about their thoughts on love at Macalester.
A year and a half ago Giulia Girgenti '18 and Louis Hunter '18 matched on Tinder. They then met in real life at a Nudl dinner that they both happened to have signed up for. Soon after, Hunter asked Girgenti out.
"I actually had to say no at the time because I was seeing someone else, but then that fell through. The second time he asked, I said yes," Girgenti said. The two have been together ever since. "We're pretty settled," Hunter said, "Yesterday we worked in the garden, went grocery shopping and finished a crossword puzzle."
Not all Macalester students who are dating meet their significant others on campus. Rachel Naasz '17 met Hamline graduate Aaron Janicke '15 through mutual friends one Friday night in Dinkytown. They've been dating for two and a half years and currently live together. This is the first relationship Naasz has been in at college that has required serious commitment. Before meeting Janicke, Naasz's romantic experiences primarily consisted of hookups. "Based on my limited experience, I'd rate hookups at Mac to be about a two just because it was always so awkward after. Mac really is kind of a bubble," she said. Girgenti also feels like Macalester's dating culture could be improved. "I had a few bad experiences with dating here, but I can say that this relationship outweighs all the bad ones," she said.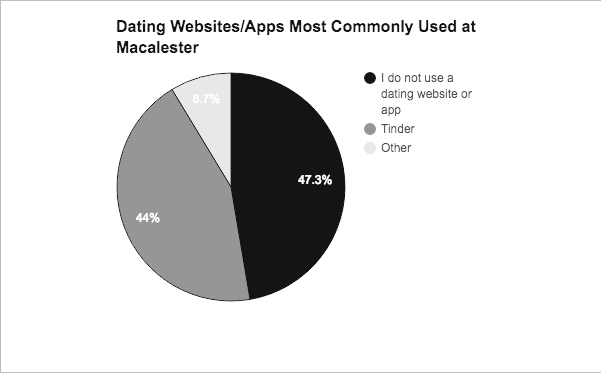 Not all Macalester students choose to engage in romantic relationships. "I'm too busy," said Khin Kyaw '19, "I've dated a little, but I don't see myself getting into anything serious." Kyaw is known for her frequent crushes, which she said usually last about 24 hours. "I'm always talking about my newest ones. Nothing usually happens, though," she said.
According to the long-term daters, keeping a balance between spending time together and giving each other space is key in maintaining a healthy relationship. "One of my early mistakes was to mold my interests to what my partner liked," Girgenti said, "This time I said, 'I'm not joining your clubs, and I'm not switching to your major.'"
In terms of actual dating, Girgenti and Hunter usually save nights out for special occasions. This past Valentine's Day, the two had a romantic dinner at Khyber Pass. "It was cute," Girgenti said, "I wore a red dress that I borrowed from a housemate, and Louie wore a suit."
Janicke also likes to spend date nights near campus. "There's an Italian place across the stadium from Mac called Carmelo's that we really like. It was really convenient before we had cars," he said. The Grandview Theater is also a frequent dating spot for Janicke and Naasz. "It was built back in the '30s, so the feel in there is just different from an AMC," Janicke said. "Watching artsy films just seems right there. Also, the popcorn is a must."
Though many students here might be accustomed to Mac's scenery, Janicke always enjoys coming to campus to spend time with Naasz. "It's absolutely beautiful, especially in the spring and summertime. The whole place is romantic."