To be honest, I think I know why a lot of people who are paging through The Mac Weekly stop to read my column. Y'all are checking to see if this will be the week that I divulge the Big Secret on How To Have Good Sex. Well, dear readers, you are in luck! Get ready to have your burning questions answered here, in my second installment of the semester. Today is the day that you learn how to have good sex. (Don't fret though, this doesn't mean that I'll run out of material; in fact, I'll spend the rest of the year answering questions about sex you didn't even know you had.)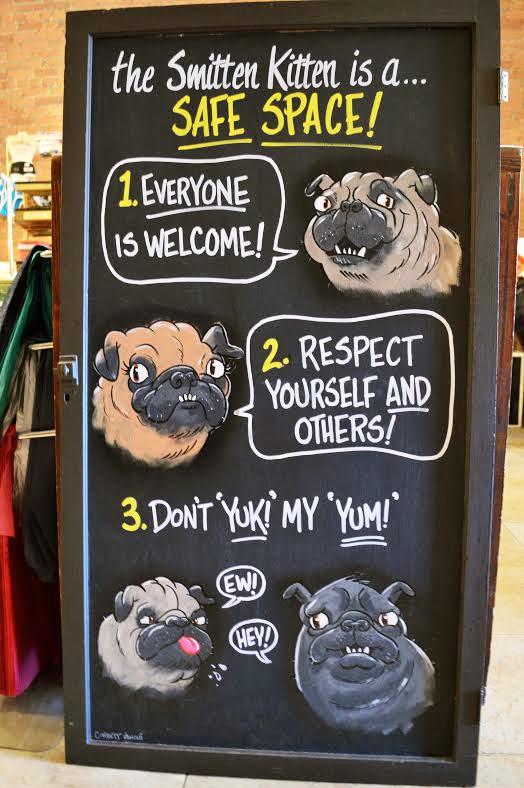 Since this is such a big topic, I decided to bring in the big guns for my research: Minneapolis's own progressive sex toy store The Smitten Kitten, and Macalester's own Sarah Mueller. Since her graduation in 2012, Sarah has become the Lead Education and Research Developer at the Smitten Kitten. I was lucky enough to explore The Smitten Kitten this past weekend where I also spent almost two hours interviewing and learning from Sarah. I can't fit all of the super cool stuff I learned into one column, so consider this Part One: Good Sex. Part Two: Ethical Sex, will be released in two weeks.
Let's get down to business. What is good sex? Sarah worked with me to create the following definition: an agreed-upon something that is sexual to the person/persons involved that leaves everybody (or one) feeling physically and/or mentally good about what happened. Boom. Let that really sink in for a second. Good sex is important, and everyone who wants to have good sex should have good sex, but that looks and feels different for everyone. There is no one-size-fits-all solution to having good sex. As people, we are all kinds of different, and the sex we have is all kinds of different. It's up to us as individuals to talk and communicate in order to make that sex good. Sex-positive attitudes are the best way to make all sex good. In Sarah's words, sex positivity works to "facilitate open and honest discussions of sex, sexuality and sexual/reproductive health without shaming folks or silencing them."
Comfortable and open communication are the secrets that everyone has been searching for. Sex-positivity is not all about proclaiming the majesty of orgasms, nor does it mean shouting about how great masturbation is from rooftops. Sex-positivity doesn't even necessarily mean really liking sex. As Sarah reminded me, none of these behaviors necessarily indicate a healthy sexuality. That makes the roadmap of having good sex pretty unclear, I know. But, that's what sex-positivity is all about, breaking down understandings of how sex "should" be had or talked about, in order to build up an environment in which anyone can be comfortable expressing and enjoying their preferred forms of pleasure.
In order to foster the having of good sex for ourselves and others, we need to deconstruct and eliminate the judgements and arbitrary value systems that influence how we talk about sex. Sex should not be taboo. It is not dirty, inhumane or negative. Having good sex requires self-exploration to determine preferences and pleasures. Finding the confidence (or even just a minimal level of comfort) to investigate your own sex, body and sexuality creates opportunities for reflective learning, such as asking a sex educator for recommendations for a masturbation sleeve or vibrator. Increased ease with open communication about sex also creates important spaces for sharing, maybe by talking about particular kinks or aversions with one or more partners. Sex-positive attitudes create inclusive, accessible, safe and consenting environments in more ways than one.
Sex-positivity means open, honest and clear communication between everyone, not just people who LOOOVE to have sex. Any person who has any preference about sex should be included in conversation about it, if they want to be. This includes people who don't have sex, or who don't enjoy it; people who choose to remain celibate for any reason or period of time; people who have sex for the pleasure of their partner, but not necessarily because they themselves are "in the mood;" people who have sex with the sole intention of procreation; people who have sex because it feels good; people who prefer to explore their sexuality alone; people who prefer a single partner; people who prefer multiple partners – this list can go on and on.
What I'm driving at in this column is the idea that as long as there is 1.) CLEAR and EXPLICIT CONSENT, as well as 2.) POSITIVE COMMUNICATION with everyone involved, sex in any way, for any reason (or not at all) is fantastic. Have some good sex if that's what you want, or no sex if that's what you'd prefer. Either way, talk about it… I'm positive it will make whatever you're doing better.