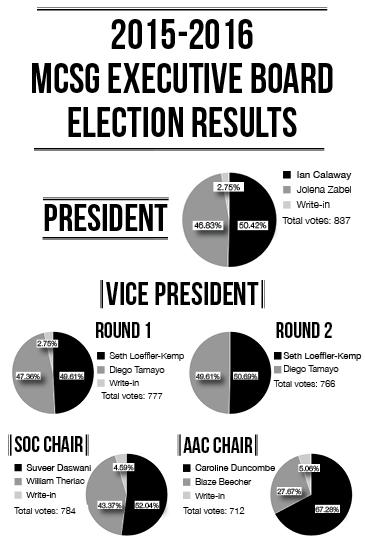 Ian Calaway '16 has been elected as Macalester's 2015-2016 Student Body President. Seth Loeffler-Kemp '17, who campaigned as the running mate of Jolena Zabel '16, has been elected Vice President. Suveer Daswani will be the 2015-2016 Student Organizations Committee Chair, and Caroline Duncombe '18 will be the Academic Affairs Committee Chair.
There were a total of 837 student votes cast in favor of a presidential candidate. Calaway won by a small margin, with 422 votes to Zabel's 392.
"I plan to refocus MCSG," Calaway wrote in an email, when asked for comment. "While I have been at Macalester, MCSG has been viewed primarily as the distributor of the student activity fee. I want to see MCSG return to its purpose as outlined in the MCSG Constitution. MCSG should be a champion of students' rights and freedoms, while also ensuring that Macalester student voices have significant impact on college policy and it is my goal to lead an MCSG that lives out this purpose." Calaway expressed his desire to increase MCSG's connection to Macalester through more frequent student assemblies and forums, a WMCN radio show, and a stronger relationship with The Mac Weekly.
Initially, Seth Loeffler-Kemp's victory was by less than two percent, with 49.16% of the vote while opponent Diego Tamayo received 47.36% of the vote. According to an email sent by Macalester Student Government, an official EPC complaint was filed against Loeffler-Kemp, accusing him of soliciting votes by text message during the voting period. Loeffler-Kemp was found guilty, and votes received after the solicitation was sent were eliminated, which is demonstrated in the official election record. After elimination of the write-in vote, which required a second round of counting, Loeffler-Kemp won by only six votes. In total, excluding the post-solicitation votes, there were 777 votes cast on the vice presidential ballot.
Daswani also won the SOC Chair position by a small margin. Daswani, who campaigned in part with the use of video, won a total of 408 votes out of the 784 that were cast, while William Theriac '16 received 340.
"As the Chair of the SOC, I will strive to ensure that the process of chartering remains simple, provide greater accessibility to information regarding student orgs, and promote and diversify the use of OrgSync," Daswani wrote, adding, "I hope to strengthen the link between the student body and the student government and hope to instill a sense in every student that there's truly 'no place they'd rather be.'"
There was a significantly larger margin in the voting for AAC Chair, for which Caroline Duncombe received 67.28% of the vote.
James Lindgren '15, the current SOC Chair, said in an email that he was pleased by voter turnout, and particularly impressed by the vigor of the campaigning leading up to the election. Lindgren also expressed his excitement to help Daswani in his transition to the role of SOC Chair.
"These races were neck and neck because we had many, very qualified candidates," he wrote.