Senior Arts Profile // Cynthia Scott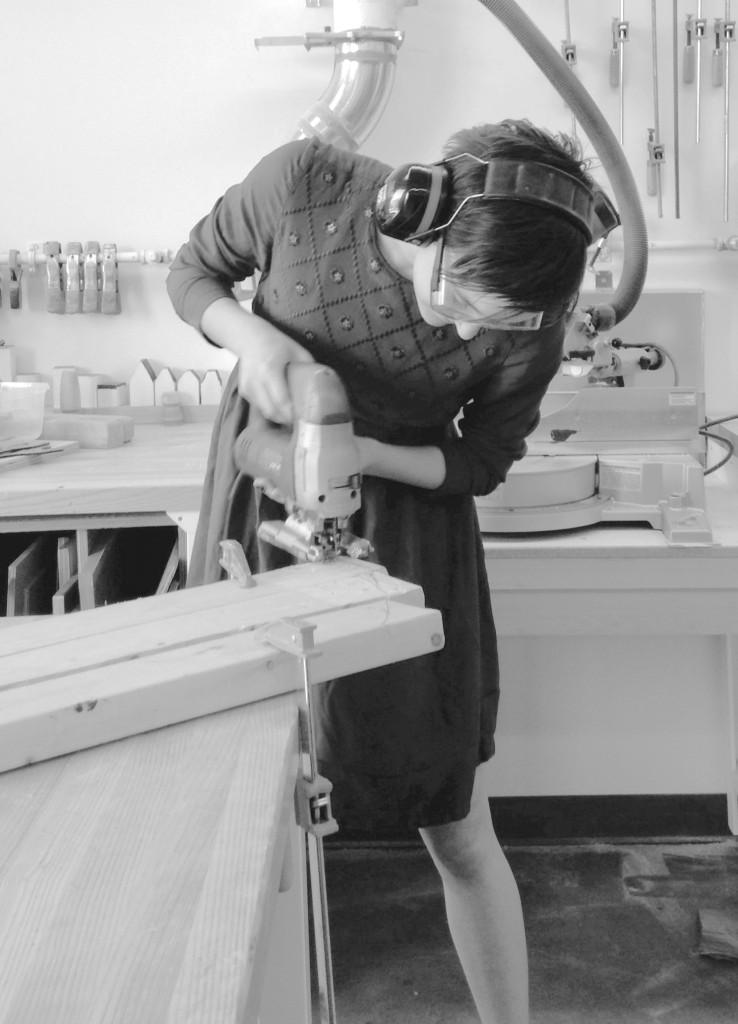 This week, The Mac Weekly sat down with Cynthia Scott, a studio art and philosophy double major from Kansas City, Missouri.
What kinds of art do you do?
I've done a lot of sculpture and large-scale wood working. I also do oil painting and charcoal drawing and I'm currently exploring more body-based art.
How did you first get interested in studio art?
I was always interested in any kind of creative expression. I used to do theatre and singing, but I discovered drawing as an outlet for mental health struggles when I was around 13. I found it was really therapeutic for me, so I started doing it obsessively.
What do you most enjoy about studio art?
One thing that I am always drawn to is tactile art, which is why I love charcoal because it's like I'm almost sculpting. When you're using your hands to make something, there's this connection between your body and the object or meaning you've created, and that's something that's really magical for me. Art is also a really powerful medium for expressing political and philosophical ideas and making them more concrete and visceral.
What are your favorite kinds of art?
Charcoal is my favorite in certain ways. It's my favorite for self-expression and for the therapeutic aspect. There's something about the mood it creates that I'm really drawn to. But I also really love working with wood, which is similarly tactile, but three-dimensional. I really enjoy creating fluid and organic forms, and that's striking in wood, which is so heavy and stagnant. Visually I think it's really interesting.
You're an art and philosophy double major. How do philosophy and art relate?
I'm really interested in the intersection of art and philosophy, particularly within feminism and anti-racist work. I like exploring the theoretical concepts that challenge the status quo of society and its power structures. Art and philosophy are really deeply intertwined, because art is a way of embodying some of those theories and making them felt in a much more powerful way than reading about them in dense theory texts in a distanced academic setting. Art and philosophy are both ways of being subversive in an oppressive society.
How are you involved in art at Mac or elsewhere?
I intern for an artists' collective in Minneapolis called The White Page, which has a studio space that I can use. The White Page was started by four young female artists. Every two months they host a resident artist who uses their studio space for a six-week period and then has a solo exhibition. It's a way to give young and emerging artists the time and space to create and get their work out there. It's really helpful because a lot of the work is more experimental, and wouldn't necessarily be possible in the commercial art world for artists who haven't become established yet.
I'm also going to show art in the senior exhibition, which opens on May 1st. There are only five of us this year, so we'll all have a lot of space in it. Right now I'm experimenting with making my own oil paints using pigments from my everyday life. Generally, those colors will fade a lot more quickly; they're not archival. I'm exploring the idea of ephemerality, as well as the body and the boundaries that we construct, in a lot of the work I'm doing right now. I'm also working on a large scale wooden sculpture, which will incorporate some of the same ideas, using wood that I've scavenged from alleyways and factory dumpsters.
Did you study abroad?
I studied in Paris for one semester and lived with a host family. I took two studio classes, two philosophy classes and one art history class. Most of the classes were at the University of Paris VIII. The studio class I took there was called "Enlarged Practices of Drawing," but it really wasn't about drawing at all. The professor said he considers any kind of inscription on a line to be a drawing, including inscription in space with your body, inscription with light in photography and inscription with your voice in the air. Every week, he would give us a very vague theme and then we had to make something that addressed it in any medium. One of the themes was "the trace left by an everyday gesture" and another one was "your height." His class gave me the opportunity to explore and push my art in a lot of ways. I've been drawn to conceptual art while studying art history and that class really pushed me to connect it with my own art more.
Are you involved with anything else at Mac?
I used to be involved with political organizing on campus, but recently I've been focused on working with The White Page and making connections outside of Mac. I've found it really helpful to start integrating myself into the artistic community in the Twin Cities because I'm going to stay here next year.
What are your interests and hobbies besides art?
I enjoy doing yoga, rock climbing, hanging out in coffee shops and taking care of my cat. Animals are really important to me. I also really try to support local labor activism. I'm not super involved in it, but a lot of my friends are, so I go to protests.
What are some of your fondest memories from Macalester?
Mostly just the connections that I've made with people during late night dorm room talks over tea.
What advice would you give to someone thinking about majoring in studio art?
I've taken classes across the board in science, philosophy and other areas to figure out what I want to do. It's completely possible to do that, but to really get the most out of doing studio art, you need to be putting in more time than required. This is difficult to do when you're also writing papers and going to labs. My advice would be to take advantage of other classes-as they connect with your art in so many ways-but also give yourself the time and space to really get involved with your studio art.