In last week's Sexy Mac, I wrote about the risks of doing advocacy around the issues of sexual and/or romantic health. It is horrific that a movement I envision as combating power and violence is also tied to violence for these advocates.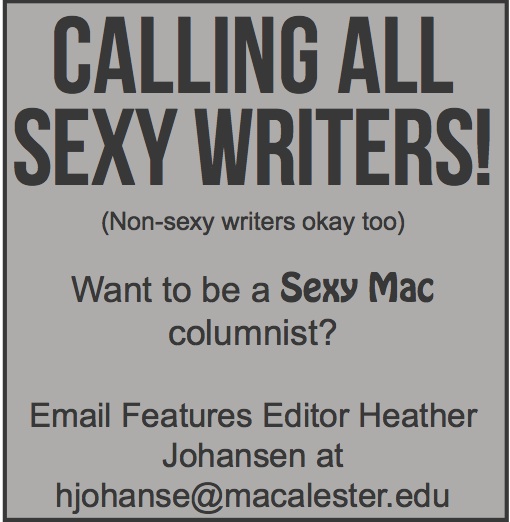 While I have experienced some negative and hurtful situations because of my involvement with sex positivity, after two years, I cannot say I could give it up. Writing for this column has been a joy for me in many ways, but it has transformed me especially as someone who is an external processer. Having a voluntarily public period of reflection every week has been exhausting, but putting my thoughts into words and knowing they might resonate with others keeps me going. It also invites me to change. When I write on how to encourage a consent-centered culture, I am reflecting on how I fail to support consent and how I can do better. When I write about platonic love, I am learning to love my friends more fully and honestly.
But because my experiences only show a small glimmer of the joys and triumphs of this kind of advocacy, I welcomed three seniors to share their stories: Kate Ibur, Noah Exum and Laura Johnson. I invited these people specifically because I deeply admire their work. What brings us to the work we do, how we can engage our advocacy, how we are affected by it, who we support and meet and learn from and love along the way: all these considerations deeply impact our experiences with advocacy involving sexual and/or romantic health. Knowing that no one has the exact same story, I asked them to speak to either a joy or hope or moment of transformation they experienced as part of their activism. Here are their responses:
Kate Ibur, '14
I've always been an overtly sexual being. At age 11, I started reading any and all books that had a sexual context—the more explicit and graphic the better. I found reading books about sex to be exciting, deviant and subversive. I loved to talk about sex; all through middle school and high school, classmates would tell me to "get my mind out of the gutter," while others would ask me for sexual advice and tips. My morals shifted as I became older and survived abstinence-only education where information about condoms was swapped out with school-wide slide-show presentations of advanced stages of sexually transmitted infections (STIs) and stories about virgins getting herpes during their sexual debut. I became very "sex-negative" surrounding the number of sexual partners someone had. I didn't just judge women who slept around—everyone who had more sex than me, regardless of gender, was a slut. As a graduating senior in high school, who had only had sex with my long-term boyfriend, I felt justified in my outdated beliefs.
As an incoming first year to Mac, I watched the sexual assault modules, which discussed consent in a radical way I had never considered before. Consent is not the absence of a no, but the presence of an enthusiastic "yes!" I became obsessed with this newly discovered definition—it made so much sense. It colored all my past experiences as I realized the many times I was taken advantage of sexually in high school were not just "things that happen"—they were assault. The hurt I experienced but could never explain was now validated. As I learned more feminist theory and insights from classes, my views held more strongly. I noticed the perpetuation of shame and the silencing our society exerts on the sexualities of all of us, particularly on the sexual voices of people not able to claim a heterosexual, white, cis-gendered male identity.
Being interested and involved in sex education became more than spreading messages of pleasure, it became political. No one has the right to restrict or dominate my body. The rights to abortion, consent, pleasure, how I choose to identify, and even the number of sexual partners I have should be no one's business and decisions but my own. These rights have become more ingrained in my mind the longer I work in the sexual health world and realize everyone should—correction: needs—to be aware of these rights as well. Through being a SEXY educator for Macalester, my work-study job as a community educator for Planned Parenthood, and my sexual health work in the future, I hope to promote sex-positivity and work to eradicate a sexist culture that downplays rape and sexual assault.
Noah Exum, '14
In some ways, I have a typical retail job—I stock shelves, stand behind a register, and sell people things. But if all I did was ring up purchases, I would have quit years ago. Working at a sex store means that I am a sales clerk, sex educator and de facto therapist, all in one.
I started working at Fantasy Gifts over three years ago, and immediately realized how meaningful my job could be: I was still in training when I helped find a vibrator for a recently-divorced woman who'd never had an orgasm, and I've had more people come out to me, sometimes in tears, than I could ever have expected. Walking in for my interview was the first time I'd ever set foot in a sex store, and I half expected the stereotypical neon lights, dark corners, and creepy men. The store turned out to be bright, welcoming, and not at all creepy, but I try to remember my first-time nerves when I greet customers, many of whom have the same expectations I had.
Discussions about sexuality have become more common in our society, but there are still large groups of people who are nervous or afraid to enter an adult store. And as much as I love the laughing, sex-positive customers, I find the nervous ones most rewarding. Often, they tell me things they haven't told their partners or doctors, or whisper questions they're afraid to say out loud. My job isn't just to sell them a product, but to reassure them that they're okay—nothing is wrong with them. And when they leave saying "this wasn't as creepy/scary/bad as I thought it would be," I know I've done my job well.
Laura Johnson, '14
My passion for sexual health comes from my experience as a queer kid seeking health care. When I was 15, I had unprotected sex with a man. One of my friends convinced me that I should go get tested at this clinic in my high school. I remember the nurse asking me if I had other unprotected sexual intercourse and I said "no" because I knew she meant sex with men, and felt this awful combination of shame and kind of being smothered. I felt like I had swallowed my identity—there was no way for me to be queer in that space, let alone be celebrated. I continued having all kinds of unprotected sex in high school, and never went back to the clinic.
Then my first year of college, I went to Family Tree Clinic. Their paperwork had a list of types of sexual activities and partners that you could check to indicate your own behavior. I saw "touching with hands", "female partners", "trans partners" and was in awe. I paused writing and sat with my delight at how much of who I was and what I did could be included in that form. I saw they had a spot to write in your own gender and went up and complimented the front desk; I was just SO excited to receive care from them. The contrast between Family Tree and high school was incredible: I had never realized that sexual healthcare could be an actively positive experience. I began recommending my friends to Family Tree for birth control and testing; junior year, I decided to start volunteering as a patient educator.
I feel such care toward the people I work with because I have been on the receiving end of STI results, pregnancy test results, birth control prescriptions and know how vulnerable that can be. I focus on being calm and positive, and affirming the patient and their choices. I want patients to feel supported, healthy, and safe. Everyone who I work with is making positive sexual health choices, they are all advocates for themselves by the fact of their presence at Family Tree. I am humbled to be part of the creation of a positive sexual community.
---
I organized Laura's comments last because I wanted to highlight her final point: that we—Kate, Noah, Laura, and I—are parts of movements working toward visions of more positive, more consensual, more accepting of intimacy within our communities. Although our actions are so different, change can only happen through multilateral approaches, multidimensional thinking, multiple avenues of love and hope. I have truly been blessed to have the space to explore these issues, and I would not be the person I am today without the last two years of writing this column. But I am also blessed for people like you willing to read and learn about better ways to engage intimately. I am blessed for all the work these three seniors who wrote for this column—and of every other senior, every student who advocates for better imaginings of our world. Truly, it is one of my greatest joys right now to be a small part of this powerful groundswell of activism, and with our work, I hope we can create the kinds of safe, happy, consenting communities we envision.
And it is within this frame of thought—of the joys of doing this advocacy and that this is part of a community of justice–that I want to turn to something only tangentially related: an announcement about the authorship of this column for next year. Namely, that Bringing Sexy Mac is looking for a co-writer for the 2014-15 academic year!
Although it dazzles me to think this, next year I will be a senior. While I somehow managed so far, I do not think as a senior I would be able to deal with the stress of everything going on and keep up with Sexy Mac every week. If I truly want to follow my advice about self-love/-care as an integral part of sex positivity, I must step a little back if I wish to continue doing this awesome thing that has given me a lot of happiness. But this isn't (just) about me. I want to also envision this co-authorship as a way broaden the platform of this column to include new voices and perspectives that I couldn't have thought of including. So do you care about sex positivity, the politics of radical love, and/or sexual and romantic health? Excited to write to an audience of peers, mentors, and utter strangers about your opinions about stuff? If you are, email Heather Johansen, Features Editor, for information about expectations and how to apply. Don't be shy, and I am already excited to welcome your wisdom, thoughts and writing!