Love Thy Neighborhood: Fanfare for French Meadow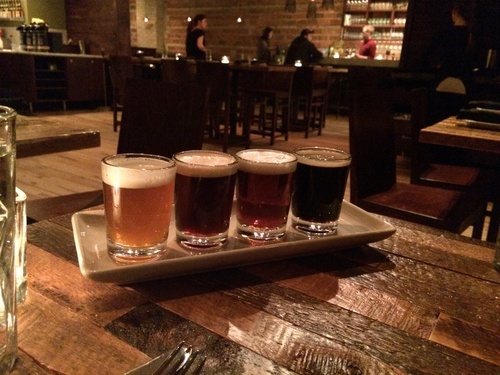 The long-awaited French Meadow Bakery & Cafe on Grand Avenue finally opened last Sunday. I paid it a visit Monday evening and was pleasantly surprised by what I found. When it comes to successful restaurants the stars must align, the food must match the vibe which must match the service, and so forth. French Meadow on Grand, despite it having taken "forever" — as some may say — to open, pleasantly exceeded all of my expectations.
Stepping into the space, you are immediately drawn to the long walk-up service counter that features an assortment of mouth-watering pastries. Their large dry-erase board, a noticeable difference from the massive chalkboards at their Lyndale Ave. location, features countless different types of coffee creations.
Continuing to walk into the space, you will be amazed at the sheer size of it. For those who remember Coffee News, which formerly occupied this space, you will remember the spatial constraints it had. French Meadow seems to have maximized the amount of space available for its patrons, making it feel very open and spacious.
The expansive bar, featuring 20 different beers on tap as well as a local and west coast flight is a welcome addition to the immediate neighborhood. Also, diners can see into the kitchen, which is a big improvement over the Lyndale location where you can't see it. Maybe it is just me, but I enjoy being able to look over and see my food being prepared.
Sustainability at French Meadow extends beyond the food. The table we sat at is, from what I could tell, made out of a recycled wood. The candle-lit table, in addition to the overall lighting, creates a very warm, cozy and inviting atmosphere.
For beer, my friend and I chose to have the local flight which include beers from Indeed, Bad Weather, Boom Island and Flat Earth breweries.
Visitors will find that the menu is pretty much exactly the same as the Lyndale location – fans of the turkey risotto at the Lyndale location will see that it's a duck risotto here.
Keeping the menu the same, I believe, is a strong move on French Meadow's part since it creates familiarity for diners as well as ease when moving staff between locations. In fact, several of the servers said that they had also worked at the Lyndale location.
For dinner, my friend and I split the three cheese macaroni 'n cheese — it's not your out-of-the-box Kraft Mac'n Cheese — it was very creamy and delicious, as was the accompanying side salad.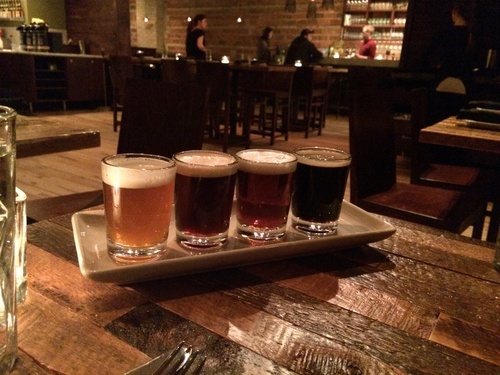 We also chatted with our waitress for a bit. As a Macalester student, I was interested in what French Meadow had planned for happy hour. After all, college students do love cheap food and beer. She said that while they are still working on the exact details, it looks like a couple dollars will be knocked off the price of beer and happy hour dishes will include fries, turkey sliders, as well as brussel sprouts — a favorite of mine.
On our way out, the waitress slipped me the Breakfast & Lunch menu. With dishes such as "Huevos Rancheros," "Cajun Hashbrowns," and "Blueberry Corn Pancake" for breakfast, and the "North Star Bison Burger," "Vegan Black Bean Chili," and "Wild Acres Turkey & Bacon Croissant," for lunch, French Meadow is a welcome addition to Grand Ave.
French Meadow also seems to be getting ready for summer by expediting what seems to be a patio, being built behind the restaurant.
As someone who loves dinning at the many places along Lyndale and Hennepin, French Meadow's expansion to Grand Ave. hopefully is a sign that many of the excellent restaurants along Lyndale and Hennepin will open second locations on Grand Ave., further enhancing MSP's food scene and creating more options for the foodies living along Grand Ave.