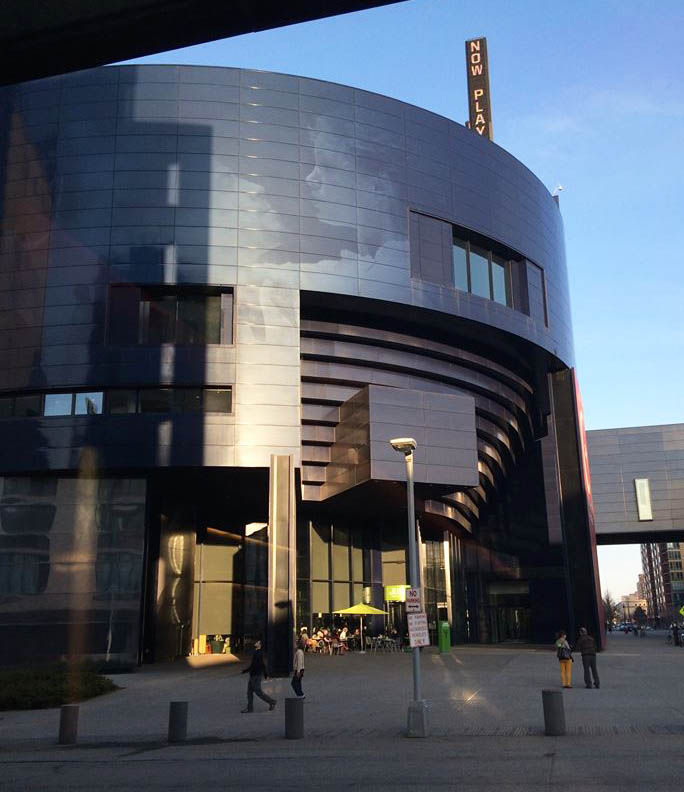 A view of the Downtown East neighborhood featuring the Mississippi River, the Stone Arch Bridge and the iconic Gold Medal Flour sign is visible from the Guthrie's yellow overlook room. Check out Tiny Footprint Coffee and great pastries at Moose & Sadie's in the North Loop. Enjoy a meal at Spoonriver with this view of the Guthrie Theater. Photos by Joe Huber '15.
Autumn this past week has been at its peak. With photos of the beautiful fall colors plastered all over Mac Social and every other social media platform, it's hard to want to stay indoors instead of going out and exploring these beautiful cities. While I will be on the east coast this break visiting friends at Wesleyan and taking trips to Providence and Boston—yes, I'm looking forward to seeing New England during autumn —I've put together a little guide for fall break here in Minneapolis-St. Paul for small day trips and nights out with friends and family to enjoy this glorious time of year.
A visit to the North Loop
I've been keeping a few places on my food radar lately, and fortunately I've been able to visit a couple in the past few weeks. Fall food to me is warm, nutritious and earthy. Couple that with a craft beer and my meal is complete.
Last weekend I visited Black Sheep Pizza with my friend Lucy Kane '15. Black Sheep is one of my favorite pizzerias in Minneapolis-St. Paul. With locations both in the North Loop and Lowertown neighborhoods in Minneapolis and St. Paul respectively, Black Sheep uses premium ingredients—I'm partial to the oyster mushroom, fennel sausage, artichoke combo—in a coal-fired oven.
Just as their pizzas are delicious, so too are their salads. I'm a big fan of their market salads—all fresh ingredients from the farmers market—but also their spinach bleu cheese salad. Yes, it's pretty simple in nature, but sometimes the foods that are the most simple are the most scrumptious. During your visit, if of age, try one of the many craft beers they have on tap, too!
One of my other favorite places to visit in the North Loop is Moose & Sadie's. An excellent coffee cafe, Moose & Sadie's serves Tiny Footprint Coffee (the same coffee as the grill and coffee cart in Janet Wallace). Their pastries and brunch are super flavorful. Also, fun fact, Moose & Sadie's is owned by Peter Kilihara, the nephew of Esther Suzuki, who is the namesake of Macalester's Lealtad Suzuki Center and was Macalester's first Japanese-American student.
A night in Downtown East
Downtown East in Minneapolis is currently one of my favorite neighborhoods to visit. Fifteen years ago the neighborhood really didn't exist and was only ruins of old mills and surface parking lots. Today it is a flourishing community with new apartment and condominium buildings, and it's home to many businesses and major civic institutions including The Mill City Museum and the Guthrie Theater. Spoonriver has a delicious menu whose plates manifest the locavore and organic movement. In fact, one of Spoonriver's owners, Brenda Langton, has long been a preacher of this movement and pioneered the Mill City Farmers Market. Spoonriver is the place to have a delicious meal whether you are searching for a burger or salad or a multi-course meal and craft cocktail.
After dining at Spoonriver, I like to walk over to Izzy's Ice Cream's newest location, which also serves as their ice cream factory. Akin in design to Willy Wonka's Chocolate Factory, Izzy's offers a vibrant and exciting atmosphere in addition to delicious ice cream. Sure it is cold out, but their ice cream in a warm, freshly made waffle cone is too good to pass up.
After Izzy's I recommend heading over to Gold Medal Park, which is right across the street. In the center of the park a big hill rises to overlook the river bisected by the Stone Arch Bridge. The Minneapolis skyline, with the Guthrie at the forefront, can also be seen from the top. It's the perfect way, in my mind, to spend an evening—delicious food, drinks and deserts with fun people in a city that's so easy to fall in love with time and time again.
If it isn't too late, be sure to stop by and check out the Guthrie. The super modern interior is beautiful. Be sure to take the escalators up to the lookout bridge as well as the yellow-glassed room that overlooks the river and the skyline. Looking for a romantic stroll? Walk across the Stone Arch Bridge. The old railroad bridge turned pedestrian pathway connects Northeast Minneapolis to Downtown. Overlooking St. Anthony Falls and the Minneapolis skyline, the Stone Arch Bridge is one of my favorite places to go. Be sure to bring a jacket, though—the wind and water spraying off the falls can make it chilly.
Dinkytown days
If you haven't had a chance to see the University of Minnesota, fall break is the perfect time to visit and see their wonderful and ever-changing neighborhood, Dinkytown. I highly recommend catching the Green Line westbound and getting off at either the Stadium Village or East Bank stops.
The area around Dinkytown has flourished in the past few years and many cool shops and restaurants have opened up, yet some timeless Dinkytown establishments have also stayed. I suggest spending an afternoon in Dinkytown. You can eat anywhere from Punch Pizza to Loring Pasta Bar or one of the many other restaurants around the university. I also suggest checking out Gina + Will, Goodwill's new "upscale" thrift store, and Target Express, Target's new small "urban" store model.
If you have time, take a stroll through the university's campus. I haven't been able to stop by the Weisman Art Museum next to the student union, but I hear great things about it, and it was designed by one of my favorite architects, Frank Gehry.
A stroll in the park
In most cities, parks are tucked away in quaint neighborhoods and don't always serve as a focal/gathering place for residents. For Minneapolis-St, Paul, though, I like to think of the cities as a park. Consistently rated cities with the best parks, Minneapolis-St. Paul has a ton to offer, and it's all easily accessible. With autumn at its height, a few days off school, and winter coming fast, now is the time to get out and enjoy the last weeks of weather that allow you to spend a great deal of time outside.
I suggest taking a bike ride down Summit to the river and up and down West and East River Parkways.
If you have the time, be sure to bike down the Midtown Greenway through Minneapolis to get to Lake Harriet, Lake Calhoun, Lake of the Isles and Cedar Lake to see what I would argue are some of the most beautiful sights in the region.
While these are just a few of the many great things Minneapolis-St. Paul has to offer, I hope that you have the time to get out of your bedroom and off campus to explore.
Very rarely do we have the time to enjoy the city around us, and fall break for most is one of those times. I look forward to checking out Mac Social to see all the places you go.