When Classes Move Online, Reduce Tuition
Macalester's online classes were rough. For the online portion of the semester, I'd wake up five minutes before my zoom lecture, scramble to make coffee and inevitably end up looking at another tab while the professor spoke. This happened in classes that had been my favorites before distance learning, not to mention the droll sterility of asynchronous instruction and the disheartening shredding of syllabuses. Students and professors alike trudged through the second half of the semester — in it to finish it.  
Dreading another year of online class, I have been following the administration's emails closely for definitive signs one way or another: will we be online or in-person? The question felt crucial, and yet it always seemed like the administration did not want to answer, wanted to reserve a definitive statement until we knew all the information. Unfortunately, the public health situation is constantly changing. No one knows the full picture. 
While they took months to reach a decision, students are expected to decide whether or not to attend in the next 15 days. But Macalester is more focused on guaranteeing their best efforts to keep the community physically together. As we have seen from the recent student letter to the administration, this is not the students' prime concern.
By committing to in-person instruction, Macalester is trying to side-step the debate around whether the inevitable transition to online education should cost as much as in-person education.
My argument is that this is not a question to be side-stepped. It is key to Macalester's consistent platform of equity and student participation that the administration addresses the imposing figure they are prepared to charge for online learning. Macalester can't claim to be attending to student needs with their in-person policy while leveling the business end of the stick at students. An open discussion about online education pricing is imperative for students to retain their confidence in college leadership.
Meanwhile, Macalester's public discussion is closer to "how will we as a community build a new campus with social distancing?" 
The answer is that we won't. 
Coronavirus wave 2 is coming and it will be more severe than the first.
For those who have heard about a second wave, but do not know the details, the following broadly explains why the second wave of coronavirus will be much worse than the first.
Virus deaths are seasonal, because a) most people have weaker immune systems in colder weather and b) there is a human behavioral change towards more time inside, near one another. In Minnesota particularly, this seasonality will be pronounced, as winter here is long and deep.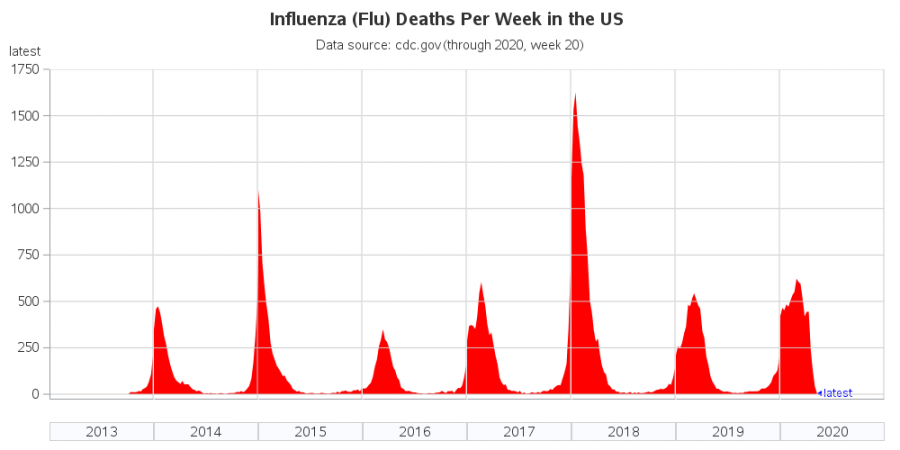 In addition to the virus's seasonal danger, during the second wave, the novel coronavirus no longer has to spread geographically. Before, rural regions, and cities and states that took more precautions, were protected by the time it took for the virus to reach those communities. Because the virus has had time to spread, "seeds" of the first wave will be present in each community, essentially resuming coronavirus infections and deaths everywhere at once, instead of only in the highest-density regions.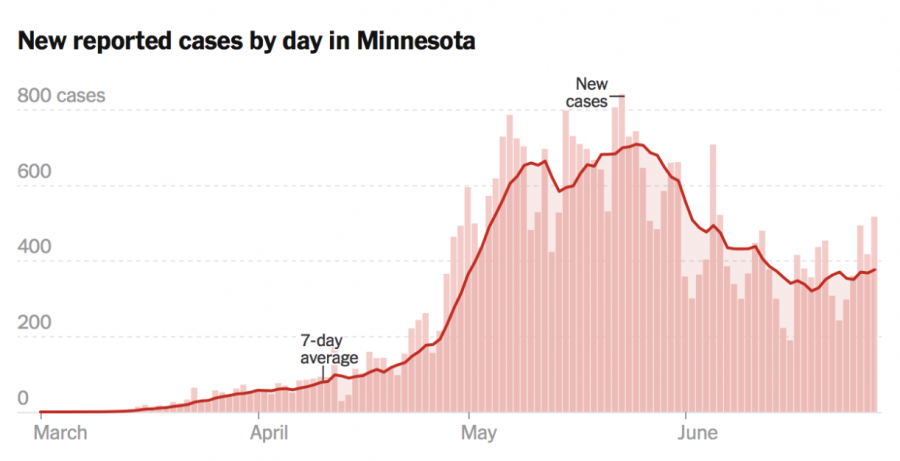 With cases reaching new highs in the U.S. before the inevitable winter wave, the second wave will be devastating. By not social distancing, Americans contracting and passing along coronavirus are allowing the coronavirus to stay around in high levels in our population until the fall. Higher case numbers leading into the fall will directly result in more deaths in the winter.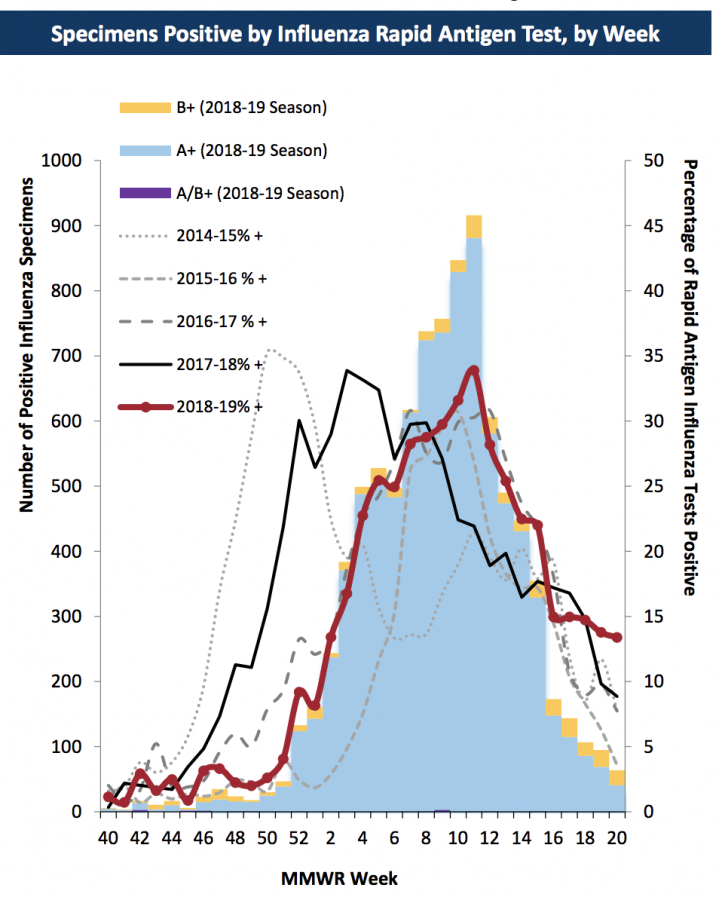 Ethically, Macalester should not contribute to this effect. But even while the college moves forward with in-person instruction, they will be forced to shutter by the Minnesota Department of Health by the second module's beginning. 
Looking at the graph to the left, seasonal effects will start at the very latest in November. Module two is set to begin on October 28. It is hard to see Macalester continuing in-person learning after this date. In fact, the November estimate assumes that case count isn't rising in those months prior to the start of seasonal virus peaking. Given rising cases around the country, and flat cases in Minnesota, the overwhelming likelihood is that three if not four of the modules will need to be completed online. Macalester administration must know all of this information, and yet they propose prices reflective of an in-person year of college. Three quarters of a year online is not an in-person education, and the price tag needs to reflect that.
So why has Macalester indicated it will do in-person classes in the fall?
In the financial year 2020, the college was set to bring in $118 million, and spend $115 million. However, these numbers will change in the face of coronavirus. 
The college stands to lose money if classes go online.
This is what the fuss is about. Macalester's operating budget is based on in-person learning, and they stand to lose out if that model is disrupted.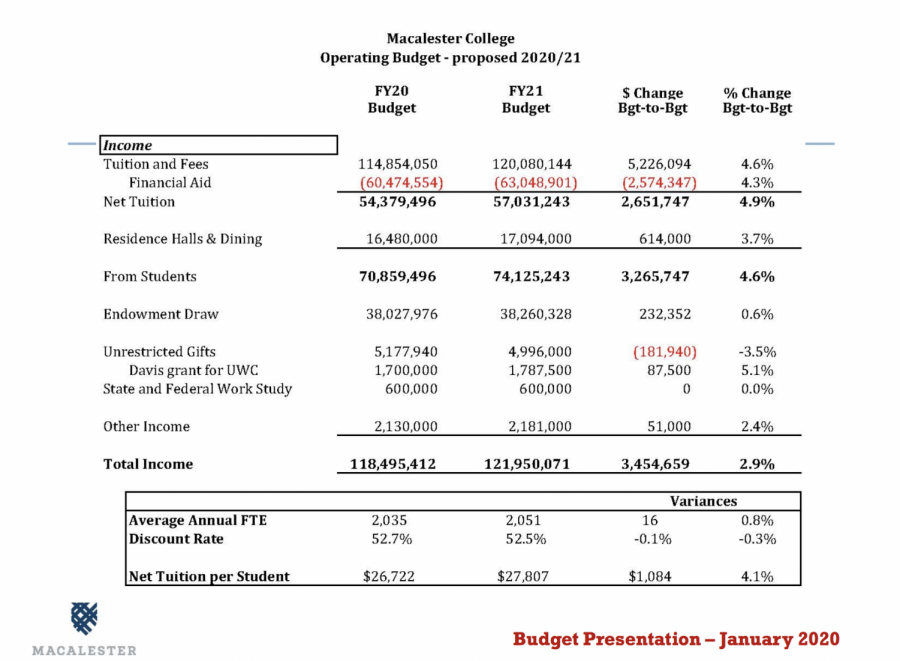 The budget breakdown here is more or less: $71 million from student tuition, $38 million from the college's endowment and $7 million from donors. This is subject to change in two major ways: student enrollment and room & board. If Macalester does go online, the financial draw from room and board is out completely, and enrollment could drop up to 10 percent. Combined, this results in (5.4 + 16.5) million = $22 million in losses this year alone.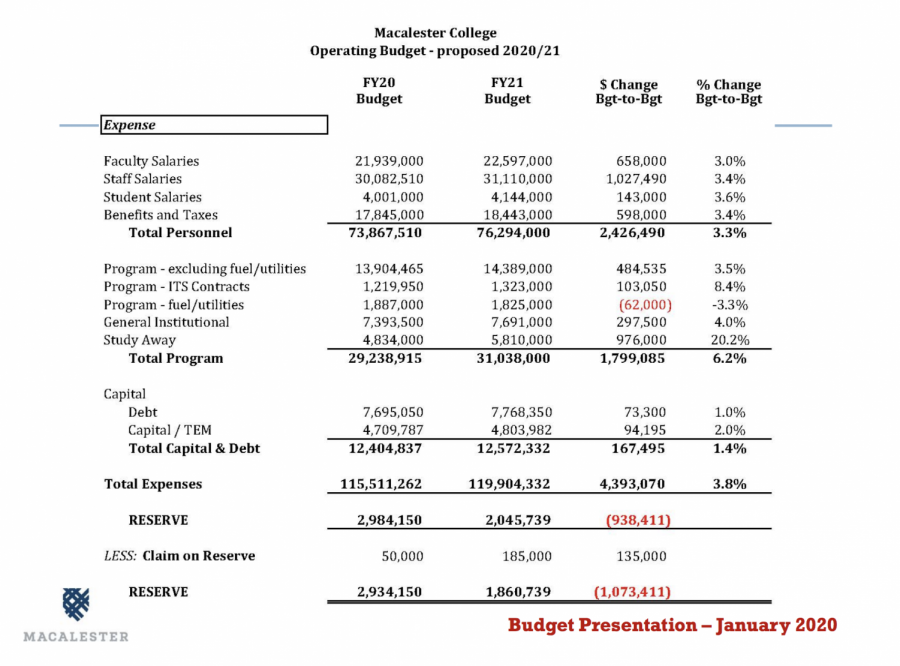 The expense breakdown is more or less: the college spends $74 million on employee salaries, $29 million on program expenses and $13 million on debt servicing. 
What can be cut here to afford reduced online tuition? 
Start with program expenses, which are operating expenses across Macalester's departments. These expenses are the things that make a liberal arts institution what it is: speaker fees, supplies, professional development, etc. Certainly, a sizable portion of program expenses can be voided in the event of online class, as can the college's financial commitment to study abroad (which has already been canceled for fall, and likely will be for spring). Together, the program, study abroad and reserve cash columns total more than $18 million in savings, assuming both that the college must retain 30 percent or $4 million worth of program expenses and that all study abroad money can be repurposed. This does not quite account for the $21 million left on the expense sheet for this coming year were the college to go online. 
Financial grievances acknowledged, Macalester is a wealthy institution, worth over $1 billion with an endowment of $775 million as of 2019, and don't forget that the benchmark S&P 500 index has risen 11 percent since the publication of the last audited financial report in which this value for the college's actively managed endowment is declared. 
Indeed, this expense report is not the whole story. Macalester has other financial sources from which to draw to cover this year's deficit. The college has a lot of assets that are non-yearly, which I was able to locate in their audited financial report, including upwards of $12 million in cash, and $44 million in short term investments expiring before May 31, 2020. The fact is, Macalester will likely run a loss this year, and they can afford to. 
Changing products and costs in the case of a move to online learning.
In all likelihood, additional costs of moving classes online, like an institutional zoom subscription are a drop in the budget ocean. The real costs are the money that they cannot pull in without a physical presence. Dining and residence are two of the largest revenue streams for colleges across the country, which I've always found a little brutal, given underclassmen cannot opt out of these highly profitable programs.
Macalester has not publicly considered a tuition reduction, despite students' complaints at other colleges around the country and recently at Macalester that the online experience is not what they paid for. In fact, data from a recent writeup from Northeastern, which offers a fully online undergraduate degree, point to an uncertainty around online learning, and how it will be received by employers. It is still a question as to whether students learn as well in person as they do online.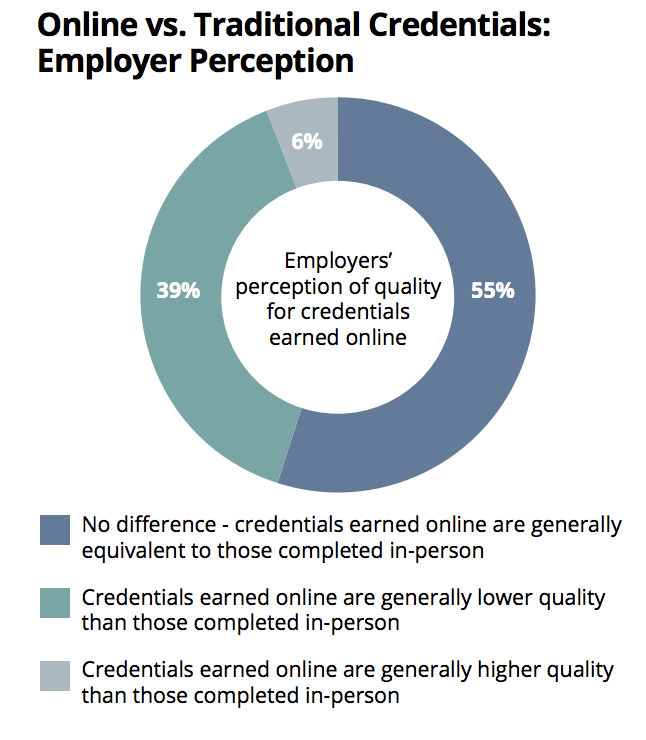 For Macalester, which heavily advertises their campus community in student recruitment, this contrast is stark. The "close-knit community" and immersive learning experience which students come to the school for is at risk in the coming year. Any student who experienced this shift last semester knows that online instruction is not the same. Neither is online education sold at the same price as in-person education. Smaller universities charge about 40 percent less in tuition for online learning than they do for in-person education. 
Northeastern University: 13k/sem vs 8k/sem 
Bellevue University: 10k/sem vs 6.3k/sem
(both Northeastern and Bellevue are around 10k undergraduate enrollment. Macalester-size liberal arts colleges don't offer online degrees.)
While larger institutions charge up to 60 percent less for their online courses:
U of M in person: 14k/sem vs 5k/sem online
University of Southern New Hampshire in person: 25k/sem vs 5k/sem online
So far, the online model just isn't valued the same as in-person education, and Macalester, though a non-profit, is still a business. In-person education is their product. With a lower-quality product, students deserve to pay a lower price, or enrollment (read: demand) will retreat. And while students looking to continue or finish their degrees will likely stay in larger numbers, interest in gap years is up to 40 percent for recently-graduated high school seniors. Students are legitimately considering what they could do with their time, instead of paying an average of 26k for a year of online courses.
The case for tuition reduction
Many students paying for college may sour at the price tag of their newly Zoom-based education, and instead opt to defer or take a leave of absence. The costs of losing students in 2020 are not limited to this year's balance sheet. If a significant number among the class of '24 defer as is expected, the class will be small for all four years, potentially losing the college $20 million about $5 million per class year.
It is a difficult decision and a shame that Macalester has squeezed the timescale to make this decision so thin.
To increase enrollment, I suggest the college level a 30 percent tuition cut after financial aid. So for a student who pays ten thousand dollars per year to attend Macalester, they would pay seven thousand after the cut. If instruction is carried out online for three out of four modules, this would reflect a 40 percent tuition cut for each online module, consistent with pricing at other institutions that offer online instruction. 
This may not even be that bad for Macalester financially. Students may decide against a gap year of social distancing with their parents' basement in favor of college with fair tuition. This would cost Macalester $15 million in the financial year of 2020. Macalester could take out a bond to afford this cut, or resume campaigning with wealthy donors as they often do to fund one-time projects like the $100 million  Mac Moments campaign. Not only would a tuition reduction show that Macalester sees and cares about their students, but it might be palatable with up to $20 million in enrollment loss on the line.
Think of it as an investment in the students, in equitable education. A tuition cut in the interest of fairness would stand outside of students and their families experiencing the highest unemployment rate since the Great Depression, and students, staff and professors poised to risk their health in the midst of a global pandemic. Dr. Rivera, Karine Moe, Donna Lee and David Wheaton, what more evidence do you need to commit to fair tuition reduction for online education?