Mac wants you to support its $100 million fundraising campaign. Should you?
On Thursday, Oct. 4, with a launch event in the fieldhouse of the Leonard Center, Macalester launched the public phase of its $100 million fundraising campaign entitled The Macalester Moment.
Of the total that the campaign aims to raise, $40 million will be devoted to financial aid, with $20 million each going to program support, faculty and academic support, and the newly-renamed Macalester Fund.
The majority of the $100 million has already been raised. The campaign's "quiet phase" began back in 2016, when the college began soliciting large gifts from its biggest donors.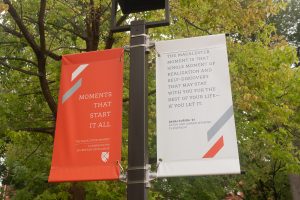 That financial aid is the campaign's chief priority, even as Macalester finances a new theater building and pursues more resources for its career development, entrepreneurship and research programs, should come as no surprise.
Financial aid is by some distance the college's biggest yearly expenditure, and the need for it is likely only going to continue to intensify. Tuition is expected to reach $90,000 per year within the next ten years, even while the majority of Americans' family incomes remain stagnant.
That means that fewer and fewer people will be able to pay all or most of what it costs to attend Macalester. That process, driving up financial aid demand, is already well underway.
"About 25 years ago, our endowment draw was roughly twice our financial aid budget," Vice President for Advancement Andrew Brown said. "Around the mid-2000 era, those two lines converged. And now, our financial aid budget is about double our endowment draw."
In other words, 25 years ago, the endowment draw paid for the college's financial aid costs and then some. Now, it's barely even paying for half of the financial aid budget – the rest of which must be covered by donations like the ones made during this campaign.
But with the need for financial aid accelerating so quickly, can the college keep pace? And for how long? Brown's take was stark.
"Even if we did a billion dollar campaign," he said, "we probably wouldn't keep up with the need for financial aid right now."
Brown later clarified that this remark was not meant to sound defeatist, but it strikes a chord nonetheless. Barring a significant redistribution of wealth in the country at large, is Macalester's model of education sustainable?
"I think there are many people in higher ed and college admissions who wonder about the sustainability and wonder about the high tuition, high discount model that exists," Vice President for Admissions and Financial Aid Jeff Allen said. "It's probably the question that we fear the most."
For his part, President Brian Rosenberg said that waiting for a redistributive macroeconomic change is like waiting for "the Easter bunny," and called rising costs "problem number one for the whole system of American higher education."
"I think the only way, in my view, to make it sustainable over a long period of time is to bend the cost curve of what we do," Rosenberg said. "[Tuition] can't keep going up three, three-and-a-half [percent]. We need to figure out a way to do what we do less expensively."
Rosenberg pointed to the financial services and medical industries, where technological advances have reduced costs, as possible models for higher education to follow. He was also quick to point out that colleges and universities, Macalester included, don't take kindly to cuts of any kind. Maybe more importantly, are high-cost private colleges worth sustaining? This campaign argues that the answer is, particularly in Macalester's case, yes – now more than ever.
The term the "Macalester Moment" was coined by Danai Gurira '01 in her 2016 commencement address as a nod to the transformative moment, or moments, that so many people experience during their time at the college.
But the campaign's name, by design, has a double meaning. There is also the idea that, in our present political moment, this country and the world at large needs Macalester's values more than ever before.
"It's hard not to realize where we are," Brown said. "In a world that seems less than welcoming, to scholarship, certainly [to] multiculturalism and internationalism, and even service, we feel like it's this moment in time as well."
Rosenberg agreed.
"I think that one of the things we're trying to inspire our alumni to believe… [is] that educating students with this particular set of values in this particular kind of environment is something worth supporting," he said. "It's a little bit of an act of resistance. And we're very aware of that." Macalester's mission is indeed contested ground, both in this country and around the world, and there is little question that the education this college provides is highly valuable to its students.
However, there is equally little question that private liberal arts schools like this one reach a disproportionately small number of the middle and lower-income students who, it could be argued, need college educations and degrees the most.
In January 2017, The New York Times scored every college and university in the country on how many students they enrolled from families in the bottom 40 percent of the income distribution who later made it into the top 40 percent of the distribution. Macalester came in 1,719th place.
Compared to its peer colleges, 1,719th was an impressive finish. Oberlin College ranked 2,013th, Grinnell College 2,044th, and Carleton College 2,146th.
That's in large part because, to its credit, Macalester does attempt to enroll students from an array of socioeconomic backgrounds.
"Part of how we want to run the college is to make sure that we're very economically diverse," Brown said. "It's a real priority for us. Some of our peer institutions have made it a priority to be frankly less economically diverse and have far more full-pay students – that's another way to manage this situation.
"We've chosen a path that makes it more challenging," he continued, "and puts more pressure on things like fundraising."
In some ways, Macalester has already bowed to financial pressures. The college ended its need-blind admissions policy in 2006, though it's still one of fewer than 70 schools in the country to guarantee that it will meet 100 percent of its admitted students' financial need.
"The hardest thing for me is that I would love to be able to have an even more diverse student body, in every sense," Rosenberg said. "But there are some self-imposed limits – we've got a budget, we have to balance it – and then there are some limits created by factors that we can't control, like the inequities built into our society."
Considering those limits, it's worth asking whether people would do best to donate their money to liberal arts colleges whose reach is so limited – or, societally speaking, whether a liberal arts education has become a luxury good.
"It's not that I think the goals have become a luxury," Rosenberg said. "But I do worry that [the] education is increasingly becoming a luxury that is only available, or is disproportionately available to, in some ways, the people who need it least."
Brown, talking about ways of solving the world's most pressing problems, sounded something of a different note.
"The only way we get there is through bright, engaged, caring individuals being exposed to the ideas and the practices that will help them solve the world's problems," Brown said. "If you believe in Macalester's values, then it's essential. Not a nicety."
Assistant Vice President for Development Chris Solso echoed this idea.
"One of the messages that I hear quite often is that being able to make a gift to Macalester feels like a long-term solution to really fundamental issues in our country and world in a way that another gift feels maybe more like a band-aid," she said.
Rosenberg, despite his concerns, had a similar thought – that an investment in Macalester is an investment also in a particular vision for the future of society.
"What we hope to do is produce people who will be leaders," Rosenberg said, "So I tend to see the impact of Macalester as greater than simply the number of students we graduate. It's the lives that they go out and impact."
That vision assigns Macalester students, by virtue of their being here, a debt to pay to society. It also is an acknowledgment that a select few will be given elite educations, and everyone else will have to rely to some extent on their magnanimity.
Macalester is, of course, nowhere near the uppermost echelon of colleges and universities. Brown noted that Stanford University is now raising $1 billion each year. Is that a good thing?
"That is a great question," Brown said, "and I don't know."
Rosenberg's answer might be sharper. He called Harvard University's recent five year, $9.6 billion fundraising campaign "everything that is wrong with our society right now encapsulated in one statistic."
That $9.6 billion, Rosenberg said, would be enough to send an entire state's worth of students to community college. The social cost of elite, private education is exorbitant.
Macalester occupies just one, very small corner of that elite private world of education. But as it embarks on the public phase of a $100 million fundraising campaign, its long-term future, along with its big picture utility, is very much up for consideration.