Led by sophomore class, Softball looks to build upon last season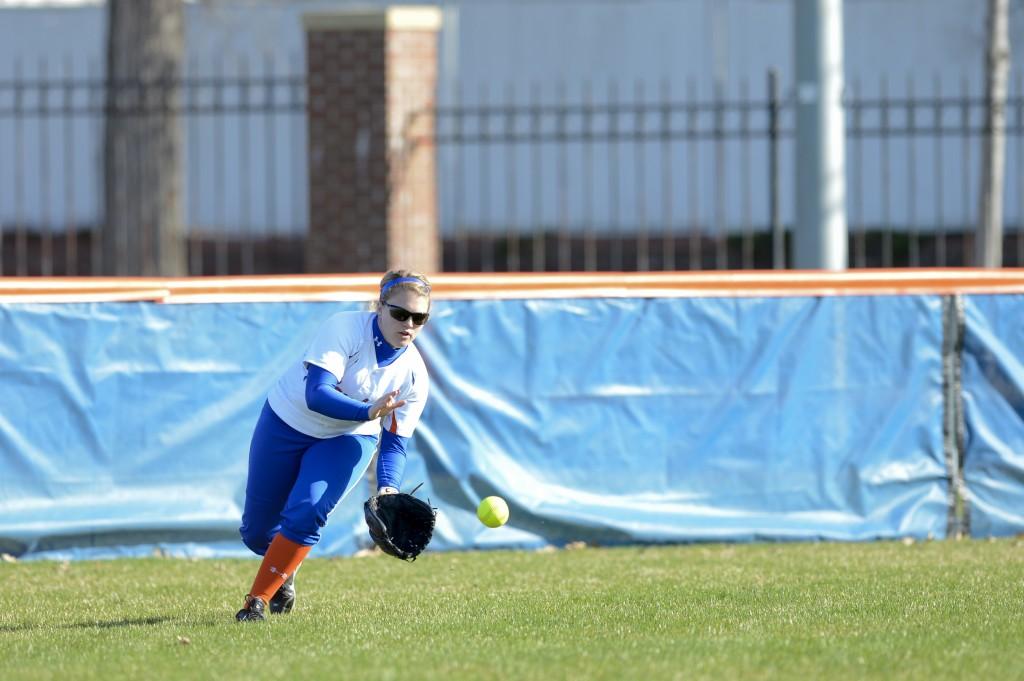 Do you want to talk about a low point? How about a 1-21 conference record that the Macalester women's softball team posted two years ago. But for upperclassmen on the team, the belief is that last year's poor record wasn't a reflection on the talent of the players. There was just something missing.
"Simply by looking at the win-loss record, one can see that Macalester softball has come a long way from where it was two years ago," said Courtney Nussbaumer '13 (Brookfield, WI). "However, in my four years here at Macalester, I have never seen a lack of talent. What's been the change in the last two years is harnessing this talent in a productive, effective and competitive way." Hence, the missing piece may have been a change in leadership at the top. Suddenly, second-year head coach Jody Gabriel has turned the program around since accepting the head coaching position in June 2011. Gabriel replaced Tom Cross, who coached for eight seasons without recording a winning season. In Gabriel's first season, she led the team to its first winning season since 1997.
"The success that we had last year and are having so far this year gets credited to the student-athletes," Gabriel said. "They have worked incredibly hard and have respected me as a coach and a person from the beginning."
Gabriel comes to Macalester with a winning history from her time as a head coach at UW-River Falls. She led River Falls to a 28-15 record and the Wisconsin Intercollegiate Athletic Conference regular-season and conference tournament championships in 2010 as the Falcons four games deep into the NCAA Division III softball playoffs. She went 108-60 during her tenure as head coach, leading the program to a winning record in each of her four seasons. However, she saw a great opportunity at Macalester when the job became available.
"A friend made me aware of the posting at Mac and I found it to be a place that aligned well with my personal values," Gabriel said. "The opportunity to work with an amazing group of young women at this wonderful academic institution was one I could not pass up."
Now her team looks to build on last year's 20-18 campaign. However, it isn't all about winning according to the head coach.
"Would we like to win? Of course we would, but we will continue to focus on the fundamentals and making ourselves the best ball players, teammates and people we can be," she said. "If we work hard and take care of the little things, the wins will happen."
Ahead is a position by position outlook for the team.
Pitchers: Experience will be one of the Scots' biggest challenges on the mound after replacing last year's ace Amanda Knopf. Knopf, a four year starter, posted an 11-8 record with a stellar 2.48 ERA in 26 appearances last season. Replacing a senior will be difficult considering that Knopf logged 124.1 innings, only one less inning than pitchers Alisha Barritt '14 (Oklahoma City, OK), Miranda Stokes '15 (Perry, UT), and Brittany Ehmann '15 (Island Lake, IL), the Scots' projected top three pitchers entering this year, combined to pitch last season.
Barritt enters the season as the Scots number one and most experienced pitcher following Knopf's graduation. She went 4-1 in 14 appearances last year, but only four of those were starts. She picked up Macalester's first pitching win of the season on Monday, Mar. 4 in a victory over Minnesota-Morris where she went four innings and recorded six strikeouts.
Ehmann fills the role as the Scots' number two starter after starting two games and appearing in 14 more as a reliever last season. She also picked up a win over Morris in the second game of the double header by fanning six batters in four innings of work. When Ehmann does not pitch, she will primarily serve as the team's designated hitter. In the first game of the Morris doubleheader last week, Ehmann the first two of home runs of her career to lead the Scots to a 12-4 victory.
"It was pretty exciting," Ehmann said. "I think our team did a very good job of bringing energy and confidence to the plate and I hope this sets the tone for the rest of the season." Stokes will try to build on an impressive freshman season, where despite going 2-8, she posted a 2.97 ERA and held opponents to a .272 batting average. Only a sophomore, Stokes enters the season as the team's leader in career starts after starting 13 games as a first-year. She figures to play a role as the Scot's top relief pitcher.
Infielders: The infield for the Scots is versatile by position and is headed by a bevy of sophomores. Anna Munson '15 (La Crosse, WI), who started every game for the Scots at shortstop last season, will be flipping between second base and third base this year. Fellow sophomore Saraswati Wilson '15 (Olathe, KS), who did not play last season, will take over at shortstop and serve as the team's leadoff hitter. She already leads the team with six doubles through six games this season. Erin Slater '15 (Federal Way, WA) will enter her second season as the starter at first base after starting all but one game at the position last year. She will look to build on a solid .284 batting average from last season. Hali Englert '15 (Castle Rock, CO) is also a returning starter in the infield and will split time between third base and behind the plate.
Tara Clayton '15 (Pleasanton, CA) will be playing around the infield, mostly at second base this season. She started 15 games last season and was one of the team's top pinch-runners. First-year catcher Emma Swanson '16 (Ypsilanti, MI) has already started two games this season at catcher and will split time with Englert at the position. Iris Micklavzina '15 (Eugene, OR) will see some action as a designated player, potentially filling in for Ehmann when it is her turn on the mound.
Outfielders: The Scots outfield will be led by All-MIAC selection Cleo Nagy '14 (Eugene, OR). Nagy hit .360 with 26 RBI and nine home runs to help power the Scots' offense. Her nine homers tied for the MIAC lead, while her .648 slugging percentage ranked fifth in the conference. As the team's centerfielder, she only recorded one error and had five assists.
Stokes also is coming off a stellar season from the plate. She led the Scots in batting average (.376), on base percentage (.426), RBI (27), and doubles (10) last season, which garnered her honorable mention All-Conference honors. When she is not pitching, Stokes will primarily be playing the left field position.
At right field, Nussbaumer batted .351 and recorded a respectable .398 on base percentage in 28 starts last season. As a four-year starter this spring, she will take on a large leadership role as the lone senior on the roster.
Abby Cox '16 (Fort Worth, TX) will serve as the team's fourth outfielder and could make an impact on the basepaths as a pinch runner.
Outlook: The Scots have started the season 4-2, losing both games of their season-opening doubleheader to Bethany Lutheran, winning both games in their twin bill versus Minnesota-Morris, and sweeping the doubleheader against Martin Luther last Tuesday (Mar. 12) They will open up conference play Apr. 2 at St. Benedict and will hold their home opener on Apr. 4 in a double-header versus St. Catherine on Faculty/Staff Appreciation Day.
The team returns seven starters from last year but was still picked in the MIAC preseason coaches' poll to finish ninth out of 12 teams. Many players don't necessarily feel disrespected by that prediction, but rather underestimated.
"This team is looking to make the playoffs," Nussbaumer said. "Unfortunately, the preseason poll cannot measure the commitment and dedication of a team. If it did, 2013 Mac softball would be at the top."