MN350 discusses Green New Deal and week of action
On Thursday, Feb. 13, the Minneapolis-based non-profit MN350 held an informational session in the basement of Markim Hall on the national Green New Deal and the various versions proposed in local and state legislatures across the country. Grace Clark '20, a member of MN350's Green New Deal team, helped organize the event.
The national Green New Deal, which Rep. Alexandria Ocasio Cortez (D-NY) and Senator Ed Markey (D-MA) released in February 2019, is a congressional resolution to address climate change with sweeping economic and social policy reforms.
The presenters began with an overview of the environmental context of the Green New Deal.
"We are on the cusp of a climate emergency — a climate catastrophe — or a revolutionized society," Zachary Radford, another member of MN350's Green New Deal Team, said. "Either is possible and the future is not decided."
Scientists have projected a grim future for the planet if production and emissions don't change drastically in the next several years. Radford highlighted trends in carbon emissions, summarizing the Intergovernmental Panel on Climate Change's (IPCC) recent reports and the importance of limiting warming to less than two degrees Celsius.
The Green New Deal, which proposes changes to a range of policies including renewable energy, public housing and health care, seeks to address these climate problems and broader societal inequalities.
"It's fundamentally about collective action, redistribution of power and justice," Radford said. "The biggest point, I think, is that it's an opportunity to change an economic model that is failing people on multiple fronts."
The national resolution is far-reaching and controversial, but passing it would not necessarily mean that any of the proposed changes would actually happen. Only bills carry legal weight; as a resolution, the Green New Deal can't enact policy.
Even as a resolution, the Green New Deal has gained sharp criticism in Congress and faces significant hurdles to passing — the resolution was swiftly killed in the Senate after its introduction and has been criticized for its cost and ambition.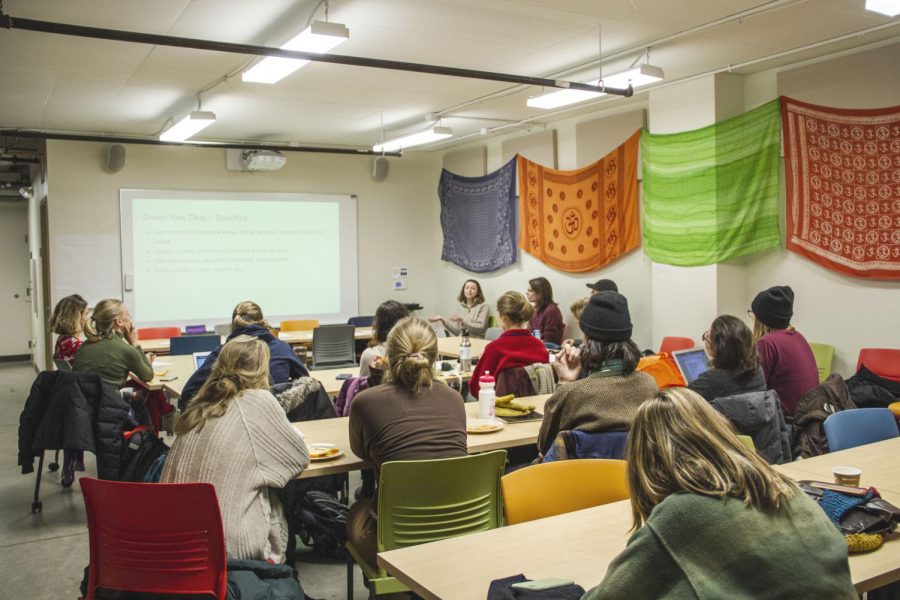 But the idea has gained traction. Some state and local governments have enacted local bills inspired by the Green New Deal. Presenters pointed to Los Angeles's version, an update to the city's Sustainable City pLAn that focuses on alleviating car use and traffic to cut emissions, and to the Red Deal, a climate and social justice proposal drafted by members of the indigenous Red Nation in New Mexico.
State lawmakers promoting Green New Deal legislation in Minnesota have yet to gain traction. Last fall, some bills passed the House of Representatives, but none passed in the Senate.
Presenters acknowledged that the Green New Deal may not seem like the most approachable form of climate activism: the idea is multifaceted, complex, difficult to pass and varies state-to-state. But complexity and politics, Clark said, shouldn't deter participation.
"I think that the Green New Deal is kind of a buzzword sort of thing, and I feel like it's good to just be having more conversations about what that actually means and how that's being enacted, and what you can do outside of just policy, because that can be so kind of top-down," Clark said.
Between Feb. 24 – 28, MN350 is co-organizing a Week of Action, along with Service Employees International (SEIU) Local 26, a Minnesota labor union raising climate reform demands to Minnesota's large corporations. Among its grievances are the high levels of emissions and pollution released by corporations burning trash at the Hennepin Energy Recovery Center in North Minneapolis.
The week includes several leadership training events, a rally for workers rights and climate justice on Feb. 27 in downtown Minneapolis and the caucuses on Feb. 25.
"I think it's really exciting that these unions came to some of these environmental justice and climate justice organizations, because in the past we've kind of been pitted against each other, and I think making connections is really important," Clark said.
However students and community members choose to vote or get involved, presenters reiterated a point increasingly raised in both scientific and political conversations around climate change: time is running out to curb drastic impacts.
"People think that the cavalry is going to come somehow, but I think the real sense of it is that we are the cavalry," Radford said. "We need to get involved if we want it to change."