Students go north to protect Gichi-gami
On Saturday, Sept. 28, more than 1,000 Minnesotans gathered by Gichi-gami in Duluth to stand against the proposed construction of Enbridge's Line 3 oil pipeline.
The gathering, which ran from noon into the evening on a cool, sunny day, featured a rally, march, music and a communal meal — bringing a spotlight to the years-long struggle against Line 3 northern Minnesota and the people who stand to be most affected by it.
A number of Macalester students and faculty arrived at the event on buses that left from Minneapolis, while others joined after completing class trips in the area.
Dio Cramer '20, whose Stop Line 3 prints were omnipresent on signs and banners on Saturday, said that being in Duluth and hearing from speakers in northern Minnesota gave the gathering a gravity it would not otherwise have had.
"That was the right way to do this event," Cramer said. "It's just really important hearing from people whose perspectives are very different. I live in the Twin Cities. This pipeline is not literally being built in my backyard."
According to Margaret Breen '20, the gathering was originally supposed to be in the Twin Cities — until organizers like her decided that, with the climate strike being held the week before at the capitol, this event would be a perfect opportunity to support front-line communities.
"It was a conversation that the leaders of the event had," she continued, "[We] decided that smaller numbers up north would be more meaningful and impactful than larger numbers in the Twin Cities."
The original Line 3 pipeline was built starting in 1961 to transport crude oil from Edmonton, Alberta to Superior, Wisconsin — crossing the length of northern Minnesota along the way.
Now, the pipeline is breaking down. It is a degrading public safety hazard, riddled with what Enbridge terms "structural anomalies," and operating well below its original capacity due to the effects of corrosion.
As a result, in 2014, Enbridge pitched building a new pipeline to replace the existing one. But those opposing the project say that the new Line 3 is far from a straightforward substitute for the pipeline built in the '60s.
"[The new Line 3 is] on a totally different route, it's carrying a higher concentration of oil and it has… twice the carrying capacity," Breen said. "They're calling it a replacement project, but it's not."
Indeed, the new Line 3, projected to be the biggest project in Enbridge history at a cost of $7.5 billion, has been designed to transport more than 900,000 barrels of oil each day. It would have a tremendous impact on the climate of northern Minnesota and beyond.
"The oil carried by Line 3 has the carbon emission equivalent of building 50 new coal plants in Minnesota," Breen said. "That is very clearly a step backwards when we need to be taking ten steps forward."
But it's not just that the pipeline is designed to move massive quantities of oil in the state. It's about the kind of oil that the pipeline would move.
"It's carrying tar sands oil, which is even more destructive to water," Breen said. "It's the consistency of peanut butter. They have to mix it with all of these chemicals to even push it through the pipe, because it's so thick.
"So when it spills," she continued, "Unlike conventional sweet crude oil that floats to the top and you can see it, it sinks to the bottom and mixes with the sediment — which makes it really hard to clean up, and [also] makes it really easy for Enbridge to say, 'oh, it's clean.'"
The possibility of a spill, like the one million gallon spill from Enbridge's Line 6B on the Kalamazoo River in 2010, looms over the proposal.
"Line 3 poses a really intense threat to clean water in Minnesota," Breen said. "It crosses over 192 bodies of water, including the Mississippi River twice. And pipelines leak."
The Minnesota Public Utilities Commission (PUC) initially granted Enbridge the Certificate of Need it required to move forward with the project last year. They were stopped from proceeding in June, however, when the Minnesota Department of Appeals found that the PUC's environmental impact statement was inadequate.
Enbridge has continued to seek the permits that it needs to build since, facing opposition from various governmental and activist groups. The stakes are high — for the communities who stand to be affected, but also for Enbridge itself.
"If it were any other pipeline, Enbridge would have backed out a long time ago," Breen said. "I obviously can't read Enbridge stakeholders' minds, but I think that they understand that… if they back out now, it will be a lot harder for them to get future pipelines in the ground."
As a result, Enbridge's campaign to get Line 3 approved and built has been expensive and exhaustive.
Last year, the company spent in excess of $11 million lobbying the Minnesota state government — more than any other company in the state, and more than double what it spent in 2017, when it was also the state's highest spender on lobbying.
Opponents of Line 3, on the other hand, spent around $200,000 on lobbying in 2018.
Enbridge's lobbying effort has not been exclusively focused on the state capitol either. The company has made a concerted effort to curry favor with communities set to be directly affected by Line 3, funding the construction of new parks and playgrounds in places like Superior, Manitoba and Saskatchewan.
"Enbridge has been very strategic in supporting rural communities with things like playgrounds," environmental science professor Christie Manning said, "So people in communities where the pipeline will be built see Enbridge as a good guy — an organization that cares."
For a number of these communities, which have lost population in recent decades and suffered economically, the promise of investment from a multinational corporation is understandably enticing.
Enbridge says that the project will create more than 8,000 jobs in Minnesota over a two-year period — a major reason why the company has enjoyed the support of several unions active in the northern part of the state and several tribal communities there as well.
Manning identified Enbridge's incursion into northern communities as reflective not just of the corporation's strategy to generate support for its project, but of a broader political reality on the ground in the places where the pipeline is slated to be built.
"All the cost is being born by Minnesotans, and all the benefits… are pretty much for Enbridge and its shareholders," Manning said. "But I have to say that, yes, there will be some jobs, and that is perceived as a lifeline for some rural communities.
"Can't Minnesota do better than that for our rural communities?," she continued. "Do we have to sell our clean water? Do we have to sell the rights of our Native people to a Canadian corporation to get our rural communities jobs? I don't think so."
Regardless, the claim that Line 3 will be a major economic driver for the state is dubious. A review of the proposal last year by a public utilities commision-appointed judge found that the pipeline would create between zero and 20 long-term jobs — and do so at an extraordinary cost.
The state Department of Commerce has estimated that the cost to society associated with building a new Line 3 — from impacts associated with climate change and declining human health — would total $287 billion over the first 30 years of the pipeline's existence.
That cost is set to be absorbed disproportionately by indigenous people.
The proposed Line 3 would cross miles of treaty land — land on which tribes have the right to hunt, fish, harvest wild rice and gather medicinal plants to support themselves on a continuing and uninterruptible basis. Its construction would pose a grave risk.
"The path that Line 3 is scheduled to go on is untouched by pipelines," Breen said. "It is outside of Enbridge's main terminal. So it exposes all of that new land to the risks of construction and new spills."
Speakers and other leaders at Saturday's gathering, meanwhile, focused on another aspect of danger to the indigenous community: the epidemic of violence perpetrated against indigenous women, which pipeline construction projects in places like North Dakota have exacerbated.
According to the National Coalition Against Domestic Violence, more than one in three indigenous women will be sexually assaulted in their lifetime and some 80 percent of assaults on reservations are committed by men from outside the indigenous community who often cannot be prosecuted by tribal courts.
"Everybody who left [the gathering] should know that Line 3 is a climate issue," Breen said, "but first and foremost is an indigenous rights issue."
Certain presidential candidates have taken notice. Sen. Bernie Sanders (I-VT) announced his opposition to the pipeline in January, while Sen. Elizabeth Warren (D-MA), at the behest of MN350 activists, announced her opposition shortly before visiting Minnesota in August.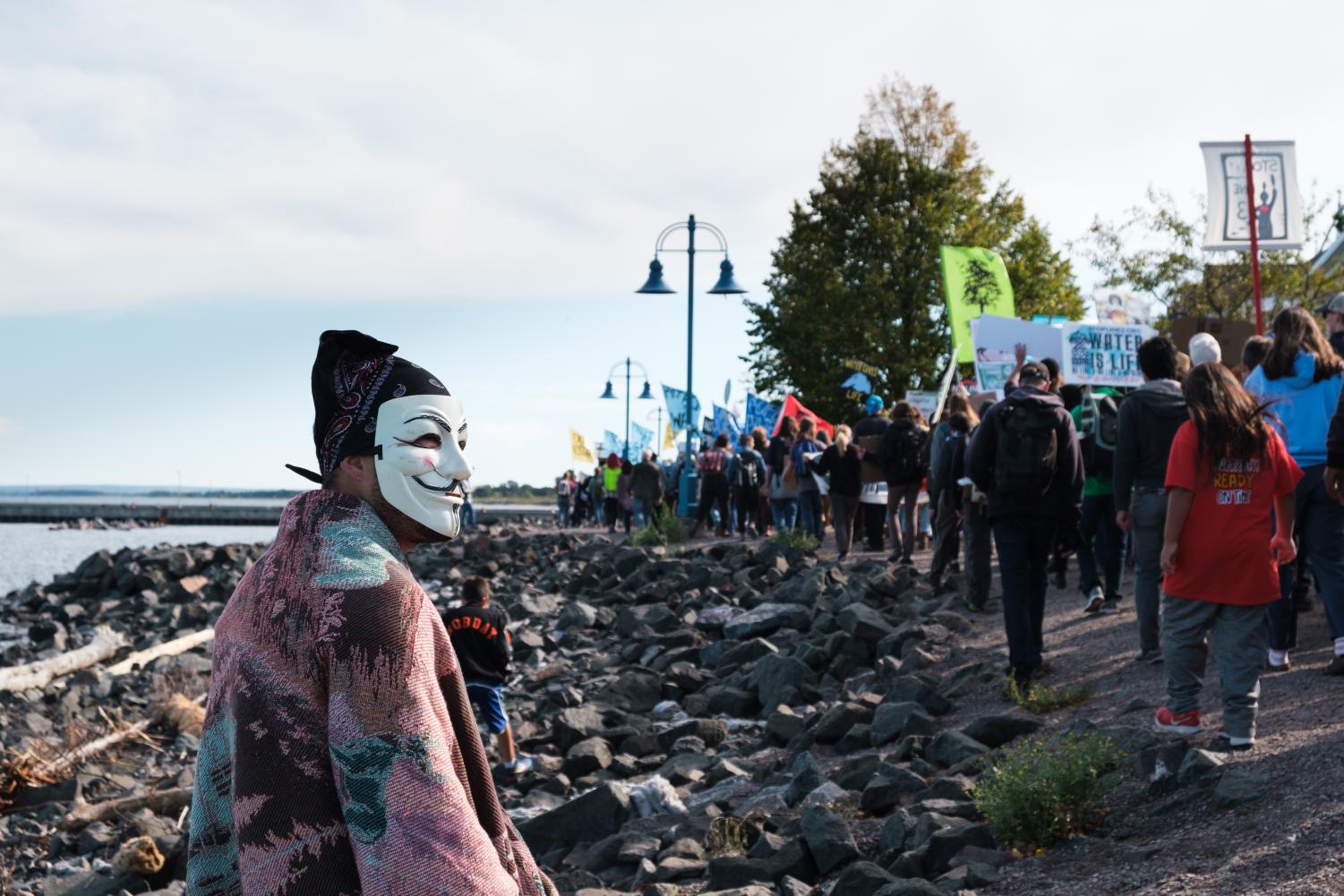 But Canada, Wisconsin and North Dakota all approved the project three years ago. Only in Minnesota has the fight to stop it dragged on.
Enbridge has started what it calls "preconstruction" in the state — under the close observation of Native and other anti-Line 3 activists — but thus far has not been able to proceed with the bulk of the project.
"Line 3 is about setting a new precedent in Minnesota — about what kind of infrastructure we want to build here and what kind of economy we want to be investing in," Breen said. "That's why they're fighting so hard for it, and why we're fighting so hard against it."
Manning echoed that sentiment. While she said that many of the activists opposing Line 3 are "living close to the edge," giving up their time, comfort and resources, their commitment to their cause is steadfast.
Just three days after the action in Duluth, the PUC announced a last-minute early-morning meeting in downtown St. Paul.
"Enbridge had a large number of people, apparently all wearing matching blue fleece jackets and hats," Manning said, "And yet there were just as many activists who showed up at 7:30 to wait in line outside before they opened the doors for a meeting… [that] was about 12 minutes long."
Breen, for one, is confident.
"If I did not think that we were going to stop Line 3," she said, "I would not be here today."