Macalester College, to its community members today, may call to mind any number of things from multiculturalism to polar vortexes to cheesy eggs. Yet Macalester owes its identity to years of experiences and countless students, faculty members and administrators who have collectively shaped the college into the school we know so well today.
Starting last year, The Mac Weekly sought to highlight some of the most influential figures in Macalester history to whom we can attribute our modern day college experience. This year we travel back 50 or so years to Macalester College of the 1970s and 1980s, a school led at the time by John B. Davis Jr., former Macalester president and one the schools official founders.
Born in 1921 to a Massachusetts-based family that placed a strong value on education, John B. Davis Jr. was a lover of the arts and didn't easily escape notice. He was known for his trademark look of a smart bow-tie as well as his often surprising directness and honesty. From an undergraduate degree at the University of New Hampshire, Davis went on to receive a doctorate in education at Harvard University and later made his way to Minnesota where he served as a school superintendent.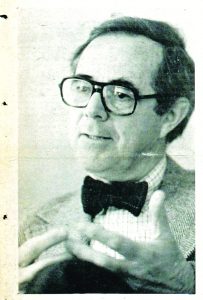 To Macalester College especially, though, Davis was "the man to get your institution back on track" according to his obituary in the Pioneer Press. After Macalester's sole donor of the mid-1950s, DeWitt Wallace, stopped giving money to the school due its irresponsible budgeting, Davis stepped up to the school's presidency position. Davis, who at the time had only eight years of experience with the Minnesota school system, found himself leading a college nearly $2 million in debt and with little structure to its spending. Yet, soon after taking the position, any doubt of Davis's ability as a president of a higher-education institution was quickly dismissed. After strengthening Macalester's staff, Davis worked on organizing the college's budget, tackling its deep debt and finally persuading Wallace to return to his generous donations.
Davis served as Macalester's president until 1984 and left the college with a secure financial plan and reliable administration. Today, he is remembered in the Twin Cities community for his direction of a previously struggling St. Paul Chamber Orchestra as well as the Children's Theatre Company in Minneapolis.
Of his remarkable rescue of Macalester from financial collapse, Davis often remarked that he shared responsibility for his success with other school leaders and institutional changes. Yet, as President Brian Rosenberg noted in his homage to the former leader after Davis's death in 2011, "while John may not have been sufficient on his own to reshape the institution, he was indisputably necessary."
It is safe to say that without the efforts of former President John B. Davis Jr., Macalester might not be the college we know today. We can attribute, in part, each remarkable experience of our college life to the school's history which shaped and created Macalester College.