Over the four centuries since Shakespeare's plays were first performed, artists continue to find new insights into the original texts, interpreting and reinterpreting the classic plots for new generations of audiences. This is the beauty of Shakespeare: stories so specific yet so universal that we cannot help but find ways to see ourselves in them.
In her reinterpretation of the Shakespearean romantic comedy "As You Like It" at the Guthrie Theater's Wurtele Thrust Stage in Minneapolis, Chicago-based director Lavina Jadhwani emphasizes a theme that is urgent to audiences today: the power of communities rooted in love and justice in the face of authoritarian cruelty.
The urban court where the action begins is the antithesis of a loving, just community; it's a world of haves and have-nots, of luxury only for the elite. Oliver (Luis Vega), a nobleman, lashes out in jealousy against his younger brother Orlando (Jesse Bhamrah) by withholding his rightful inheritance. Orlando's luck changes after a chance encounter with Rosalind (Meghan Kreidler), the daughter of the banished former Duke. The lights turn a dim, dreamy pink and a sound cue clarifies that the two fall in love at first sight. The former Duke's brother, the cruel usurper Duke Frederick (Chris Thorn), allows Rosalind to stay at the request of his daughter Celia (Andrea San Miguel), but grows fearful of the people's love for her and banishes her.
Both Oliver and Duke Frederick focus their energy on maintaining power, for fear that there is not enough to go around. Scenic designer Junghyun Georgia Lee illustrates this paranoid opulence through simple but lavish sets: neatly trimmed shrubbery reveals the elite's stranglehold on control, while a massive marquee sign reading 'FIGHT' that descends from the ceiling before a wrestling match shows the new Duke's gaudy taste.
No longer welcome at the court, Rosalind and Orlando flee separately to the Forest of Arden. Celia defies her father to follow Rosalind into banishment, and the two take up disguises; Rosalind as a young man named Ganymede and Celia as his sister Aliena. Meanwhile, Orlando wanders Arden, lovesick for Rosalind after the briefest of meetings. The two meet again, but Orlando falls for Rosalind's disguise. "Ganymede" offers to tutor Orlando in the art of courtship, and from behind her mask, Rosalind gleefully flirts with Orlando without consequences that might be present at court.
The restraints of gender expression are nowhere to be found in Jadhwani's forest. Angela Timberman plays the brooding, philosophical Jaques, a role usually played by a man. Jadhwani chose to portray Jaques as a non-binary character who uses they/them pronouns. The traditionally-male role of Touchstone also gains new depth through the casting of Sarah Agnew, who transforms the clown into an androgynous, extravagantly-dressed jokester. The casting choices subtly alter the characters, giving Jaques' railing against the world a more political bend and making Touchstone's dirty jokes and romance with farm girl Audrey (Marika Proctor) transgressive rather than offensive.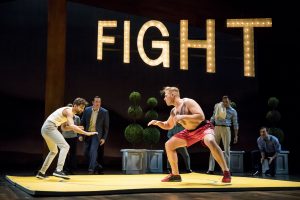 In Arden, the characters push the normative bounds of gender in ways beyond their casting, too. Rosalind moves comfortably in her new disguise, an outfit of heavy-duty jeans, a cowboy hat and flannel stolen straight from the set of Brokeback Mountain. She adopts a cowboy's swagger — hands in pockets and shoulders loose — and a cowboy's plainspoken honesty that would have put her life in danger at court.
Orlando, too, is freer in his expression in Arden than at court. He plasters every tree in the forest with his (terrible) love poems for Rosalind, and in a moment of brilliant comedic timing, a tome of his poetry falls from the sky with of "Looney Tunes" anvil-style thud. His love is soppy, vulnerable, gushing and decidedly un-masculine. Bhamrah's puppy-dog love is as affecting and relatable just as much as it is ridiculous.
But Arden's freedom comes with a chilling price. Unlike the idyllic forests from most interpretations of "As You Like It," Jadhwani's Arden will be familiar to anyone braving the frosty Minnesota winter. Jadhwani interprets the lyrics that Shakespeare wrote for the play's songs literally: characters wrap themselves in blankets and gather around fires to escape Arden's "bitter sky," "winter and rough weather." The songs, reimagined as folksy ballads by musical collective Broken Chord, also reveal the darker sentiments underlying the playful comedy: "Most friendship is feigning, most loving mere folly," one song goes. The trauma of familial rejection and expulsion from court remains present in a quiet, yet persistent whisper throughout this production, a choice that enriches the show.
This is a romantic comedy, though, so the characters heal from their trauma through the magical, all-powerful force of love. Orlando saves his brother's life after an offstage encounter with a lion, and Oliver is transformed by the strength of this display of brotherly love. When Celia asks if he is the cruel elder brother who abused Orlando, he responds: "'Twas I, but 'tis not I." Love is a transformative, cleansing energy that dismantles Oliver and remakes him in his gentle brother's image.
If you weren't lucky enough to land a spot on the Program Board-sponsored trip to see "As You Like It," you'll have to decide if a trek to the Guthrie is worth it. Student tickets start at $28 and only get more expensive from there. Between the catchy, delightful music and a cast full of talented comedic actors, longtime Shakespeare lovers and those just looking for a fun outing will find something to enjoy in Jadhwani's production. San Miguel in particular stands out, stealing scenes in which she should be a sidekick. Both her delivery and her physical comedy drew belly laughs from the crowd.
Critics have often called "As You Like It"'s ending fantastical, even by the standards of a Shakespearean comedy: too many loose ends are tied up too quickly to allow a neat quadruple wedding. But if the viewer can suspend their disbelief, the play invites them to escape for an afternoon into a magical place where freedom is hard-won and love—love between siblings, romantic love, queer love — has the power to free us and transform us. Jadhwani's interpretation asks the viewer: why let it be fantasy? Why not brave the cold winter winds to make community out of love wherever you may be?