In January 2018, ceramics professor Summer Hills-Bonczyk approached Law Warschaw Gallery director Jehra Patrick to bring a ceramics-based exhibition to the gallery. More than a year later, "Strange Place" opened Feb. 8 and will run through March 31. Featuring international artists Neha Kudchadkar, Jason Lim, Allison Schulnik, Jason Lee Starin and Eva Vogelsang, the show explores how the conventions of clay bend "through the language of adjacent arts — literature, film, dance, painting, performance, sound and sculpture."
According to Patrick, Hills-Bonczyk's artistic expression drew him to work with her. "Summer is interested in pushing the boundaries of how we see clay as an exhibitable and performative medium," she said. "She does that within her own practice."
The duo began to research artists who also pushed standards of normality when it came to ceramics – but, since researching visual art requires an ability to imagine qualities such as texture and size, they weren't able to get far. So, Patrick and Hills-Bonczyk drew on "connective tissues" between the artists: "connections to land, place and locating one's self in the world." explained Patrick. "We saw themes of the body and how that's represented. A pile of clay is called a clay 'body,' so the language is already intrinsic to the medium. There are a lot of things that the medium brings on its own." The artists themselves, drawn from across the United States, Europe and Asia, bring their unique perspectives into the work brought to the Law Warschaw Gallery.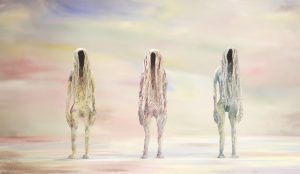 The gallery displays sculptures, photographs, a film and a sound piece. Jason Lee Starin's sculpture Mounds is inspired by Norse mythology. The piece covers almost the entire left side of the gallery. Neha Kudchadkar's photographs comment on the relationship between clay, earth and the body. In the center of the gallery, Jason Lim's ceramic sculptures are the most unconventional as the pieces are made out of kiln bricks, melted nails and the by-products of the ceramic firing process.
The last two artists are perhaps the most peculiar. In the back corner of the gallery sits Eva Vogelsang's auditory ceramics piece entitled dschungel (jungle). The work consists of dry clay sitting in a bucket of water with a microphone suspended above it. On the wall hangs two pairs of headsets. The description summarizes the attempt to showcase the "duality of clay in its true form and figurative form." Dry clay suspended in water causes it to decompose, so the microphone and headphones are in place to experience the sound of the clay breaking down. The noise is loud, and, as stated by the description, "from the sounds of the dry clay breaking down in water, the animals of the jungle come alive."
The audio that fills the rest of the gallery comes from Allison Schulnik's claymation film, Eager. The film runs about eight minutes in length and contains visually electric clay figures that embody human forms in a series of choreographed dances. The vibrant colors and supernatural-like elements securely bring the kind of "extraordinariness" that Patrick and Hills-Bonczyk were looking for in their selection of ceramics.
When asked about how the exhibition relates to Macalester and its community, Patrick sited the diverse foundations for the show. "There are entry points to this show from multiple disciplines and ways of thinking. There are inroads through geography, history, political science, philosophy and media studies. I would hope that could offer conversations around campus through different disciplines." In addition, "the school's mission to scholarship, internationalism, multiculturalism and service to society as [those] tenants flow through the exhibition."
The timing of the exhibition is also unique: the National Council on Education for the Ceramic Arts (NCECA), which is happening at the end of March at the Minneapolis Convention Center, is including the Law Warschaw Gallery in its curated trips. Patrick and Hills-Bonczyk considered this context when planning the show. "What is experimental in clay right now," says Patrick. "The conference is in town where they focus on celebrating clay's history and tradition. The conference as a whole isn't representing the extremities of clay."
In addition to the NCECA visit, some of the artists will be visiting campus to speak about their work and conduct live ceramic performances in the week leading up to the exhibition's closing date. For a new take on clay, make sure to visit the Law Warschaw Gallery. For updates on the visit, visit macalester.edu/gallery