In an unusual twist in the 2018-2019 art season for the Law Warschaw Gallery, located in Macalester's Janet Wallace Fine Arts Center, the space hosted the two-week-long exhibition "Yes, and the body has memory…," curated by Mara Duvra, over winter break. The show had previously been placed at Gallery 71 in Edina, but, due to complaints from local residents about the presence of nudity, the show was forced to relocate. Sponsored by the Minneapolis-based art collective Waiting Room, the show made its way to Macalester through Jehra Patrick, who serves as director for both the Law Warschaw Gallery and Waiting Room.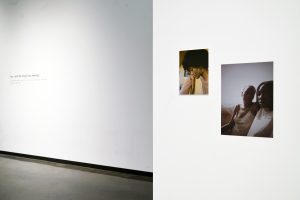 When Duvra was given the opportunity to bring her work to Mac, she says she approached the role of curator "as an extension of [her own] artistic expression." A visual artist herself, she wanted to bring together female artists, particularly women of color, to showcase in her exhibit. Duvra used themes of tenderness, intimacy and familial and cultural history as foundations for the kinds of artists she wanted to work with: immediately, photographers from the Twin Cities Carla Alexandra Rodriguez, Lorena Molina and Leah Edelman-Brier came to mind. The fourth artist pulled for "Yes, and the body has memory…," Rikki Wright, was found through social media and is based in Los Angeles.
Edelman-Brier's series of photographs featured in the show revolve around the generational dynamics of a daughter's body developing into her mother's. "Body Becoming" specifically focused on constructing beauty outside of stereotypical standards and finding a sense of home in one's own identity. Similarly, Salvadoran immigrant Molina's "Nothing Hurts Like Home" interrogates what and where "home" lies, as she herself works to maintain her cultural roots. Rodriguez, meanwhile, used the practice of photography as an investigative search into intimacy and catharsis while working through the deaths of her parents. Finally, the work from Wright explored the notions of community and sisterhood that women of color hold onto after times of grief and how community expands the horizon of self-discovery.
On Wednesday, January 23, Duvra hosted Edelman-Brier and Rodriguez in the Law Warschaw Gallery for a discussion about their work and the exhibition before its closing the following Saturday. The exhibition itself housed fewer than 20 photographs on the gallery's walls, yet the discussion drew around 40 people. After a viewing and a short reception, Duvra spoke about her thought process as a curator, and how her perspective changed after both working with the artists and changing locations. Duvra asked questions such as "How do familial and cultural histories evolve through generations? What unexplainable legacies are formed through trauma? And what is the impact on the body?" What's unique about this group of artists, she reflected, is how their "independent voices" still reflect harmony through different settings and experiences. "The work is weaving together familial and personal history," she stated. "Understanding the body as a spiritual and physical heirloom."
During a question and answer session, Edelman-Brier and Rodriguez offered insight into their processes and motivations. Edelman-Brier's photographs track the progression of her mother's multiple sclerosis through comparisons to her younger sister's body. The dynamic is special, as the looming question of whether or not Edelman-Brier and her sister will inherit the disease serves as an undercurrent to the care of their mother. This begs the question: will their bodies turn into their mother's? The photographs are honest in the depiction of pain and vulnerability, leaving a lasting impact. The degree of authenticity is striking but also comforting as Edelman-Brier fearlessly approaches the subject in an intimate manner.
Rodriguez also caught the progression of disease on camera. During her mother's last year of life with terminal cancer, Rodriguez captured experiences that her mother was having for the final time. However tempting it was, Rodriguez says she was careful not to act on "performative acts of grief," out of fear that they would become inauthentic with the passage of time. One piece of Rodriguez's that stands out is a video of her own torso from behind, seemingly pulling out her hair in sweeping motions. She explained that this was a habit of her mother's, to pull hair out of a bald spot on the back of her head, which she has adopted since her death. This transfer of behavior nestles itself right in the heart of Duvra's initial inquiry regarding how our bodies memorialize familial and cultural histories.
The next exhibition in the Law Warschaw Gallery is "Strange Place," opening on Feb. 8. Based on "Yes, and the body has memory…," this season at the gallery is not one to be missed.