Student artist Kelsey Rodriguez on success, space and Star Trek
On a Monday afternoon, the Janet Wallace Fine Art Commons are not the ideal spot for an in-depth conversation. The commotion of students moving from class to class is accompanied by the coffee cart lunch crowd and the ongoing construction of the new theater building. But despite the endless bustle of activity, Kelsey Rodriguez '21 never missed a beat.
Rodriguez leaned forward to introduce herself. "I'm Kelsey Rodriguez, I'm nineteen, I'm a political science major—a sophomore at Macalester—and I run my own business selling my original abstract art inspired by space." Halfway into her college career and just seven months into an official art career, Rodriguez has had a fair amount of success. She has established a relationship with Hennes Art Consulting Agency, is represented by the Minnesota gallery Austin Area Arts and has her work in numerous coffee shops.
Rodriguez's business began as so many success stories do: by accident. After forgetting to fill out her direct deposit form, having worked a full academic year at the ITS helpdesk, she realized that all the money she'd made was just sitting in her Macalester account.
"I had something like $4000 at the end of the year," Rodriguez said. " So I paid off like half of my student loan and then I bought myself some art material."
Rodriguez's passion for space and art were already staples of her life. High school classes helped her to develop an interest in art, while "Star Trek" had bred a fascination with space exploration since childhood.
"I just really like space," Rodriguez said. "I really like space. Like, if Starfleet was a thing I could join, I'd just-" snap "'Bye Mac, I'm out.'" Her passion in both subjects made the combination inevitable. Though this link began with digital representations of planets, when the opportunity to continue her exploration through a different medium presented itself, Rodriguez was more than willing to pursue it.
"I tried that and I really liked it, and so I've been doing that since like May," Rodriguez explained. Most often, her works involve the use of watercolor and gouache paint, on surfaces varying from watercolor paper to plywood.
"I just pour stripes and bands of the paint onto the surface, and then I move it around. I use palette knives and stuff to make the paint interact with each other—but often, the chemistry of the paint does that already." One of the more challenging aspects of this process, Rodriguez noted, was recognizing how little control she had.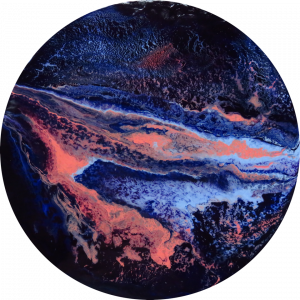 "The results come out really great, I think," she said. "[But] because everything about the process relies on how you mix the paint and how you apply it, I can't do that the exact same way so it's always different." In some situations, Rodriguez finds it necessary to redo paintings completely, and repeats every step in the process to assure the paint dries in the correct shade or area on the surface. But starting over is not always the solution—in some cases, a solution isn't necessary at all.
"Sometimes I just live with it," Rodriguez said. While she admitted to often beginning this process with an idea for the painting in mind, she also expressed an interest in seeing how the final product diverges. "You have a little bit of control, but not a lot, so you have to give a lot of that away. And I think the results are really rewarding."
Though the idea of letting go of control may apply to Rodriguez's creative process, it has not been the case for her business approach. Rodriguez has stepped up, creating a name for herself and doing everything from starting her own website to reaching out to various people in the local industry. "I sent, like, 200 emails over the course of the summer," Rodriguez said. She laughed, adding, "I got three responses.
"It was a lot of copy and pasting the same email, trying something different, sending my work out. I think that because I haven't been doing this for very long, and I'm young, that I'm not being taken as seriously as some other artists… It took a lot of research to get even the small amount of representation that I have now."
Even before her search for representation began, Rodriguez created her own website and sold pieces through Etsy. After the responses began to come in, Rodriguez continued to play an active, invested role.
When her work was being sold through the gallery or consulting agency, they would first buy it from her. To justify the offered price, they would provide examples of work similar to hers and the prices of purchase. Even with this as a reference, Rodriguez made an effort to consider other sources: she looked to Youtube videos, blog posts and online articles that discussed pricing original artwork to give her a sense of the norms in the industry.
"I wanted to make sure that I wasn't being take advantage of," Rodriguez explained. "Because I'm like, 19. New, fresh faced… So I had a very hard point of 'this is exactly how much I'll need to make a profit' and they were willing to work with me."
Although these recent connections have expanded her opportunities for selling her work, Rodriguez said that little changed in regards to the process and actual creation.
"I don't really make artwork with the intent to display it, I make it because I want to," Rodriguez said. "Because I like experimenting and trying new things. And if it becomes something that I feel like can be displayed… that's awesome."
Kelsey Rodriguez' work can be found on display in Austin Area Arts, a juried sales gallery and from Nov. 18th through Dec. 16th at Claddagh Coffee in Saint Paul.