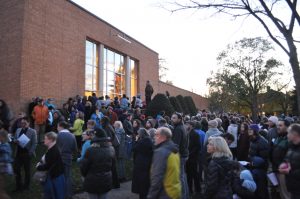 On the morning of Oct. 27, a gunman walked into the Tree of Life synagogue in the Squirrel Hill neighborhood of Pittsburgh and started shooting.
The gunman, who believed the Hebrew Immigrant Aid Society (HIAS) to be responsible for bringing "invaders in that kill our people" and reportedly told an officer that he wanted all Jews to die, killed eleven. One person remains in intensive care.
It is the deadliest anti-semitic attack in the history of the United States of America – yet another mass shooting, yet another mass shooting in a house of worship, perpetrated just days after the racist murder of two black people in Kentucky and the attempted murders of nearly 15 leaders of the Democratic Party.
In a letter to the Macalester community released on Monday morning, President Brian Rosenberg wrote that we "live in deeply troubling times."
"Today my heart breaks," he wrote. "But I must be honest and say, as I must too often in these times, today I am very, very angry."
That same evening, a large group of Macalester students, faculty and staff gathered at the flagpole just outside of Weyerhaeuser Memorial Chapel to walk together to an interfaith vigil for the Tree of Life victims held at Mount Zion Temple on Summit Ave.
"This is the best of Macalester," College Chaplain and Associate Dean the Rev. Kelly Stone said as she addressed the group before it departed. "I know we have work to do here on this campus, but these are the allies who will do that work."
The crowd that made its way to Mount Zion was close to 2,000 strong – filling the building's sanctuary, its social hall, its boardroom and its lobby, with hundreds more people listening to a livestream of the event outside.
Those gathered heard a series of remarks from activist and religious leaders from Judaism, Islam and Christianity, all grieving, all looking ahead. One speaker grew up in Squirrel Hill, another's father came to this country because of HIAS's work.
That last point was not lost on Executive Director of Jewish Community Action Carin Mrotz.
"The synagogue in Pittsburgh, Tree of Life, the worshippers within were not just targeted because they were Jews," she said. "They were targeted because they supported an organization that helps to resettle and support refugees.
"They were targeted because they exercised their values as Jews: values that said hug the stranger, for you are strangers too," she continued. "They were targeted because they acted in solidarity with immigrants and refugees."
Solidarity was a theme throughout, with leaders from different religious traditions standing with the Jewish community.
"Today, we as Muslim women stand not just as allies and in solidarity, but as your sisters," Reviving the Islamic Sisterhood of Empowerment Advocacy Director Asma Mohammed said. "Our hearts are broken."
Other speakers, March for Our Lives leader Sami Rahamim and Survivors Lead's Rachael Joseph, addressed the epidemic of gun violence in the United States more directly.
"Please join us in demanding more from our lawmakers, whose inaction results in daily gun violence in our communities," Joseph said. "Please join us in living this value of tikkun olam [repairing the world]. As the Talmud says, he who saves one life, it is as if he has saved the entire world."
As has frequently been true during the last several years, hate-fueled incidents around the country coincided with the appearance of hate on Macalester's campus.
On Saturday morning, Residential Assistant (RA) Em Hayward '21 found a swastika drawn on a slip of paper and placed in the question envelope attached to the Turck 1 bulletin board. Hayward reported the symbol to campus security, which in turn alerted the St. Paul Police Department.
This is the fourth swastika found on campus this month. Two swastikas were found drawn on a library desk on Oct. 4; another was discovered drawn on a costume mask in a storage closet in The Mac Weekly office on Oct. 11. Investigations into all of the incidents are ongoing.
Hayward said that she didn't feel personally targeted by the swastika and praised the administrative response to her finding it, but expressed frustration with the appearance of hate speech in what is supposed to be a safe space.
"I am Jewish, and I saw my first graffitied swastika when I was six years old," she said. "It's something that I've become pretty desensitized to – which is really, really disheartening to say… It's kind of a sick reality that we're living in at this point."
Rosenberg made no mention of the presence of the swastika in his message Monday morning. A notice from the Bias Response Team was printed in the Mac Daily just below a bulletin advertising the vigil at Mount Zion.
Much of Rosenberg's message on Monday morning dealt with the bigger picture: what the violence means and why it is happening.
"So long as we refuse to enact sensible gun laws; so long as we pretend that anti-Semitism and racism and xenophobia are aberrant and uncommon; so long as we elect leaders who inflame the worst aspects of human nature for political gain; so long as we do these things," Rosenberg wrote, "this is indeed who we are."
Rosenberg went on to specifically excoriate President Donald Trump for his "profound ignorance" of history, as well as his "encouraging and empower[ing]" white supremacists like the ones who rallied in Charlottesville two summers ago chanting "Jews will not replace us."
Mr. Trump is certainly not solely responsible for the global rise of anti-semitism, but numbers suggest that the focus on him is not unfounded. After remaining relatively stable for years, the number of anti-semitic incidents per year in the United States has been steadily increasing since the beginning of his political ascendancy three years ago.
In 2017, the Anti-Defamation League (ADL) reported a 57 percent increase in the total number of incidents of anti-semitism in the United States from 2016 – the largest single-year increase recorded by the organization since it began tracking such incidents in 1979.
On campuses, the increase in anti-semitic incidents in 2017 was even more striking: there was an 89 percent increase in the number of incidents at colleges and universities and a 94 percent increase in the number of incidents at K-12 schools.
The numbers in Minnesota mirror those from the country at large. There were just 12 incidents of anti-semitism in the state in 2015; last year there were 28.
Relatedly, Rosenberg's letter included a call to vote in Tuesday's critical midterm election as an expression of "our rejection of hate, bigotry, and violence."
Voting, and the power of the vote, were also themes at the vigil held Monday night. Elected officials and political candidates at the event did not speak, but were recognized with applause from those gathered.
"Today we mourn," Mohammed said. "Tomorrow we resist. We resist the status quo, the hate, and the rise of white supremacy, and anti-semitism and Islamophobia. And then on Tuesday, we vote."
It was a comment that encapsulated the feelings of many.
"We might be afraid," Mrotz said. "But we won't back down."