On Saturday, Oct. 13, the Director of Choral Activities Michael McGaghie addressed a packed Mairs Concert Hall. Families that drove and flew in from around the world filled seats and overflowed into entryways, craning their necks to get a good view of Macalester's Asian, Choral and African Music Ensembles. McGaghie briskly welcomed the audience, hushing the pre-concert conversation into an anticipatory silence. After getting through the necessary notifications on silencing phones and prohibiting recording, he introduced Chuen-Fung Wong, Chair of Music at Macalester and Director of the Asian Music Ensemble.
The concert promptly began with a brief but striking piece of traditional Chinese music called "Lanterns and the Moon." Wong, who has served as President of the Association for Chinese Music Research and who has performed research on Uyghur performing arts in northwest China and Central Asia, played alongside the small group of students. Although the performance lasted all of five minutes, it was an entrancing start to the night, with the beautiful moans of traditional string and wind instruments found in Chinese folk music.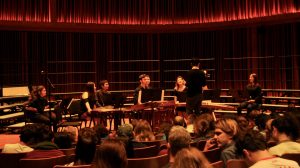 After a stage change, McGaghie took the stage once again. The pace changed dramatically to the ethereal choral music of the Macalester Chorale, the first of two Choir groups. The sizable Chorale performed works that spanned centuries, including compositions from Emmanuel Kirschner and Johannes Brahms as well as a contemporary adaptation of a piece of World War I poetry by composer Christine Donkin called "In Flanders Fields." The simple and breathtaking delivery of these works filled Mairs Concert Hall with a cascade of echoing voices that were punctuated by McGaghie's enlightening introductions and small jokes, such as when he described Brahms' pieces as "very goth."
The Chorale was followed by the smaller Concert Choir, which McGaghie also conducted. The Concert Choir also performed pieces by modern composers and residents of the Midwest: "Weep Not For Him," a piece by St. Olaf College choral conductor Tesfa Wondemagegnehu, and "The Music of Stillness" by Des Moines Choral Society Composer-In-Residence Elaine Hagenberg.
Following the dulcet sounds of Macalester's choral offerings, the style changed once again. A myriad of instruments were brought on stage for the African Music Ensemble's performance. An energetic performance began offstage as the entire ensemble began to shout and sing, tumbling onstage sequentially, led by Director Sowah Mensah. In a series of arrangements with roots in Ghana and Zimbabwe, Mensah led an exuberant performance that integrated the audience. Between songs, Mensah spoke directly to the crowd, teaching them lyrics to sing along to, later encouraging them to get up and dance.
The concert was brought to a close with a spirited performance of "Bobooboo," an Ewe communal dance that left families and students with a pleasant conclusion to a lively, beautiful and diverse night of music.
The Asian Music Ensemble, Chorale, Concert Choir and African Music Ensemble will all have individual concerts in early December.