Barrel Theory Beer Company offers "rain drops" and "drop tops"
"The capacity of a barrel is always limited by its shortest stave… the content that the barrel can hold isn't determined by the taller staves, but by its shortest," said one of Barrel Theory's founders, Brett Splinter. What he was explaining to me wasn't about beer at all. Brett was describing Liebig's Law of the Minimum, a theory that his brewery has taken to heart. Brett continued, "our best product is our scarcest resource; we don't spread ourselves thin." Nestled in the heart of downtown, Barrel is only a year old, but I cannot remember a time before it. When I sat down with Brett, I was pleased to be interrupted every couple of minutes by the mohawked-bearded owner greeting local customers and employees. It seemed like everyone was happy to be coming back, and had strong relationships with the workers.
When reviewing breweries, location is often a big factor for me. Especially as a college student with no access to a car, it is often difficult to go to some breweries that are in industrial areas. While a lot of breweries are popping up in Northeast Minneapolis, it was refreshing to go to a nearby location that creates high-quality craft beer. Just one block away from Mears Park, Barrel Theory is in the center of Downtown Saint Paul, and is a perfect destination for just after an internship, job, or St. Paul Saints game.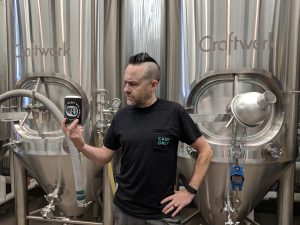 Okay, so the location is great, but what about the actual beer? Before I even tried the beers, I was intrigued by the names. There was What the Fluff, an imperial stout with vanilla and marshmallow fluff, K3YB04D W4RR10R, a milk stout with cacao and my favorites, Rain Drops and Drop Top, two IPAS. I could tell that the brewers have a lot of fun naming these beers, and I was excited to actually start drinking them. Even though Brett was very against supporting a "flagship" beer, the most popular beer on the menu was Rain Drops, an IPA with citra and mosaic. The IPA was incredibly light and citrusy, and tasted so sweet that I actually thought it was a sour. That being said, there were still hoppy nodes in the drink. If hops aren't your thing, the Citra Pale Ale is a great substitute. If you're looking to try something new, I'd definitely recommend their Hefewizen. There were strong hints of banana and cloves in this refreshing and unique beverage. However, my favorite beer was the Draco, a sour kettle-brew that perfectly combined dragon fruit and passion fruit for an indescribable experience.
Unlike many of the growing microbreweries in the Twin Cities, Barrel Theory does not believe in selling its beer outside of the store. Part of the reason why the beer tasted so good, according to Brett, was because the employees of Barrel Theory maintain and control the entire process of the beer's life, from fermentation to the counter. Barrel Theory is straight to the point, and that's what I like about it. They aren't trying to be something that they aren't. They created a microbrewery to make good beer, and that's what they do. That being said, there is no food at the microbrewery, but the owners encourage drinkers to bring in food from the surrounding area, whether that's from the great restaurants nearby (Dark Horse, Buttered Tin, PUBLIC) or the local Jimmy John's.
If you're in Saint Paul, I definitely would recommend going to Barrel Theory. There's outdoor seating, good beer, and happy people. And when you're done and want to bring some beer home, Barrel Theory provides "crowlers," a combination of a can and a growler that, at 750 mL, is the perfect can size for any college student.
Barrel Theory is located at 248 7th St E, St. Paul, MN 55101