Siah Armajani '63 discusses his Walker retrospective
Last Thursday, September 20, during the heaviest torrential rain I've witnessed in the past year, I made my way to the Walker Art Center. Siah Armajani '63 was giving a talk about his life as an artist, in relation to the new exhibition of his work at the Walker, "Follow This Line." The exhibition is the first major retrospective of his work in the United States, running from Sept. 9 to Dec. 30.
Armajani is an Iranian artist, although he has spent most of his art career in the Twin Cities. He is a Macalester graduate and has been married for almost half a century to his wife, who he met in college. While Armajani majored in philosophy at Macalester, he was dedicated to becoming an artist. Instead of going to his classes, he would often sit and study the abstract prints in his art professor's office. Armajani has since become a prominent artist best known for his public art pieces. Though primarily known for his architecture, he has worked in the fields of abstract, conceptual and public art; mediums he adopted at different stages of his career.
While he spent time discussing his journey as an artist, Armajani spent much of the talk commenting on democracy and American politics. It was apparent that, during his time living in the United States, he has become emotionally invested in the country's social and political struggles. Before he came to the United States, he was deeply involved in Tehrani politics.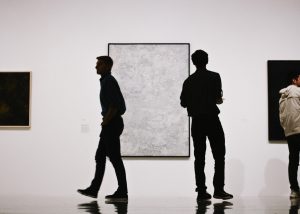 "Democracy is not something cheap," Armajani said. "People have paid a heavy price for democracy." This was in reference to his early experiences as an artist in Tehran. He first became politically involved as an artist during the reign of Mohammad Reza Pahlavi, the last Shah of Iran. He printed and distributed a series of 156 politically charged pamphlets, called "night letters," which were inspired by scribes he saw in the Port of Southern Tehran, where he often went for inspiration.
"It was easy," he said, referring to his choice to print the pamphlets. "We had the Shah to kick [out]." He would also go to the Port of Southern Tehran, a poorer region of the city, in part because he would experience Persian differently there. The way that working class people spoke Persian fascinated him. His work and commitment to the public led him to create public art until the early 2000s, when he became disillusioned with it. Public art is art displayed in spaces where it is ideally accessible to a wider audience than art displayed in private institutions.
However, Armajani became less compelled to make public art over time. "All of a sudden, everyone became a public artist," he said.
Armajani expressed a similar sentiment when talking about his transition from conceptual work to public art while he was a professor in the Minneapolis College of Art and Design (MCAD) in the late 1960s. He was frustrated by the limitations of conceptual work as well.
"I knew conceptual art was going to die because college professors became the biggest proponents: the 'kiss of death,'" he said.
I was struck by the wise cynicism of the seemingly gentle career artist, now 79 years old. He wore a mandarin collar oxford shirt and a melancholic grey-brown suit.
He did not shy away from saying deeply rebellious things in his talk, comments that jolt one back to the bizarreness of reality.
During one of his tangents, he mused about monarchies. "Kings and queens are incestuous parasites. They're all related, and that's how they kept the power going."
He also shared fascinating statements on the strangeness of America, ones he's noticed since moving to the country.
"There is something in the totality of American democracy that is anarchy," Armajani said. "One need only turn the television on at two in the morning to realize this. You watch the television at this time and think to yourself, 'how are we surviving as a society?,' and then you wake up every morning and see that people are still walking around."
It seems that Armajani speaks to an alienation from the society in which we live, one which we all feel but are unable to fully discuss except for in art talks.
While Armajani has moved away from public art, he is still well known for his work creating the Irene Hixone Whitney Bridge in Minneapolis. The bridge leads to the sculpture garden in front of the Walker. It has a long, complicated history involving limited budgets and threats by (presumably) radical environmentalists.
I recommend walking down the bridge on a pleasant day, not during the biblical downpour of the day of the talk. You will notice a John Ashberry poem engraved on the side of the bridge that was commissioned specifically for the structure. Ashberry was paid $10,000 for the poem.
Armajani, in a move out of the Alejandro Jodorowsky production playbook, made sure to give Ashberry a commission so large that any sane museum board would reconsider whether they had, in fact, hired a human being and not an incredibly eccentric extortion mechanism.
So much of Siah Armajani's life, like his work, can be summarized through the symbol of a bridge. He connects ideas, moving fluidly between mediums.