See the bigger pitcher: Able Seedhouse and a different belt of grain
A gutted out warehouse with a minimalist interior? The smell of hops wafting through the air? A milkshake IPA scheduled for release? One might recognize these trendy typical brewery qualities on a first glance at Able Seedhouse. So why were the Food and Drink Editor Henry Nieberg '19 and I so excited to visit? What exactly makes Able different?
The difference lies in its founding principles. When co-founder Casey Holley, a Minneapolis native, returned from Lodi, California with his family, he had a concept for a business model in motion. As he lived and worked in the heart of American wine country in a town labeled by some the "Zinfandel Capital of the World," he considered what made the community so historical and special. The town built an entire holistic identity around one unique grape, the flame tokay. What, he wondered, was his home state's equivalent? What agricultural product could a Minnesotan company build around to create their own self-sufficient approach to business?
The answer came naturally: grain. What better place to start a brewery using those local products than right in the heart of the country's grain belt, with what Holley considers easily the best farmers in the Central Valley?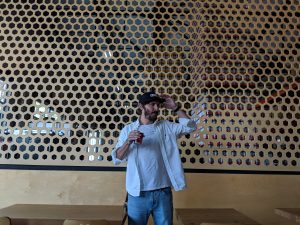 So Holley and his team got to work. They partnered with Solemn Oath Spirits, whose grains are highly distinct due to the fertile soil they are grown in. They found a streamlined, "less is more" approach to their product design, which extends to both their taproom and canning designs. They connected with now head brewer Bobby Blasey, a graduate of the Intensive Brewing Science and Engineering program with the American Brewers Guild, and the former head brewer for Mankato Brewery. Blasey brings consistency, Holley explained, and knowledge of every stage of the brewing process, from the conception of an idea all the way through to packaging.
Holley began malting the grain—a process which began with a single seed—before passing the malt on to Blasey. Their first self-malted beer contained two percent of their own grain. Soon they reached eight percent. Their most recent effort upped the percentage to 25. The goal, of course, is to malt, brew and package beer with entirely their own grain.
This goal is still a ways away, says Holley, but they're getting there. And when they do get there, it seems highly likely they'll be at the forefront of a new brewing innovation, leaving behind the hazy and milkshake IPAs and producing quality beer entirely self-sufficiently. Now that is different. So how's the beer?
Most of the brewery's taproom and cans feature beer without their own grain, and we were not privileged with the currently unavailable limited-time-only, self-malted efforts. However, this does not mean their flagships aren't delicious because, well, they are.
Personal highlights are the First Light IPA, BLK WLF and the Propers Pub Ale. A bright, balanced and hop-forward beer, First Light makes up the largest portion of Able's sales. BLK WLF has the distinction of being one of the few stouts I've experienced with a light enough body and low enough ABV (3.7 percent) to day drink on a hot day, while still retaining impressive amounts of flavor. Chocolate and roasted malt shine through a creamy, smooth texture. Perhaps most noteworthy was the Pub Ale; an amber, caramel-y homage to English pub-style beer. At 4.2 percent, Propers comes across as mildly flavored, not bitter like an Extra Special Bitter, but refreshing, crisp and smooth. Not available in cans, one must journey to the taproom to experience its pleasures. The same is true of Able's special self-malted releases.
If that's still not enough to drag you to NE MPLS, Able also has a new BBQ joint, Animalés, which smokes its own meat and sits right next door to the taproom on the patio. For students who are new to beer, Able sits in an amazing location which has good quality breweries popping up left and right that are in walkable distance. Before it's too cold, I'd recommend getting some beer and BBQ and enjoy what Able has to offer.
Able Seedhouse and Brewery is located at 1121 Quincy St NE, Minneapolis, MN 55413