Macalester's Law Warschaw Gallery is now home to a peculiar structure with the name kNOw Space. The structure resembles a small watchtower or deer blind with mirrored walls. Gallery visitors are welcome to step into the tower, where they can see through the double-mirrored walls to witness everything happening outside. To those looking up at the tower, you seem to disappear into a secret enclosure: a place of privacy. All members of the community where the tower is placed will be able to access it, and to be see without being seen.
The tower is a prototype by Jordan Weber, an artist and activist based out of Des Moines, Iowa. He modeled the structure on the watch tower in a Panopticon, an institutional building designed to make prisoners feel like they are under constant surveillance. The "Panopticon" concept has come to represent disciplinary societies, systematic oppression of minorities and psychological control. Weber turned this concept on its head, inversing power dynamics between the 'watchers' and the 'watched' in society. Weber uses his artwork to interrogate power structures and create welcoming spaces for communities of color. Within these spaces, he provides opportunities for reflection, rejuvenation and community empowerment.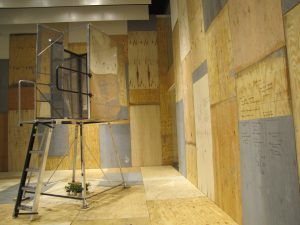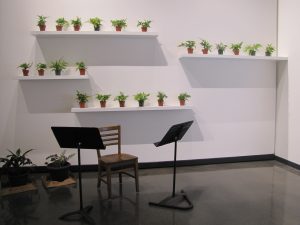 The exhibition, called kNOw Spaces, opened on Friday, Sept. 14. Prior to the opening, I visited the gallery and spoke with Weber about his work.
The show was still coming together a few hours before the opening, and Weber was busy getting everyone ready. During our interview, he helped his friend Gawolo Irving set up a small barber shop in the kNOw Space structure, where he would cut hair during the opening. He then rushed over to the other side of the gallery to help Jarrelle Barton prepare for his performance on the guzheng, an ancient Chinese instrument. Weber explained that the exhibition is split into two main sections. Near the entrance, the kNOw Space structure will act as an introspective space for anyone to use. The other half of the exhibition serves as a space for collective meditation, conversation and reflection.
The gallery opening was a truly eclectic event, but every element had its purpose. Weber invited Irving to cut hair in the kNOw Space sculpture to replicate the feeling of comfort in a barber shop. "In order for [people] to reflect positively upon the environment, they need to feel safe," he explained.
Weber wanted Barton to perform at the opening because his story touched upon the exhibition's true purpose: to create a space for healing from trauma through art and meditation.
"Jarrelle's figured out a way on his own to cope with trauma through using an ancient Chinese instrument, so the practice of eastern music is a way that he facilitated his trauma," Weber said.
There are 20 Zafus meditation cushions on the floor of the gallery, where members of the community can sit and contemplate alongside one another.
"Meditation is a really good prescription for dealing with everyday life," Weber said. "It's very foreign to the black community: ways of coping through meditation. It's not something that is conditioned through our legacy and our neighborhoods and our parents."
The cushions are filled with soil from black-owned farms in Iowa and Minnesota. Weber commonly uses earth to create his art. One sculpture in the exhibit shows brown bags holding soil from outside the Emanuel African Methodist Episcopal Church in Charleston, SC, where there was a mass shooting. The piece, called Chapels, has layers of meaning. It acts as a memorial for those who lost their lives in the shooting, but also references issues of land and ownership.
Weber explained that the use of soil throughout the exhibit "is a shout-out to land acquisitions and communal gardening and healthy eating habits where there's food deserts in black and brown communities." "What does it really mean if, as somebody as color, you choose to buy land?" Weber asked. "What are the limitations of that, but most importantly, what can we do with land when we do acquire it, which is to grow our own food and take care of a lot of people?"
Weber considers himself an environmentalist who sees nature and naturally grown food as methods for healing. He began thinking of nature and land as healing when he visited his uncle's land as a kid. "I feel like nature is the most spiritual experience I can have as a human being."
There are still many unanswered questions around the kNOw Space structure, which is still in its infancy. Weber acknowledges the logistical challenges he has yet to surmount, including issues of access, safety, privilege and placement. Prior to the gallery opening, he invited Macalester students to give input on these issues and generate ideas. Classes were told to visit and write their ideas on the walls of the gallery, which were lined with plywood.
The plywood itself was a nod to the exhibition's inspiration: Resurrection City. Organized by Martin Luther King Jr. and the Poor Peoples' Campaign, Resurrection City was an occupation at the National Mall of Washington in 1968. 3,000 people occupied wooden shanties in the temporary 'city' to protest structural racism and economic injustice. Wooden walls enclosed kNOw Spaces to place the exhibition in this historical context, signifying its role in fighting racial injustice in modern America.
The plywood also served as a canvas for students to write suggestions for the exhibit. Unveiled for the gallery opening, students' comments showed a community grappling with tough questions about the fabricated watchtower. One student wrote: "How do we make the space welcoming?" Others commented that the structure could be a place for individuals "to sit or reflect within community" or a space for knowledge exchange. Many of the comments circled around the concept of "safe space," with students writing: "there is no universal safe space," and "safe space for whom?"
Weber spent six months reaching out to people of color in the Macalester community, including student coalitions and professors, about his exhibition. Weber and Jehra Patrick, who curated the exhibition, were intentional about giving people of color the opportunity to shape it. However, the kNOw Space sculpture is still a prototype. He is continuing to discuss the prototype's develop through the gallery, and invites any suggestions people may have. One of the main questions about the sculpture is its placement. Weber acknowledges that he will need permission from whichever community he places the sculpture within. "The final form needs to be communal, it needs to be outdoors, [and] it needs to be an inner-city construct of some sort so we can really feel like the concept itself is in the right environment, the right neighborhood," Weber said.
Weber hopes that the exhibition will continue being a place for discussion and healing. Artists and organizers are encouraged to use the space to hosts meetings, lectures and events. The exhibition will run through Oct. 25.