At 621 students, the Class of 2022 is, by a significant margin, the largest in the history of Macalester College. It was not supposed to be.
"The first-year class target had been 543 students, and initially we had planned to enroll seven transfer students for 550 new students," Vice President of Admissions and Financial Aid Jeff Allen said. "By no means did we expect to enroll so many additional students."
In fact, six months ago, there was a concern within the college's admissions office over whether it would hit its enrollment target for this year's incoming class at all – let alone exceed it by so large a margin – and for good reason.
Macalester's admissions office, like many around the country, has for years used a mathematical model to help predict admitted student behavior.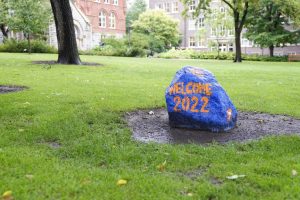 It used to partner with DeWitt Wallace Professor of mathematics, statistics and computer science Danny Kaplan to build the model, before roughly eight years ago entering into a partnership with Human Capital Research Corporation (HCRC) – an Evanston-based education resource consultancy that works with more than 70 colleges and universities nationwide.
Each year, Macalester sends HCRC around 200 variables, from a student's hometown to whether they have visited the college, from which the firm selects the eight to 12 most predictive to build a logistic regression model to predict admitted student behavior.
"When we did that in March, based on the 2016 and 2017 cycles, the model said we think you will enroll x number of students," Allen said. "I think it was like 530 or 535. And so we felt good about that plan, and then, obviously, yield behavior changed."
What does that mean? In short, a higher percentage of admitted students chose to attend Macalester than expected. That was true across demographic groups, including domestic students of color, international students, and first-generation college students.
"Regular decision yield went up by 2.7 percentage points," Allen said. "In the 2016-17 cycles, regular decision yield was 17.3 percent, and in this last cycle, it was 19.9 percent. That largely explains what happened. The more difficult question to answer is, why?"
There are several possible, albeit incomplete, explanations for the rise in yield. Allen suggested the college's new theater and dance building, as well as the work of its Career Development Center (CDC) and emphasis on entrepreneurship as potential new draws.
Another partial explanation has to do with something the admissions office did this year for the first time: hold programs for admitted students in Shanghai, China and Piedmont, California shortly after admission decisions came down in March. They seemed to work well.
"We did see an increase in the number of enrolling students from China, and a slight, more modest increase in enrolling students from the Bay Area," Allen said.
Ultimately, though, there's no way to know for sure what led to the rise in enrollment. Allen acknowledged that HCRC's model is "less predictive than we would like it to be," but said that, while it has been discussed, the college has no intention of ending its relationship with the firm in the foreseeable future.
"Given what we hear from other peer colleges, that their predictive models are also not as predictive as they would prefer," Allen said, "we feel like this partnership, at the moment, is one that we should continue."
That leniency is, at least in part, a nod to how unpredictable the college admissions process has become in recent years as students increase the number of colleges they are applying to.
"At some level, admissions, college enrollment, is as much art as it is science," Allen said.
Once it became clear that the Class of 2022 was going to exceed 600 students, other departments at the college scrambled into action.
One of those departments was Residential Life, which was suddenly facing a room shortage for first-year students.
To compensate, it placed some 70 first-year students into Bigelow Hall, normally a sophomore dorm, and moved affected students into Kirk Hall and the cottages at 53 and 57 Macalester that, last year, housed the temporarily displaced theater and dance department.
Those changes brought more changes. Theater and dance relocated to the Lampert Building, while 37 upperclassmen agreed to transition into off-campus apartments. Those students are still paying the price for a room on campus – in part because of the construction of financial aid packages – but aren't footing any of the cost associated with their off-campus living space.
"We thought about this in multiple layers, in terms not just of beds for bodies, because our students are way more important than that," Assistant Dean for Residential Life Coco Du said, "but in how we can be welcoming and build a community with this very robust first year class."
To that end, Du also supervised renovations in a number of residence halls – including new carpeting and furniture in Bigelow and Dupre Hall, as well as in the cottages.
The college made accommodations on the academic side as well. In early August, Registrar Jayne Niemi announced that the college was offering 22 new classes and eight additional sections of existing classes to meet the demand presented by the first-year class.
23 of the 30 total added classes were at the 100-level, and almost none had prerequisites. The majority are running this fall, with a handful slated to run in the spring. The college also added three additional first year courses, one each in religious studies, media and cultural studies, and French and Francophone studies.
Looking ahead, the biggest impact of the Class of 2022's size will likely be felt by the not-yet-formed Class of 2023. Previously, the college was aiming to enroll roughly 540 students to start next fall. Now, it will aim to enroll just 515.
"Our recruiting tactics will not change – in part because we have to think not just about the coming cycle, but about the cycles after this one." Allen said. "What will change is that in the selection process, as we target fewer students, we will become more selective."
That, if it plays out as anticipated, will be a slight shift. Macalester's acceptance rate has drifted upwards in recent years, settling at 41 percent in 2017 and 2018. If all goes well this cycle, the plan is to go back to aiming for 540-student first year classes starting with the Class of 2024.
"If we were, for example, to shoot for a class of 470 or 480 in the coming cycle, that [would] help us next year and in the year that follows, but, when this class graduates, if we don't go back to 540 in the years after this one, then we'd have a big gap to fill in that year that this class graduates," Allen said. "So it's this trying to live in the middle, if you will."
Ultimately, enrolling too many students at a time when a number of liberal arts colleges are struggling to meet their enrollment targets isn't the worst problem to have.
Allen pointed to Beloit College and Earlham College as examples of schools that are under-enrolled for the year and facing serious budgetary pressures as a result.
They aren't alone. Middlebury College, while still meeting its enrollment targets, is planning to cut $8 million in staff compensation costs by the end of the year to address its deficit; Oberlin College, facing a deficit of its own, is considering eliminating multiple academic departments.
In a broader sense, Macalester's enrollment numbers portend well for its overall financial health – and this year's new class will certainly contribute to the institution in other important, lasting ways.
"It's an energizing thing to be enrolling more students than anticipated," Allen said. "I'm excited for the Macalester community."