I walked under a constructed frame that beams down a pink and blue glow and hesitated just inside the door. A worker cleaning tables welcomed me in and gestured towards the register. On its third day of business, All Square was already a bustling part of this small neighborhood off Lake Street at 4047 Minnehaha Avenue. One woman came in and ordered without looking at the menu. A man on a bike swung by and picked up a takeout order, chatting with some of the employees before taking off. The atmosphere was loud and bursting with energy, but actively welcoming. Customers were comfortable with each other and chatted while passing around ketchup containers. The founder, Emily Hunt Turner, and the board chair, Roslyn L. Pedracine, mingled with patrons and help bus plates. I felt safe and welcomed here seeing All Square's promise of "guilt free comfort food" in action.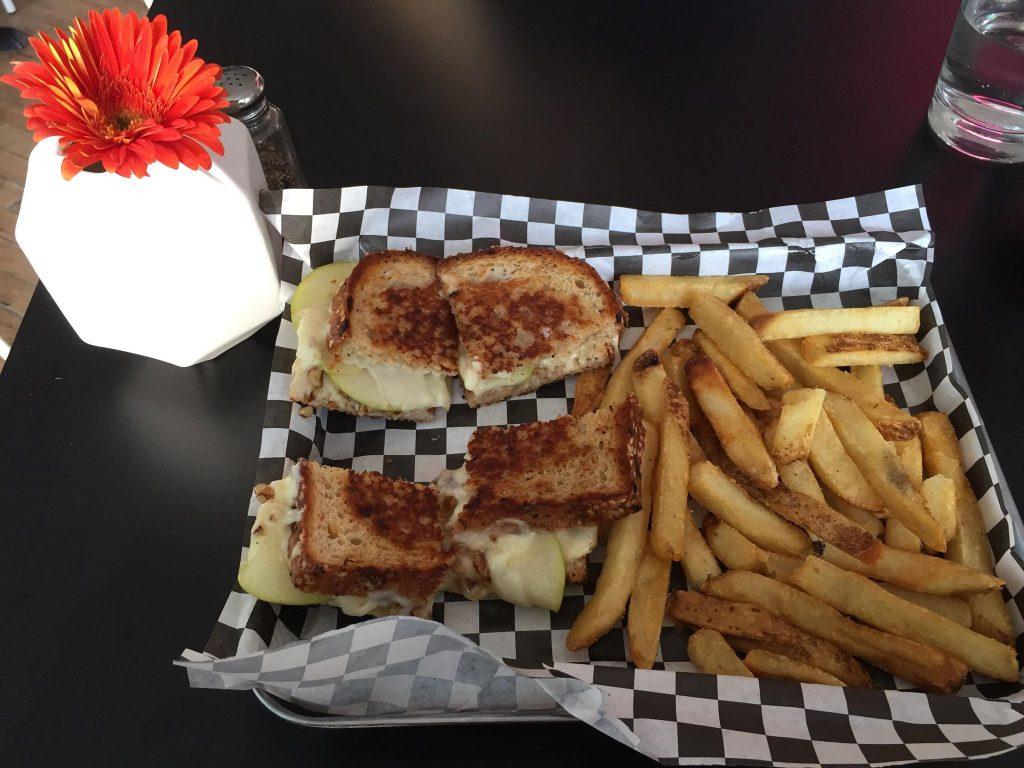 All Square was created under the simple premise that formerly incarcerated people have paid any debt they may have owed society and are now 'all square' and deserve a fair shot at employment. Emily Hunt Turner found a way to make social justice profitable by combining work for people that were formerly incarcerated with a delicious treat. While the concept of the restaurant is straightforward, the menu takes some unexpected but rewarding turns. The menu is entirely grilled cheese sandwiches, staying true to the restaurant's gimmick, with salad and fries for sides and drinks including wine and beer. I tried the apple-brie-pecan sandwich and bit into a rewarding combo of rich wheat bread and creamy cheese mixed with the light caramel sweetness of candied pecans and finished with a crisp bite of apple. It was a light and sweet taste that I never expected to get from a grilled cheese sandwich. The menu further expanded my understanding of a grilled cheese with other customer favorites such as the Punch 'n Crunch (chili cheese fritos and Sriracha), BBQ/Coleslaw, and the spicy Jerk Chicken. The clientele ranged significantly, from businesswomen headed home, families with toddlers, and older couples enjoying a sit down meal. There's something for everyone on the menu, and the food combined with the atmosphere keeps people coming.
The employees rushed around to get delicious sandwiches to anticipating groups, helping each other out and quickly shifting gears whenever a manager asked them to. The hubbub of the space was amplified by the cameraman and journalist that were there to interview Roslyn and Emily. The two women happily completed the interviews while continuing to smile at customers and keep the restaurant moving. The kitchen is directly behind the register and clearly visible from the seating area, allowing diners to see the action of five employees in all black and one chef in all white bustling around hot stoves with hands filled with bread, cheese and other goodies. All Square contains so much energy for social justice and good food. A visit here leaves you feeling full and content in the knowledge that your money went towards a worthy cause today, while getting yourself a treat along the way.
All Square is located at 4047 Minnehaha Ave, Minneapolis MN.