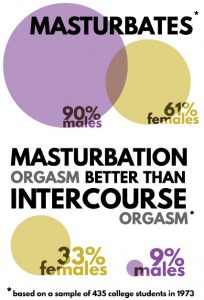 Alrighty folks, it's about time we talk about masturbation. I've been thinking about sex a lot recently (thank you, women's, gender and sexuality studies and educational studies for allowing me to do both my capstones on sex education). But before we can really talk about sex – and I mean really talk about sex – we have to be able to talk about masturbation first, right? Right.
This is a topic of conversation that makes most people uncomfortable. Masturbation, among many other sexual things, is not really something we talk about. Our culture tends to avoid conversations surrounding positive sexual experiences, because we have a deeply ingrained fear of sexuality. For the most part, people's experiences talking about masturbation have been limited to preteen and teenage boys making jokes about their taste in porn and making obscene gestures towards one another. It's never something that's talked about seriously and I'm almost positive that most sex education classes avoid the topic. Conversations surrounding pleasure and desire are usually absent from sex education classes because adults and educators worry that discussing these topics will encourage young people to have sex.
Back in the 19th century, masturbation of any sort by any kind of person has been seen as impure and people would go to great lengths to keep children and teens from exploring themselves. It was rumored that masturbating would cause hair to grow all over your palms and that losing one drop of semen was the equivalent to losing ten drops of blood. It was common practice to make young boys wear belts with spikes surrounding the penis, to "discourage" them from developing erections. Women, on the other hand, had to be treated for "hysteria" (a made up disease, from the Greek word "hysterika", meaning "womb") because they orgasmed so infrequently and their husbands only cared about their personal pleasure.
Even in this day and age in the United States, many people are taught that their sexual desire and want to masturbate are wrong, dirty or something to be ashamed of—this is especially something that happens to girls and women. People will go an incredibly long time in their life without ever having explored themselves or orgasmed because they're scared or they feel ashamed. Since coming to Macalester, I have met plenty of cis women who are scared of and disgusted by their vaginas and don't feel comfortable exploring themselves. Let's destigmatize masturbation and pleasure!
Knowing what you prefer and what works for you can allow you and your partner(s) to have sex where it is easier for you to orgasm (assuming that that is a thing you want!). On top of having better sex and more orgasms, there are – according to Planned Parenthood – some added health benefits to masturbation, including: -Releasing sexual tension -Reducing stress -Helping you sleep better -Improving your self-esteem and body image -Helping treat sexual problems -Relieving menstrual cramps and muscle tension -Strengthening muscle tone in your pelvic and anal areas Some people even claim that masturbating until orgasm can help with headaches and migraines—something to consider, for sure. So there you have it! An invitation to go for it; touch yourself!
I would encourage everyone – seriously! everyone – to take some time this weekend and get to know themselves; figure out what you like and don't like, what gets you going! Knowing how your body works is an essential first step to taking ownership of your body and sexuality. Personal empowerment comes from personal knowledge, and masturbating can be a way of gaining that personal knowledge.
To end this piece, I will leave you with a quote from Audre Lorde – a prominent feminist writer from the second wave and a self-described "black, lesbian, mother, warrior, poet" – about her ideas surrounding the erotic and ask you to think about how masturbation could improve your (sex) life.
"The very word erotic comes from the Greek word eros, the personification of love in all its aspects – born of Chaos, and personifying creative power and harmony. When I speak of the erotic, then, I speak of it as an assertion of the lifeforce of women; of that creative energy empowered, the knowledge and use of which we are now reclaiming in our language, our history, our dancing, our loving, our work, our lives."