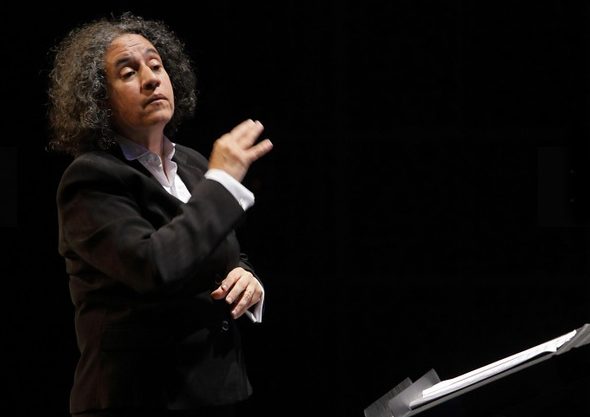 Professor Cecilia Espinosa Arango is an imposing, aristocratic figure. She has wild, short bobbed hair, in the style of Fran Lebowitz and Beethoven. Like many other Latin Americans who earn the title of orchestra conductor, in her professional context she translates to the eye as both animated and serious. Think of "The Incredibles'" Edna Mode, inspired by Edith Head. Of course, she is not merely serious; she is focused, with a quiet, charismatic disposition that implies worldliness, sagaciousness. Her conversational style, along with her paisa accent, denote her sophisticated melange of wit, unique to Colombians: both dry and warm, detached and passionate.
Professor Espinosa's parents did not want her to study music. In the beginning, she was studying administrative engineering. Soon, however, she focused solely on music. She failed to mention this to her parents, but her sister snitched on her. It created a rupture between her and her family. They were furious, but this reaction was understandable. It was a time period in Colombia where the "secure" careers were doctor and engineer, not composer or conductor. The tables in Colombia have flipped nowadays, with, in her words: "Colombian doctors having to drive taxis and musicians making more money." But back then, the idea was dangerous. A little rebellious. "They'd say of me '¿De que va a vivir, por Dios? You can't live off of music!'"
The notion of studying her passion was extreme, and it left her in a new position: To her knowledge, she is the only female conductor in Colombia. This produces a specific type of stress for her.
"Surely, I think, and I see things are going to change," she said. "It scares me when people say things like 'Well, look: You're the only one.' It scares me because of the responsibility. When I get on stage and conduct I don't think: 'Well, I'm a woman.' I think 'Well, I'm a musician, and I make music, and that's what matters.' Because if I start to worry about gender I complicate things for myself."
She often refers to a collective past that I have only heard in the stories that Venezuelans and Colombians tell about those years (Imagine the time frame between the 70s and the 90s) — for Venezuelans, oil-based prosperity; for Colombians, the opposite.
She saved the money from her teaching position and came to the United States, "sort of as an adventurer." She went to the Longy School of Music in Boston, where she studied music theory. After Boston, she came back to Colombia and started working. She developed orchestras, choruses, programs. Among these was Medellin's EAFIT University's Music Program, which she built. She wasn't completely satisfied.
"I had a lot of support, but, to be honest, I still had that itch that I wanted to continue studying," she said.
After receiving scholarships, she studied conducting at King's College in London. She described it as a marvellous year.
"Every place was different. Boston opened my eyes, Haverford consolidated my knowledge and London was like being presented a flabellum: Europe. They're experiences that are absorbed differently and at different moments in life," she said.
The scholarship ended after a year, and so she returned, once again, to Colombia.
Upon her return, she started working at a school called Instituto Musical Diego Echavarria. Created in 1982, it is one of the few schools in Colombia that provide a full curriculum — from kindergarten to high school — in both regular academics and music. Professor Espinosa was in charge of the Music Education Curriculum and helped build it up to the institution that it is today.
One of the people to graduate from this institute was dear to her. Her mentee, Andrés Orozco-Estrada, whom she gave his first directing baton, has recently been named Director of the Vienna Symphony from 2021 to 2026.
Preparing for this interview was different, more pressing, and more engaging than the vast majority of the work I've done this year. There is an intense sense of responsibility to do justice to the professor, to impart just how important an individual she truly is. A lot of it has to do with the places where she has studied, the places where she has taught: pilgrimage.
We talked about a great deal of things in a relatively short amount of time. There is Jorge Luis Borges' poetry and fiction, which she loves, and the struggles of switching from conducting to teaching music history.
"I read the dots on the sheet, and I can interpret them and experiment, but it has been a long time since I've had to instruct the history of the people on the note sheet," she said, pressing her finger to a music stand with sheet music by French composer Claude Debussy.
We embraced at the interview's end. This May she will be departing, back to Medellín, where she will continue to conduct. Her story of travel is also a story of eternal return. This position is, curiously enough, anti-Borgian.
"Although I like to live abroad, above all, I'm Colombian." Professor Espinosa will be culminating her year-long tenure with the upcoming orchestra concert, Friday, April 27, 8 p.m. in Mairs Concert Hall, Janet Wallace Fine Arts Center.