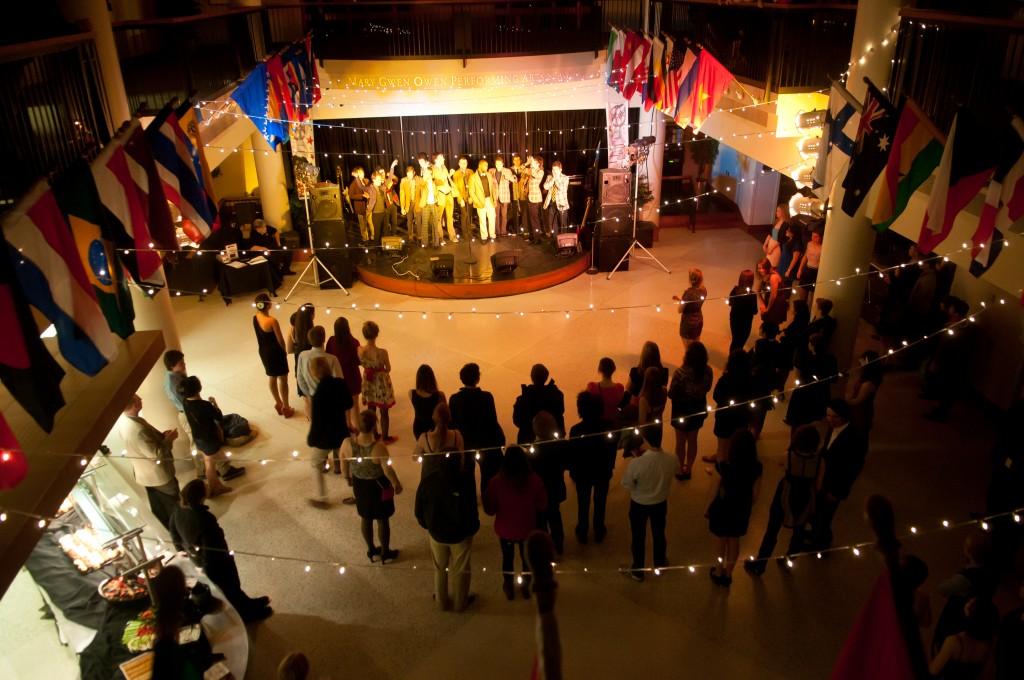 On Friday, March 8, Macalester will celebrate its annual Founders Day event in the Ruth Stricker Dayton Campus Center. This year's Founders Day theme focuses on simple elegance. Students, faculty and staff can expect black and white decorations in the Campus Center during the dance.
"We want the Campus Center to feel special, but the focus is on everyone coming together to celebrate the community," said Dean of Students Jim Hoppe, who is on the Founders Day committee.
This year's committee includes a number of students and staff from different areas of campus. In addition to students Jasmine Ball '13 and Ian Calaway '16, Hoppe is joined by Kate Walker from Business Services, Jason Dempster, the Benefits & Compensation Manager, Andrew Beveridge, a Math professor, David Warch from Communications and Mark Bechtel, an operations manager at the Campus Center. The event is sponsored by Program Board.
The first Founders Day was held in 1938. The tradition began after Grace Whitridge, a professor of drama and speech, wanted to commemorate the day Rev. Dr. Edward Duffield Neill obtained the charter for Macalester from the Minnesota Legislature on March 5, 1874. Founders Day also celebrates the birthday of James Wallace, who served as the college's president for 12 years. Founders Day was celebrated from the late 1930s through the 1970s. The tradition was revived again in March 2004. Early iterations of Founders Day included a lecture in the gymnasium and birthday cake. Today, the event provides a fun atmosphere for students, staff and faculty to relax and spend time together outside the classroom.
"The committee has done a great job producing the event this year. We also couldn't do it without the many faculty and staff volunteers, who so generously give of their time," wrote Hoppe in an email.
While the Founders Day event in the evening is the highlight of the week, students, staff and faculty can look forward to several events today.
Today at 3:30 p.m. the annual pushball game will take place outside of Old Main on the lawn, but with an added twist: the class that wins at pushball will play faculty and staff in a championship game.
For the final event of the week, all students, staff and faculty are encouraged to attend the semi-formal event in the Campus Center. Attendees can expect to see live music from several student groups as well as from R&B band Soulacious. Birthday cake, snacks and soft drinks will be provided for free. For attendees 21 and over, there will be a cash bar. Students intending to drink are reminded to bring student ID as well as government issued ID.
Dancing, photo portraits and games are also on the menu for the evening.
Founders Day provides a place where staff and faculty can mingle with students in a less formal setting.
"Founders Day is just a great chance for us all to get together in a more fun, less formalized context," said Professor Kristi Curry-Rogers of the Biology and Geology departments. "I love being able to raise a glass to celebrate the hard work of my students and colleagues!"
Hoppe echoed Curry-Rogers' sentiments. "I love the chance to have more casual conversations with folks and just be part of the fun," he said. "I also like to dance a bit before the crowd arrives."
"I look forward to dancing with Jim Hoppe," said Ross Boehme '15.
"It's a great bonding experience for faculty and students. Last year, the English department showing was a little bit weak, and this year I expect a better turnout and more drinks in hands," said Alex Juffer '13.
"I think Founders Day is a marker of the year. It gives us chance to come together and have fun. Dressing up and spending the night in the campus center is not something you do every day," wrote Hoppe.
Founders Day begins at 8:30 p.m. Friday, March 8. Semi-formal attire is welcomed.