Ruppersberg channels Rauschenberg in new Walker exhibit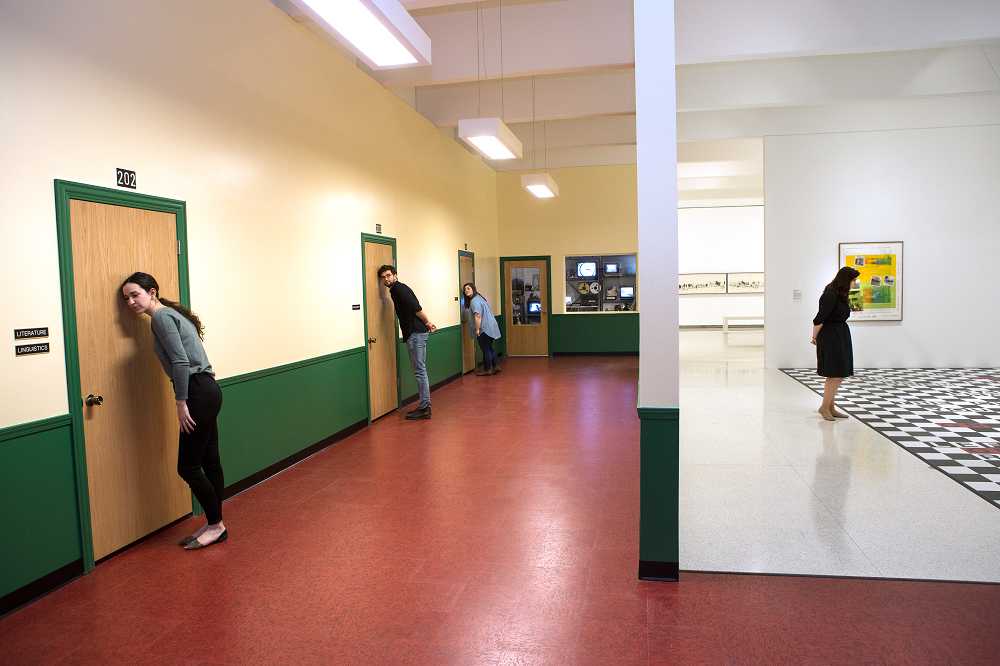 The Walker Art Center's "Allen Ruppersberg: Intellectual Property 1968-2018," about the California-New York-based conceptual artist, is the first major retrospective of Ruppersberg's work in 30 years. His body of work, eclectic and erudite, doesn't follow one specific thread of thought, but is always deliberate. There is no piece empty of meaning in this exhibit.
A retrospective is a presentation and review of the collective works of an artist throughout their lifetime. In Ruppersberg's collective works, which includes conceptual prints, sculptures and collages, everything has a joke, a point, a wink. If there's anything that can be understood if you were to run through the museum in seven minutes, "Bande à part" style, it's that Ruppersberg thinks.
Ruppersberg is concerned with a variety of things: stories, words, histories, people, people that work with stories, people in stories, people who write words well and the ways those words affect you.
The emphasis of the work is the (creative) process itself, rather than the end-product. For example, he rewrote, word for word, "The Picture of Dorian Gray" in a series of large canvases, a project so physically extensive that some of the frames had to be piled on one another. But devoid of the idea, the object itself is not particularly interesting. You don't know that it's "The Picture of Dorian Gray" unless you (masochistically) choose to read the panels or, out of empathy for your eyes and legs, find the plaque that tells you that it's "The Picture of Dorian Gray."
Another noteworthy piece is a mural of posters with disparate words and expressions in yellows, oranges, whites and greens, which you can face sitting on a long bench with adjacent headphones playing Allen Ginsberg's poem "Howl." As it turns out, the seemingly random posters are a recreation of "Howl." Ruppersberg is working with you to create an idea of what is occurring, anticipating your reaction.
In this way, the exhibit frames Ruppersberg like another artist from another recent retrospective: The New York City MoMA's "Robert Rauschenberg: Among Friends," which ran from May to September of last year. Like Ruppersberg, the amount of things (with an emphasis) that Rauschenberg uses is astounding. Paint finds its home with pieces of cardboard, wires, taxidermy birds, taxidermy goats, tires, canvases, newspapers, etc. The question is never about the object, but about the thought process that led to a painted canvas on the floor being used as a platform for a goat, whose face is painted and body is intercepted with a tire. How do you marry a stuffed goat to an abstraction? Rauschenberg did it, and he explains to you, without words, how he did it.
Ruppersberg, unlike Rauschenberg, focuses on the words. The words dangle in front of you in the form of flashcards in a massive mobile. You're not exactly clear on how the words go together, but you can see themes. You lean your ear against a door marked "History," through which you can hear the monotone of a lecturing professor. You can do this against any other number of doors marked "Philosophy," "Psychology" or "Art History," but can only distinguish words when you get to the door marked "Literature/Linguistics." You can never fully comprehend what is being said. You're being denied access to knowledge because of a locked door.
Ruppersberg plays with and builds on Rauschenberg's themes of the chaos of the world, the arbitrariness of order, the nonsense of "sense."
Admittedly, the idea of writing about both Ruppersberg and Rauschenberg seemed far-fetched. Any number of artists of a certain age range, nationality, and race working in similar spheres can overlap in ideas. This does not establish a relationship. This doubt, formed by my first visit, was shattered by my second. As I discussed the stretches of the idea to my friend, I saw the word Rauschenberg in a Ruppersberg piece. I went up to the kind assistant, who informed me that the massive panels, which look like Bizarro World scrabble boards, are Robert Rauschenberg's obituary.
Leaving both exhibits felt frenzied. The pieces you're observing in them demand your total energy — the visual equivalent of eating a full meal. Anyone interested in the development of conceptual art in the United States would appreciate Ruppersberg's retrospective at The Walker.
The exhibit will be on view at The Walker in Minneapolis until July 29. The museum offers free admission Thursdays from 5-9 p.m.