Get sum dim sum: Mandarin Kitchen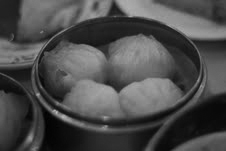 When I went to China over winter break, my hosts in their generosity effectively force fed me out of kindness, plying me with ambiguous meats ("It's like a turtle…but not…") and never-ending mounds of food on my plates. It was food trauma. I ate to be polite and I ate to prove my Chineseness. When I ate snake meat without a wince (it tastes just like really tough chicken), never before had I experienced so much pride at the dinner table. But I ate too much food and I no longer cared to eat anything, ever again.
I never lost my appetite for dim sum, however. Dim sum is the most perfect meal because the plates are small, and you can try as much as you want without getting gorging yourself to the point of death. Dim sum can be an intimidating experience because not everything looks like what it actually is. After watching the 2005 Hong Kong horror film Dumplings, about a woman who makes baby meat dumplings to preserve her skin, I cannot eat har gow without imagining that inside the pleated translucent rice wrapper is not a blushing pink prawn but a piece of plump baby flesh. The image of a fat baby dumpling will pop into my head and I will briefly hate myself because that baby dumpling also looks delicious in my head, and I have to reconcile with myself that I am not above cannibalism.
I went to Mandarin Kitchen around 1p.m. (dim sum here is served from 10 a.m. to 2 p.m.). It's located in a dull-looking strip mall, and though the neglected Chinese mountain koi pond in the corner by the entrance demands a bit of attention, the glorious vision of roast ducks will make your heart sing, hanging on their hooks, crispy and glistening with drips of fat…though this isn't what you're actually here for. Absent were any crystal chandeliers or gratuitous use of red velvet walls, though there was a golden Chinese character mounted on some velvet in the back and some traditional Chinese paintings. The place was bustling, though this is Minnesota and you won't get seated at the same table with randos like you will in Chinatown or Hong Kong.
The best thing: no waiting for food! Older Chinese ladies pushing dim sum carts are everywhere — I also saw a bored-looking athlete-type serving some Chinese broccoli on a tray. They might even be pushy but it won't hurt their feelings if you tell them you don't want it. And things might look like alien egg sacs but you should just try it #yolo. I saw the har gow and said "mgoi" (best Cantonese word to know, it means both "please" and "excuse me") as I pointed. I braced myself for a mushy glutinous rice wrapper with brain-like shrimp because that's how har gow tastes like when it's not great ­— but no! It was really good! After that, I just went crazy with the dishes. I would recommend getting more of the steamed dishes (vs. fried) like ngao cheung or ha cheung (beef or shrimp in a thick rice noodle roll), shumai (pork and shrimp dumplings), pai guat (short ribs), and this small, steamed bun with a sweet egg filling. When you come here, act like an old Chinese person: eat at a leisurely pace and drink tea for hours.
8766 Lyndale Ave S, Bloomington 55420 (952) 884 – 5356
Monday – Thursday: 11 a.m. – midnight
Friday: 11 a.m. – 1 a.m.
Saturday: 10 a.m. – 1 a.m.
Sunday: 10 ­a.m. – midnight
Dim sum only available Sat. & Sun.: 10 a.m. – 2 p.m.