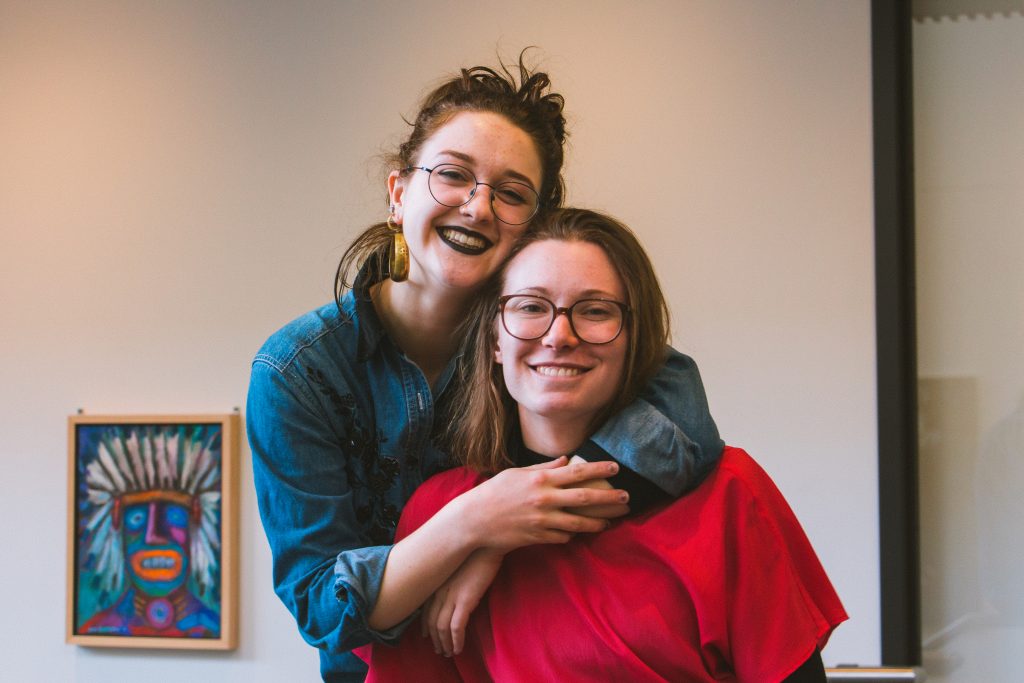 On April 21, Halley Norman '19 and Diana Stone '19 will put on the first Student Art Gallery Progressive. An artistic take on the progressive model, which has partygoers "progress" from house to house, the Art Gallery Progressive aims to showcase student art across a variety of mediums as attendees journey between the participating houses. The event is based on voluntary student submission, and anyone, regardless of whether they take art classes or not, can participate.
To Norman, one of the event's main assets is its accessibility. "I wanted a space where people like me can engage with art," she said, "a place where non-artists can enjoy art." In fact, while Norman doesn't take art classes at Mac, she has always enjoyed art in its multiple forms. Adding to that, the two friends wish to recognize artists who don't necessarily fall into what we normally associate with art. "Art is broader than just a print or a drawing," Norman said. "They are more artists [at Macalester and in the community] than the people in the art building."
The event aims to expose attendees to a diverse arrangement of artworks. "We'll take anything," Stone said. "Doodles, video games, video… We have no parameters, no theme." As curators, they will simply group artworks together "based on what people submit," Norman explained. Is there a thread, then, that connects the works? "I think that the main thread is that this art has no other place to be shown, and we are offering that place," said Stone.
Indeed, the main gallery showing student work at Macalester — the Juried Student Exhibition that takes place every April in the Law Warschaw Gallery — only shows work from students who have taken an art class. "It's really selective," said Stone, "and you don't choose the pieces that get selected. The pieces that do [get selected] often aren't your favorites." In fact, the art professors, not the students, curate the exhibition. The exhibition does showcase excellent work from talented art students, but the event remains competitive. While it is the students' work that is shown, the exhibition doesn't feel like it really belongs to them. A response to the shortcomings of the Juried Student Exhibition, but also to the lack of student-managed spaces on campus, the Art Gallery Progressive creates a unique space in the Macalester artistic landscape.
Unlike the student cafés and interactive art spaces that exist in some of the other liberal art colleges, "Macalester doesn't really have student-owned spaces, particularly for sharing, seeing, engaging with student artwork," Norman said. While student-made art decorates the staircases and hallways of the art building, the latter isn't designed to be welcoming to non-art students. "You don't just walk through [the art building] if you don't have a reason to wander back there," said Norman.
Other social spaces on campus, like Kagin or the Loch, receive little student contribution and don't feel intimate. "10k (the basement of Dupre, that was used to host student-led performances and shows before being closed down) was the only space that didn't feel like it was owned by the administration," said Norman, "to the exception of the Dupre staircase (the secondary staircase of Dupre, which displayed student-made poems and paintings before being repainted)." Though they had their limitations, these two spaces felt spontaneous, grassroots — spaces made by students, for students.
The Spark, an organization that put together a variety of art shows in 10k and in student houses, was of the same vein. "We both used to be on The Spark before it fell apart," said Stone. Alluding to the storytelling nights and art galleries in student houses The Spark has organized, Norman noted that "it was doing a thing that nothing else here has really done." The Art Gallery Progressive builds on The Spark's legacy; it offers students and community members a wonderful opportunity to both display and see art, while at the same time showing that an event like this is possible, that there is a demand for it. Hopefully, the Art Gallery Progressive will spark similar endeavors in the future, in a school that, despite its position as a community-oriented liberal arts institution, lacks student art spaces.
The submission deadline for the Art Gallery Progressive is April 17. Contact [email protected] and [email protected] to submit or ask any questions. The event starts at 4 p.m. on Saturday, April 21 at 1758 Saint Clair, and continues at 5 p.m. at 296 Saratoga Ave S, and at 6 p.m. at 1318 Grand Ave. The event is done in collaboration with the Open Call Cabaret, a student-led visual and performance art show that will be held right next door to the last stop, at 1322 Grand Ave. Doors for the Cabaret open at 7:00 p.m., the show starts at 8:00 p.m. and a dance party will follow the show.