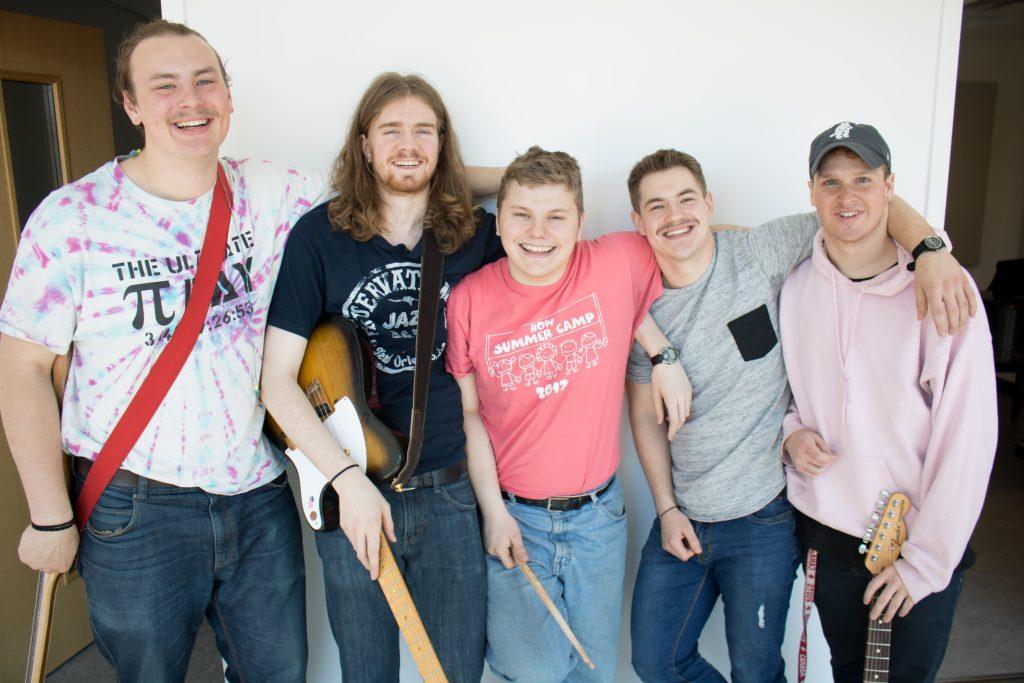 Each year, Macalester bands compete for the coveted spot of opening for Springfest. On March 30, a five-piece group, as if they were bears.— consisting of Austin Dischinger '18, Jack Lickerman '21, Kevin Omodt '20, Karl Schuetzle '20 and Rob Stokes '20 — reigned victorious. The band's unusual, enigmatic name is intriguing, and makes one curious as to what genre they fall into. The bear comparison evokes images of ferocious grizzlies tearing apart stages and growling into microphones. But the name's stylization, which uses all-lowercase letters and a period at the end, makes one think of artsy, alternative tunes as gentle as a teddy bear.
So what kinds of bears are these musicians? The answer is somewhere in between. Although the name was actually meant as a parody of generic indie band monikers, the versatile group does indeed strike a balance between aggression and tenderness. Schuetzle, a guitarist and the band's main songwriter, and Lickerman, who plays drums and helps arrange the music, both draw influence from emo and pop-punk music.
"It's a lot of singer-songwriter kinda stuff with a new-wave emo vibe," Schuetzle said. "But when we get together we all bring our own styles to it."
On "Flannel Jacket," the band is at its most poignant. The melancholy lyrics, which Schuetzle wrote in high school, describe the falling-out of a relationship he had at the time.
"Will you wear my flannel jacket, 'cause it's getting cold outside / Two more shots of liquor got me warm and feelin' right / The last time that we talked like this was three whole months ago / Nothing really changes here, frozen in the snow," Schuetzle sings.
The lyrics are clearly heartfelt, but not so specific as to make them inaccessible. Schuetzle captures the essence of his feelings and crafts them into lyrics any young person in Minnesota could relate to. It's as if he's describing your own winter heartbreak.
This isn't to say that the band only excels at being sentimental, though. The group showcases their aggression during a cover of Rage Against the Machine's "Killing in the Name." For this song, the band brought on Dischinger for the screaming, expletive-heavy vocals. Dischinger, who also serves as the band's hype man, will be on for at least one more song at Springfest. Omodt, the bassist, described Dischinger as "one of the craziest dudes I know."
Watching the band practice a week before their Springfest performance, their energy was palpable. Omodt's long, unkempt hair went every which way as he headbanged, Dischinger's face grew visibly red as the vocals' intensity built up and Stokes swayed his hips and showed off his guitar shredding skills during a solo.
"[My favorite part of performing] is just banging my head on stage and being lit up there. There's so many bass players and musicians in general who are so stiff up there, and I just love feeling the music and dancing around," Omodt said.
Although the band's cohesion makes it seem like they've been performing together for years, the entire group practiced together only three times before Battle of the Bands. Originally, Schuetzle, Omodt and Dischinger had been involved in a different band that had planned to perform at the event, but it feel through.
Just two weeks before the performance, Schuetzle teamed up with Lickerman to form a new band to perform songs they had already started developing in Reid Krueger's Music and Entrepreneurship class. They decided they'd benefit from a bassist and another guitarist, so they brought on Omodt and Stokes. Since Schuetzle and Omodt had already learned "Killing in the Name" from playing in their initial band, they decided to keep playing it and had Dischinger join the group to supply the vocals.
Coming off their Battle of the Bands victory, the band is still aiming high, hoping to provide a lively show that will attract a larger audience than those of previous years.
"No offense to Smallpools and Abir and Mike Floss, but we're definitely trying to be the most lit performance… Over my past few years at Mac, there's not a lot of students who go and see the opener. It's not until later when a lot of people start coming. We're trying to change that vibe a little bit. We want that transition into Mike Floss to be a little smoother and have everybody already be super lit and turned up from our performance," Dischinger said.
After Springfest, the band plans to continue playing together, and will hopefully perform some house shows this summer. They already have a gig at Midway Access on April 28. With their energy, songwriting ability and artistic versatility, as if they were bears. is a group to watch, and not just at Springfest.