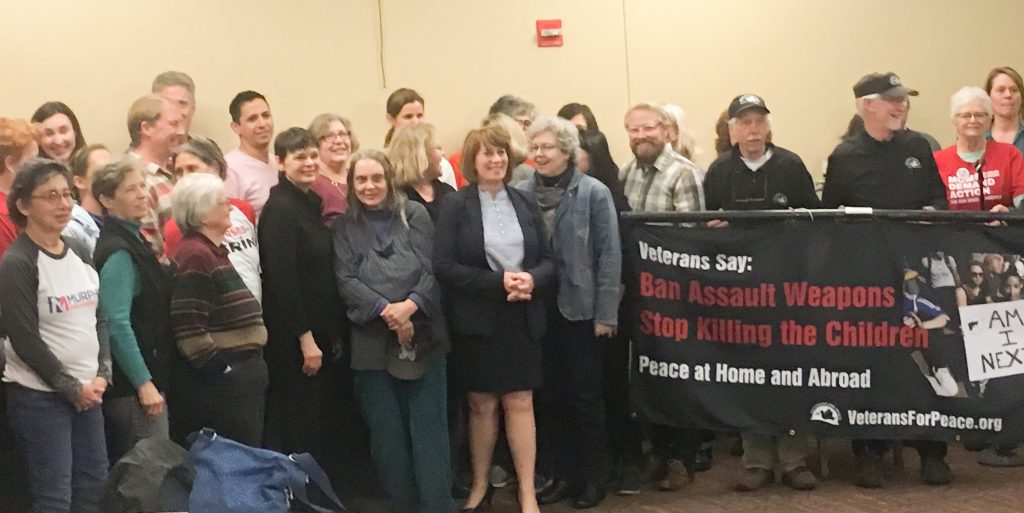 Nearly 100 Minnesotans gathered in a conference room in the basement of the Wellstone Center on April 7 for State Rep. and DFL gubernatorial candidate Erin Murphy's town hall meeting on gun violence.
The meeting was organized as part of the national Town Hall For Our Lives effort led by students from Marjory Stoneman Douglas High School in Parkland, Fla., where 17 students and staff were killed in a mass shooting in February.
"While there is support for common sense gun violence prevention, it is probably the most divisive issue that I have worked on," Murphy said. "There is a very organized voice on the part of the gun lobby, that has become way more clear…and limiting to an issue that most Minnesotans support."
Murphy discussed her efforts in the State House to pass gun control legislation, pointing to her six-point plan to reduce gun violence in Minnesota. That plan includes limits on the sale of certain ammunition, expanded background checks and a ban on the sale of AR-15 rifles. Murphy's proposals were met with the support of the anti-gun violence action groups Moms Demand Action and Protect Minnesota. Both groups were represented at the event on Saturday. Murphy acknowledged the importance of making gun violence an intersectional issue, and encouraged the crowd to extend their support to other social justice groups as part of their advocacy.
"It's important that we also support movements such as MeToo and Black Lives Matter because both of those movements [are connected] to gun violence prevention," Murphy said. In addition to intersectionality, Murphy stressed that students be central contributors to the effort to end gun violence – especially students from more conservative parts of Minnesota.
Student groups from various parts of the state were represented at the townhall event, including Alex Young-Williams '20, who spoke as one of the student organizers and co-emcees of the March for Our Lives rally held on Mar. 24 in front of the state capitol. "I first got started with gun violence prevention with Moms Demand Action before the March For Our Lives event, and since then I've been working closely with the Students Demand Action Twin Cities chapter," Young-Williams said.
"We have been working towards a cohesive mission statement, moving forward with voter registration, and reaching out to students in districts that are controlled by conservatives and Republicans," he continued. "Our mission is to reach out to those groups to form a network of concerned students."
After the event, Young-Williams reflected on Macalester's relationship to the gun violence prevention activism.
"Right after the Parkland shooting, I realized a lot of Macalester students [had] feelings of not being able to do anything about the issue," Young-Williams said. "I wanted to be very active and vocal to show people that, yes, young people do have a voice in this issue, and this is something we can win."
In St. Paul, Ryan Perez '20 and Young-Williams '20 are doing their best to mobilize Macalester students to work for gun violence prevention.
"After the Parkland shooting, I was very upset by the lack of reaction on campus, and a lot of my work was getting a lot of people on campus interested in coming to the March For Our Lives, and getting people registered to vote," Perez said. "I think Murphy's voice has been very strong in terms of gun regulation."