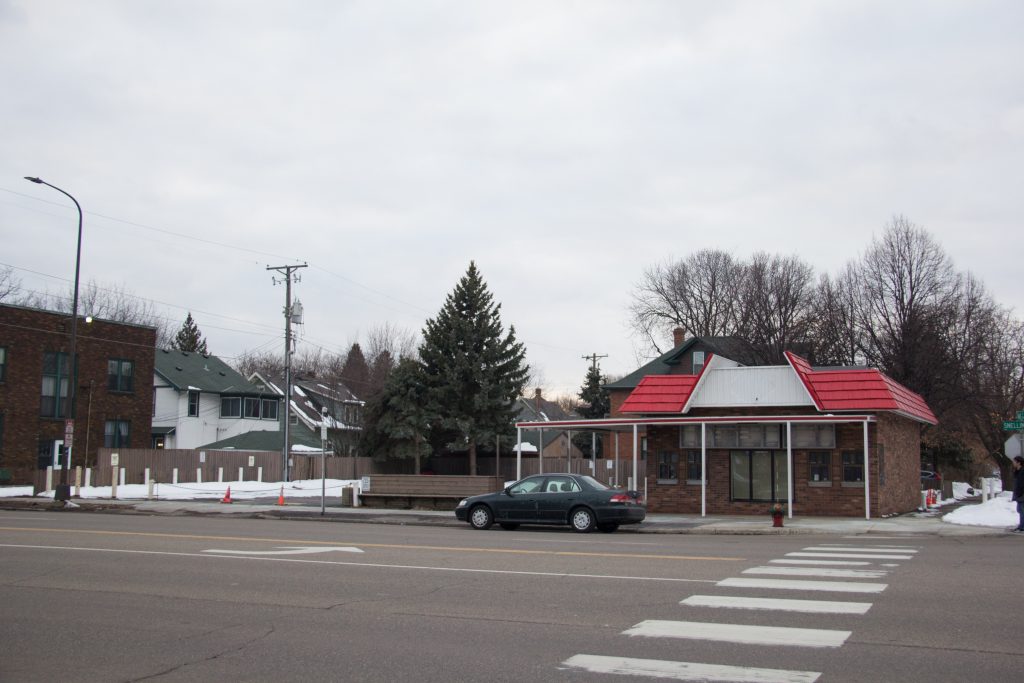 Two local businessmen have teamed up to convert the former Dairy Queen at the corner of Snelling and Hague Avenues into a single-story commercial building, which will likely be sold to Dunkin' Donuts and Red's Savoy Pizza.
The property's previous owner, Carol Noyes, who inherited the Dairy Queen from her father, closed the franchise in June 2017 after her husband passed away. Since then, the lot has been abandoned – save for a pop-up Christmas tree sale last December.
Businessman Ned Wesenberg – who owns the BP station on Como Avenue, Park Service, and several apartment buildings in the Twin Cities – is partnering with Judd Fenlon of Grand Real Estate Advisors to redevelop the property. Fenlon has been recognized with several industry awards for his work at locations including the Metro Lofts in St. Paul and the Hi-Lake Shopping Center in Minneapolis.
At a meeting of the Committee on Land Use and Economic Development on March 19, neighborhood members expressed a desire to rent the property to a local business or businesses rather than a large corporation.
Founded in the St. Paul in 1965, Red's Savoy boasts "Sota-style pizza" – square-cut, flat crust pizza with signature "passive-aggressive sauce." The statewide chain has 17 locations in Minnesota and three currently in the Twin Cities.
Their potential neighbor, Dunkin' Donuts, is a much larger chain with more than 11,000 stores worldwide.
Should the deal with Dunkin' Donuts go through, the Canton, Massachusetts-based chain will compete with the likes of Caribou Coffee and Starbucks, along with local coffee shops like Spyhouse Coffee and Cahoots Coffee Bar.
Rose Havener '19 began working as a barista at Cahoots last summer, just after Starbucks moved into its current location at the intersection of Snelling and Marshall Avenues. She's familiar with the threat that chain coffee shops pose for small, one-location cafés like Cahoots.
"People would come here asking for drinks Starbucks had and being sad when we don't do their sweet, syrupy drinks here," she said.
As much as interactions like these might leave a bitter taste in the mouths of local businesses, Hanever thinks that it is the chain coffee shops that stand to lose the most business to a Dunkin' Donuts location.
"Some of the customers that would typically go to the Starbucks down the street might also go to Dunkin'," Havener said. "I think they might compete with each other a little bit more than [with Cahoots]."
Dunkin' Donuts, however, might bring a new flavor to an already overflowing coffee industry: an impressive regional following.
"[Dunkin' Donuts culture] is definitely very intense and I don't like that I'm a part of it but I definitely am," Newton, Massachusetts native Laura Andersen '21 said. "There's a lot of people who associate Dunkin' Donuts with the culture of New England. So you'd probably get a lot of people who really miss New England here [and] who have a lot of regional loyalty."
Should Dunkin' Donuts officially become a tenant at Snelling and Hague, it would become the third franchise within a six mile radius of the college, excluding the one past security in Terminal 1 of MSP Airport.
For students from New England, the ratio of Dunkin' Donuts locations to street corners in the Twin Cities might seem small. The chain, which began in Quincy, Massachusetts in 1950, has at least 85 locations in Boston alone and outnumbers Starbucks almost 10:1 statewide. Its foothold in Northeast compares to that of Caribou Coffee in Minnesota, one of the two states outside of the East Coast in which Starbucks is not the largest coffee chain.
But even Andersen, who was raised in a town with 11 Dunkin' storefronts, struggles to see a future where Macalester Runs on Dunkin'.
"Objectively, [Dunkin' Donuts] is not that great," she said. "And why would you go [there] when you could go to Dunn Bros. which is right down the street or go to Cahoots or Spyhouse or any of the x number of coffee shops that we have in the Twin Cities?"
"I feel like Macalester's definitely a campus full of people who are going to be fairly anti-corporation," she continued, "even [with] something that has such a regional following as Dunkin' Donuts does."
Havener, for her part, encourages students to look past their brand loyalties and support local businesses.
"I think that a lot of the reason people come [to Cahoots], especially students, is to study and because of the chill atmosphere we have," she said. "Here, we will remember you. Remember what your order is, what you like, who you are. There's a more personal touch to a coffee shop like this."
The demolition of the old Dairy Queen is slated for June or July, after which construction on the new building is slated to begin.