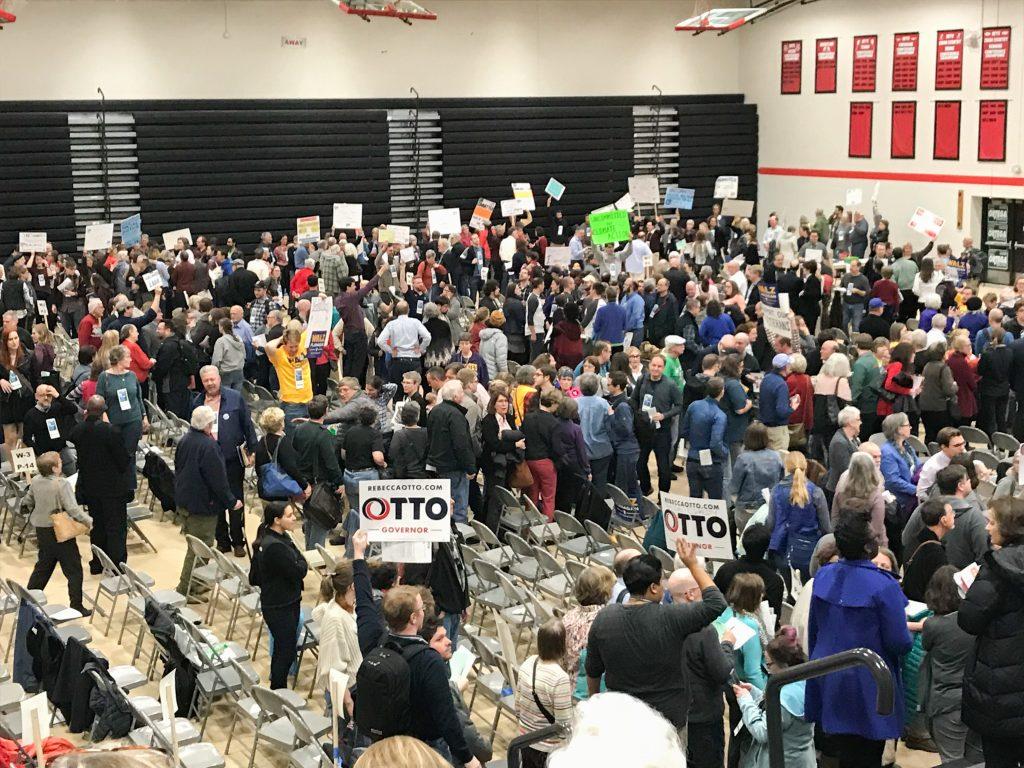 Hundreds of Democratic-Farmer-Labor party (DFL) delegates from precincts across West St. Paul crowded into the Central High School's gymnasium last Sunday, March 25, for the 2018 DFL Senate District 64 Convention.
District conventions offer delegates – all of whom were elected at smaller precinct caucuses in February – the chance to listen to politicians, vote on resolutions and to select delegates to represent the fourth congressional district convention in May and the statewide convention in June.
This year, delegates heard from the party's three gubernatorial candidates: Tim Walz, Erin Murphy and Rebecca Otto. Murphy was on familiar turf – she represents the district in the Minnesota House.
In a straw poll taken in early February, Walz received 30% of the vote, leading the race in all but one congressional unit. He was followed by Otto, who polled at nearly 20% of the vote and Murphy who polled at 13.5%.
Delegates also heard from St. Paul mayor Melvin Carter, who discussed his administration's first several months in office.
"Our team has been hitting the ground running," Carter said. "We told you we are going to revise our police force use of force policies; we have already done that. We are going to raise the minimum wage to $15 an hour. We are going to get that done this year in St. Paul."
Candidates for St. Paul City Council open Fourth Ward seat, Mitra Jalali Nelson and Shirley Erstad, addressed the delegates as well.
Nelson has worked as a policy aide for United States Representative Keith Ellison as well as a community organizer and teacher, while Erstad serves as the executive director of the nonprofit Friends of the Parks and Trails of St. Paul and Ramsey County.
Should Nelson win the election, she would become only the second person of color on the seven-person council. Amy Ireland, a third candidate for the seat, had a representative speak on her behalf.
Those speeches preceded remarks from Sen. Tina Smith (D-MN), the former lieutenant governor chosen to replace Al Franken late last year.
Franken's resignation, which came after eight women accused him of sexual misconduct, remains controversial amongst the state's DFLers.
Smith, who herself is running for a full term in the fall, went out of her way to praise Franken in her speech – telling the crowd that the former senator has done "great things for Minnesota." The delegates applauded enthusiastically.
Smith used the rest of her time to talk about her push to reform the student loan system, pass farm bills to fuel rural development and stop "the proliferation of dark money that is destroying modern campaigns."
After speeches concluded, delegates voted on resolutions to be forwarded to the state DFL.
Naomi Klionsky '17, who was at the convention as an alternate in case delegates couldn't attend or participate, wrote Resolution 130 – calling for an amendment to Minnesota caucus rules that would require an equal number of delegates of a certain gender identity.
Klionsky believes that there are better ways to address issues of representation within the DFL caucus rules.
"I submitted a resolution that… encourages representation – at a statewide level as opposed to in the room – of people with identities socially and historically marginalized," Klionsky said.
Once the resolution ballots were collected, the caucusing process began. Delegates voted with their feet – forming subcaucuses: groups to support the issues and candidates they want to see represented at the conventions later this spring.
On Sunday, each subcaucus had to acquire 21 delegates in order to earn one representative or 42 to earn two.
The process of attracting the right number of supporters involved negotiations between different groups, each vying for their platform and more delegates. Caucuses – some directed by campaign representatives shouting instructions from the bleachers – broke up and re-combined. By the final tally, 21 subcaucuses earned delegates for the state convention.
Marco Hernandez '19 is one of the two Macalester students who will represent a subcaucus at the Fourth Congressional District DFL Convention in May. While he has served as a delegate at the district convention in the past, this was his first time running to represent the district at the state level.
His subcaucus – which began as "Otto for Racial Equality" before becoming "Otto for Gun Safety and Racial Equality" on the floor – had exactly 21 members, earning the group one delegate.
"We can only elect one delegate and I know damn well there's two or three people who would want to be a delegate," Hernandez said. "Turns out, there were five people who wanted to be a delegate, so I had to run against four of them."
Each candidate had 45 seconds to convince the rest of the caucus-members that they should be elected. During his speech, Hernandez highlighted his experience organizing with Take Action Minnesota, working at the state capitol, and volunteering for the presidential campaigns of Bernie Sanders and Hillary Clinton campaigns in 2016.
He also pointed out that he was the only young student of color running. In addition to being experienced in politics, Hernandez believes that this enables him to advocate for a "younger, different point of view."
At conventions later this year, Hernandez hopes to reach out to delegates from across the state to inform his voting.
"I would like to pay more attention to the more rural delegates and to get their point of view as to what they support, the candidates they support and also the things they're advocating for and the issues they're fighting [for]," he said. "There's a lot more to Minnesota than the Twin Cities."
Another Macalester student, first-time delegate Peter Jarka-Sellers '20 will also move on to represent his subcaucus "Uncommitted for Climate Action".
According to Jarka-Sellers, his group merged with several others during the "organized chaos" of subcaucusing – ultimately accumulating 42 supporters and earning two delegates.
Aspiring state delegates in his subcaucus gave 30-second stump speeches. In his, Jarka-Sellers, who knew he wanted to run for the position, shared his four years of experience advocating for climate justice – he currently serves as the leader of the St. Paul chapter of the Citizens' Climate Lobby – and his desire to hold candidates accountable on climate issues.
Although he represents an uncommitted caucus, Jarka-Sellers is an intern on the Walz campaign and suspects he will continue to support him in the future.
"A campaign can increase their delegate count coming out of a convention by having some of their delegates be supported by people who aren't necessarily supporters of the campaign," Jarka-Sellers said.
"People running as delegates in uncommitted caucuses even with the intention to support a candidate, is, as far as I can tell, a very commonplace thing," he continued. "That happens all the time, and anybody who's familiar with the process understands that that's something that's going to be going on.
"Not only does every campaign do it, but I think there are a lot of people who might not be part of a campaign but privately support a candidate, who won't necessarily say 'I'm supporting this person' because they want to get elected to the convention."
Jarka-Sellers' alternate is Henry Lippman '68. He will represent "Uncommitted for Climate Action" should Jarka-Sellers be unable to attend future conventions.
"The issue of climate change, to me, is number one," Lippman said. "The issue is more important than the candidate. I will probably end up helping whoever gets the nomination and trying to pressure them."
Lippman is a veteran delegate and a lifelong political activist outspoken on issues of racial, religious and economic equality. He has done everything from counsel civilians considering conscientious objections to serving in the Vietnam War, to protest the construction of Interstate 94 that divided the historically black Rondo neighborhood in North St. Paul.
Lippman was an old friend of Paul Wellstone, the populist champion who represented Minnesota in the Senate for eleven years. In late October of 2002, Wellstone died suddenly in a plane crash in the midst of a bitter re-election campaign.
Wellstone's famous words 'We all do better when we all do better,' echoed around Central High all afternoon, used by candidates and delegates alike as an unofficial mantra of the DFL. For Lippman, they are an inspiration and a motivation to continue his activism.
"We all do better when we all do better and that begins at the grassroots" Lippman said. "One of the things [Wellstone] was really encouraging people [to do] was to not simply look at the situations like who's running for president but looking for who's doing things in your own community and taking part."